April 26, 2008
Turbo Garrett Racecar Takes Home First Season
Las Vegas (NV) – The winds swept violently over the Nevada desert. As the Saturday sun slipped behind the mountains, it took with it the margin of safety that the Pacific Street Car Association (PSCA) drivers had enjoyed. Only two of the scheduled three rounds of qualifying were complete. Between the high winds and the dust that it dragged across the quarter mile Strip at Las Vegas Motor Speedway, the drag cars were parked for the evening.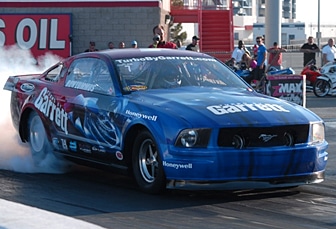 The Turbo By Garrett / Bothwell Motorsports 10.5 Tire Outlaw Mustang GT had qualified in the number two spot at the end of its two runs. Not a bad beginning to the first race of the 2008 schedule! Driver, Ron Lummus had settled into the car's new character. The Mustang looked the same as last season, but was essentially a different car from the door jambs forward. The Windsor 351 c.i. engine was still fed by the massive Garrett GT4718R dual ball bearing turbochargers and it still made approximately 2500 horsepower, but now the powertrain had a lot less baggage to haul during its 1320 ft trip. Gone were the power windows, the stock dash board, the steel fenders and everything else that added unnecessary weight. Nearly 500 pounds were removed from the car by the time it was ready for the track.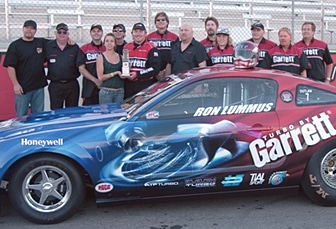 The weight loss was realized immediately as the first round pitted Lummus against the 2007 PSCA Outlaw Champion, Ron Weems. Weems took an early lead, but the race was won on the top end as Lummus edged out the champ to take the win at an ET of 7.146 seconds at a speed of 197.39 mph to Weems' 7.245 seconds at 188.12 mph.
Waiting in round two was Enrique Soto. Again, the Mustang of Lummus used the entire track to work past Soto and take the round by only 0.1 seconds!
news_end_content:
After a bye run in the third round, the Turbo By Garrett / Bothwell Motorsports team prepared the Mustang for the finals against Rich Zhering. Zhering had been tearing up the track all day and was the number one qualifier. After each driver's monster burnout, the pair staged their cars. As the light went green, both launched ferociously, tearing at the pavement toward the goal, only a quarter mile away and the hard fought victory it represented. Neck and neck down the track, the Garrett GT4718R turbochargers showed their awesome power once again, leaving Zhering behind and pulling ahead to take the win and the weekend! The Turbo By Garrett / Bothwell Motorsports team had set up the car perfectly and Lummus had pushed the car to an amazing ET of 7.19 seconds at 201.31 mph!
What a weekend! exclaimed Ron Lummus. Despite what seemed like starting over after the car went through a major overhaul in the off season, we did it! I'm very proud of the entire team for working so hard to give me the best car possible to drive. Their patience with me as a driver is great and I know after all the punishment that I put the car through, it ran our fist 200 mph pass and had low ET of the meet. Awesome! Thanks Garrett!"