April 13, 2022
The Skid Factory Builds One Bad Barra-Powered and Garrett-Boosted 1,100+ HP 7-Seater Sleeper Bedford Van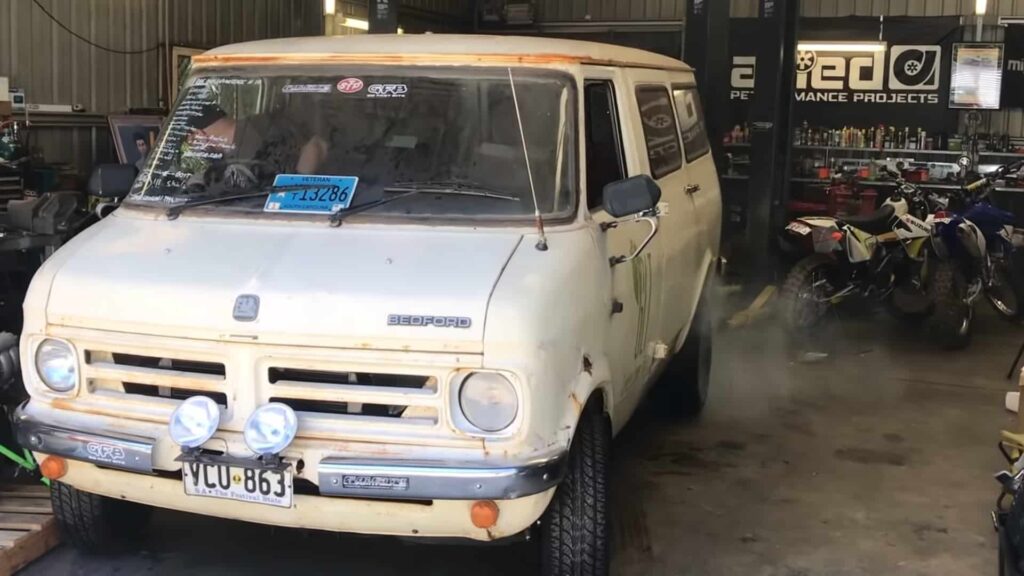 By Ainsley Jacobs
Australia's Skid Factory built a badass Barra-powered and Garrett-boosted 7-seater sleeper Bedford van with 1,100-horsepower.
Australian ingenuity knows no limits. When The Skid Factory friends Al and Woody decided to stuff a Ford Barra engine into their friend James aka "Millsi"'s 1970s-era Bedford van, they made the project even more unique by adding a Garrett G42-1450 turbocharger.
Backed by Mighty Car Mods, The Skid Factory features the best real-world builds with no unlimited budgets and no drama. Millsi's Bedford, a brand of vehicle manufactured by Vauxhall, desperately needed an update to more modern technology and Al and Woody got going on the project in 2018.
To replace the van's original six-cylinder Holden 202 "red" engine which was certainly lacking in more ways than one, they selected a mighty six-cylinder 4.0-liter Ford Barra engine (de-stroked to 3.8-liters) which had been plucked from a Ford Falcon FGX. The dual overhead cam engine wasn't an easy fit within the tight constraints of the Bedford, but the guys made it happen thanks to generous amounts of resourceful engineering, fabrication, and creative on-the-go thinking.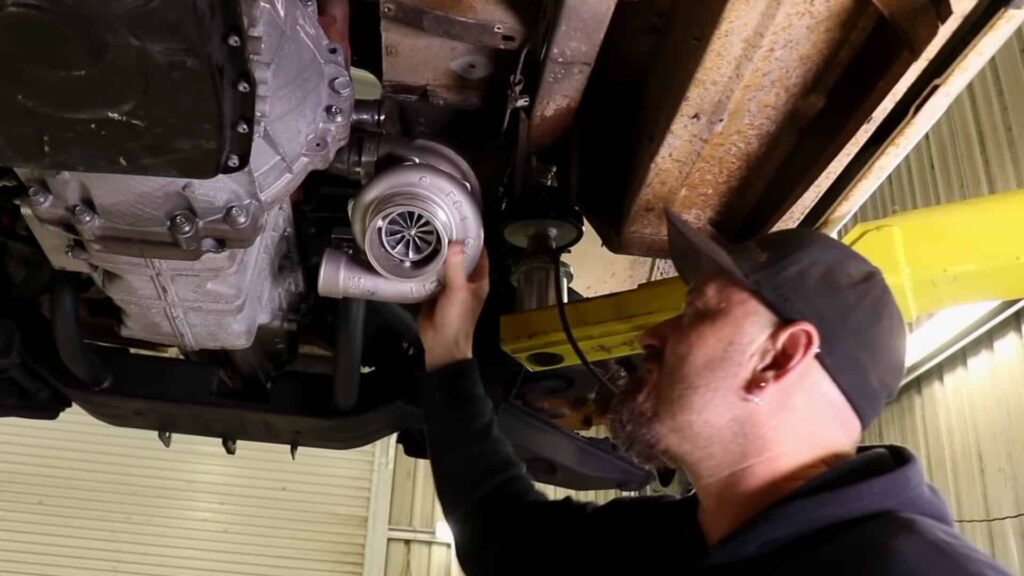 The Barra's naturally aspirated exhaust manifold was modified to accept the rear-facing Garrett G42-1450 turbo, which itself sits below the powerplant and utilizes a modified Coyoda turbo sump. Next, a full stainless steel 4" exhaust system was fabricated.
A goal of four-digit horsepower meant a tough transmission was needed, so Al and Woody turned to the venerable GM 4L80E automatic to do the job. Similarly, a Chevy 12-bolt rear end with torsion limited slip differential was installed to distribute the power to the wheels while a bolt-on brake upgrade from an early-model Australian Falcon was added to calm everything back down.
Controlling the unconventional combination was a bit of a question mark for The Skid Factory's team of two, but they ultimately selected a Haltech Engine Management system and wired up a Nexus R5 to facilitate the fuel injection management while a flex fuel sensor was incorporated in case Millsi got the itch to run ethanol instead.
Capable of supporting up to 1,450-horsepower, the aerodynamically-enhanced Garrett G42-1450 mid-frame turbo enabled the Bedford's Barra to easily put down 1,100-horsepower at 40 pounds of boost – an impressive figure from a nearly half-a-century old rusted relic of a vehicle.
With so much power on hand, Al and Woody finished out the build to be able to enjoy it to the fullest at the track. A roll cage was fitted along with seven seats to haul happy passengers as the party bus smokes the tires and obliterates the competition.
Millsi took his reborn Bedford to Queensland Raceway for some road racing and roll racing, and the Garrett-turbocharged van absolutely ripped. The Barra's monster power meant Millsi easily walked the competition and the true sleeper van destroyed all of the other cars on the track.
VEHICLE: 1970s Bedford van
ENGINE: Ford 3.8-liter Barra six-cylinder
TURBO: Garrett G42-1450 turbocharger
TRANSMISSION: GM 4L80E automatic
POWER: 1,100
USED FOR: drag