April 13, 2022
Salty Box Racing's Garrett Turbocharged 1,200+ HP Dodge Ram 2500 "Sooty" Sets 230+mph Salt Flat Records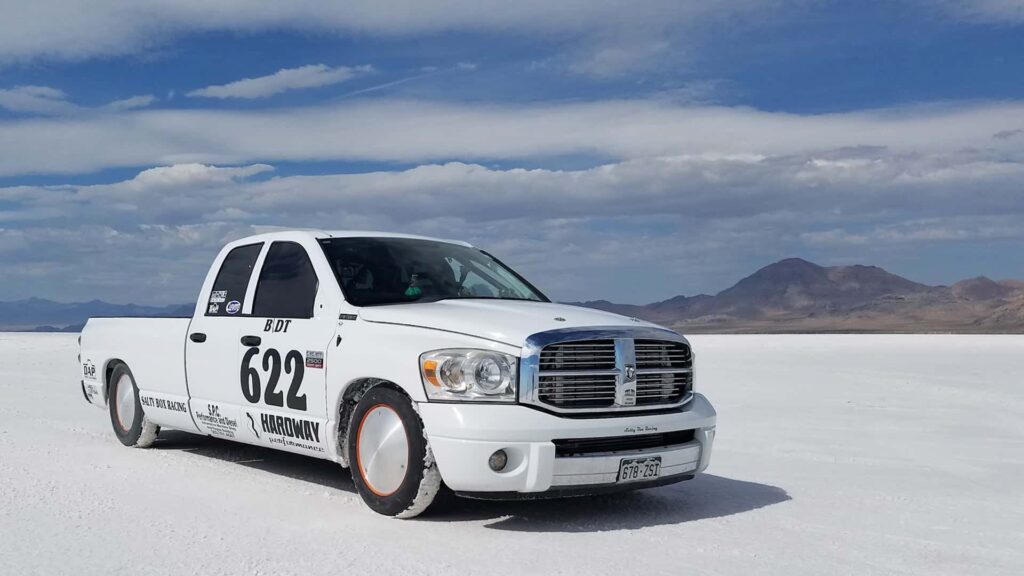 By Ainsley Jacobs
Salty Box Racing's Garrett turbo Dodge Ram 2500 "Sooty" makes 1,200+ hp and sets records on the salt flats at 230+ mph.
What is now a 230+ mph record-setting Bonneville behemoth, the Colorado-based land speed team of Salty Box Racing's diesel-powered and Garrett turbocharged Dodge Ram known as "Sooty" was once a standard street truck.
Purchased as a salvage title from a Copart auction, the lightly wrecked 2008 Dodge Ram 2500 had come equipped with a 6.7-liter 6-cylinder Cummins diesel engine and a six-speed manual G56 transmission. The bodywork was repaired and Tim Boyle and the crew at Salty Box Racing got to work modifying the suspension, axles, and frame so that their project would be ready to race on the famed salt flats in Utah.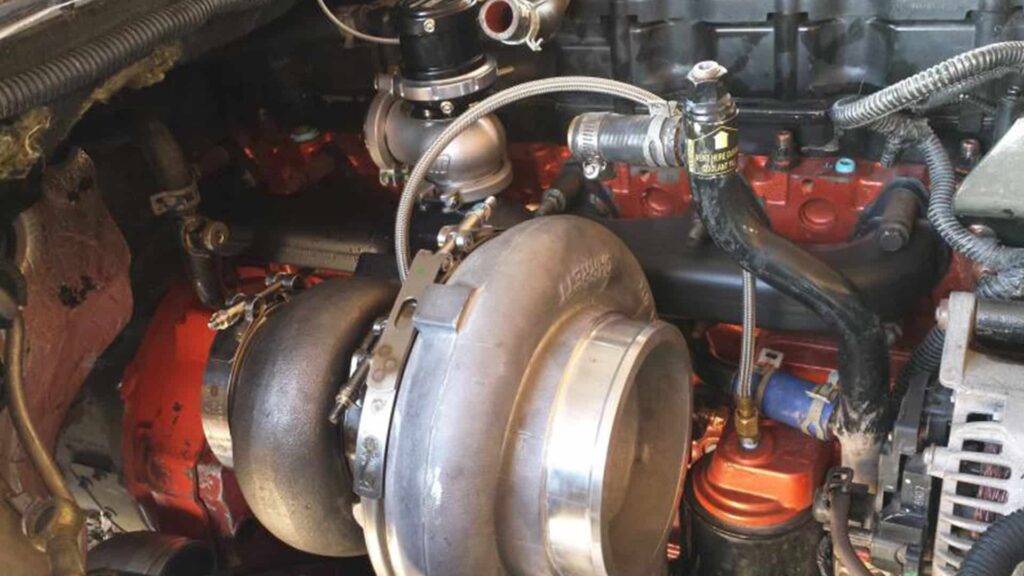 A 1.75" tube roll cage from S&W Race Cars was installed and more bars were added for safety along with two Fire System Research suppression systems, and the truck managed to run 166 mph with a stock engine in September of 2012.
Since then, "Sooty" has seen a host of other upgrades, including a switch to a fully-built Randy's Transmissions Dodge 48RE automatic, but its turbo setup consisting of Garrett's latest and greatest technology has been the key to the team setting multiple records over the years in both single and compound configurations.
In 2013, the team scored the B/DT (B-engine, Diesel Truck) class record at 177.9 mph before upping it to 190.14 mph in 2014. Two years later, "Sooty" set two records at California's El Mirage dry lake running 1.3-miles on dirt to 190.8 and 192.1 mph.
Setting five records over 200 mph with five different drivers in 2017 marked the year as a milestone for the team, and they concluded the calendar with a speed of 213.8 mph. The next year, two more records were set and Boyle's son, Ryan, earned his "200 mph red hat" when he set a record of 227.8 mph which still stands as of 2022; the team did eventually push that up to 237 mph, but that event was rained out and prevented the return run from solidifying the speed.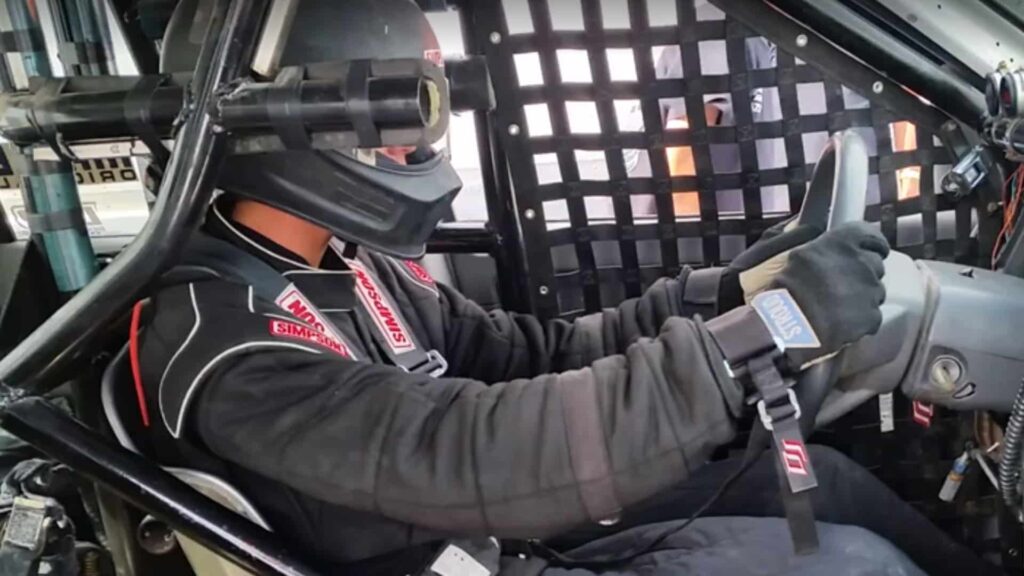 In its most recent form, "Sooty" uses a single 98mm Garrett GTX5533R Gen II turbocharger as the atmospheric turbo feeding into an 80mm GTX5020R Gen II high-pressure turbo. Plans for the upcoming 2022 season, though, are to move up to an even larger setup to mimic the Salty Box Racing streamliner's Garrett G-Series G57-3000 and GTX5533R compound turbochargers.
The V8 6.7-liter Dodge Cummins diesel engine has been machined by Sean Cleary at SLS Performance and Diesel. Cylinder heads were originally machined by Mountain High Performance and later by D&J Precision, and overall assembly is managed by Cleary and Boyle. Wagler connecting rods, PolyDyn-coated pistons, Hamilton 188/220 cam, and an S&S Diesel fuel system help the Cummins come to life and crank out an impressive 1,250-horsepower and 2,250-lb/ft of torque.
Rolling on custom-built, narrow 18" diameter race wheels with special Dunlop tires and Moon Eyes Moon caps, the Dodge Ram's ECM is recalibrated through an EFI Live system thanks to Ryan Milliken of Hardway Performance's tuning expertise. Incredibly, the truck does double duty as a land speed monster and as a daily driver that Boyle often uses to pick his son up from school.
With plenty of power potential still untapped and the street-legal diesel truck's Garrett turbos ready to join the party with loads of boost, Salty Box Racing's 230+ mph "Sooty" will surely be setting more B/DT salt flat records at Bonneville and beyond.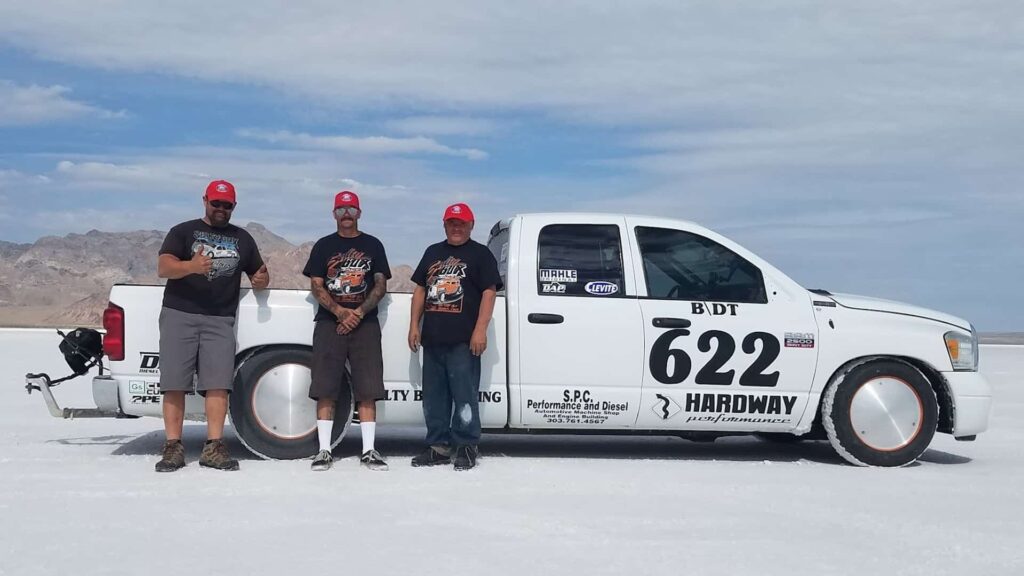 VEHICLE: 2008 Dodge Ram 2500
ENGINE: Dodge Cummins 6.7-liter 24V inline-6 diesel
TURBO: Garrett GTX5533R Gen II and Garrett GTX5020R Gen II turbochargers
TRANSMISSION: Dodge 48RE automatic
POWER: 1,250
USED FOR: landspeed