October 2, 2012
Rhys Millen Racing Finishes 5th and 6th in GRC
Rhys Millen Racing Finishes 5th and 6th in Global RallyCross at Las Vegas Motor Speedway.
Rhys Millen Racing – Huntington Beach, CA – October 1, 2012
The 5th round in the Global RallyCross Championship moved to Las Vegas Motor Speedway with a all new driver to driver passing style course. The gap jump featured two lanes allowing drivers to continue their battle on the other side. Also at Las Vegas was a table top jump, water feature and dirt section.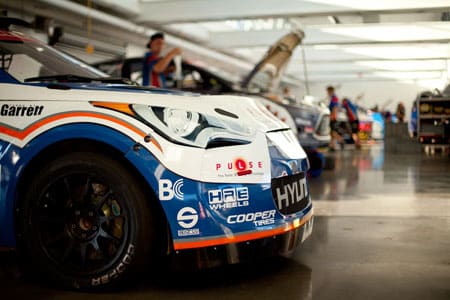 After coming off two wins and not competing at GRC New Hampshire in the #67 car, Rhys Millen and Team RMR were eager to be back on the super speedway at Las Vegas. "Excited to be back on track in the Veloster and doing what I love. I think we're going to have positive results this weekend as these cars keep getting more competitive as we develop them," said Millen. Practice on Friday provided valuable feedback for Millen as he drove onto qualify 5th for race day.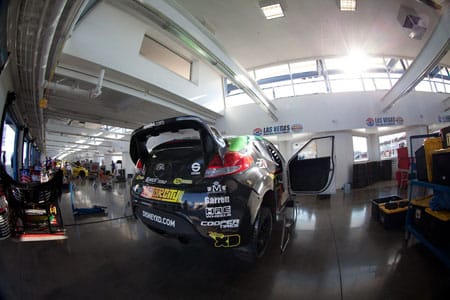 Stephan Verdier placed 13th in qualifying after trying new adjustments to the chassis but reverted back to previous settings from putting up competitive lap times earlier in the day. "The Motorcity car is running great and we should be right near the front come race day," said Verdier.
Saturday, Millen made fast work qualifying in his first heat to move onto the final. While Stephan narrowly missed his first chance to qualify in his first heat but easily did so in the Last Chance Qualifier.
The start of the main would set the stage for the rest of the race. Andreas Eriksson in the Blue Ford Best Buy Fiesta would lose traction just past the water feature running into Millen which then got him into the back of Travis Pastrana. Checkout the Video of the start.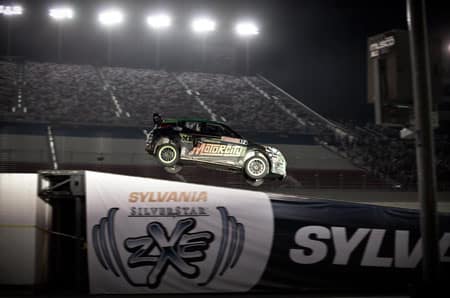 http://youtu.be/CGbG0wdEH5g
Verdier would go onto drive a clean rest of the race finishing 5th after starting near the back.
Millen finished 6th with aggressive driving avoiding further contact and moving all the way up from last position.
Currently Millen stands 5th in points followed by Verdier in 6th. Hyundai's position in manufacture points with a two car team stands in 2nd, followed by the three car team of Subaru and a overall lead by Ford with 5 cars.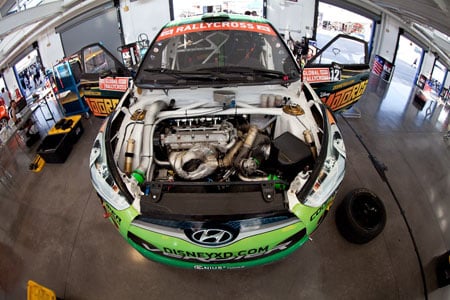 Rhys Millen Racing finial event in Global RallyCross is on October 30, 2012 during SEMA at Las Vegas, Nevada. Tickets are set to go on sale shortly.
http://www.global-rallycross.com/sema/
RMR now moves onto Formula DRIFT Pro Championship Round 7: Title Fight is on October 12-13 at Irwindale Speedway. Millen currently stands 3rd in points and looks for a overall championship win.