April 18, 2013
Otto Graven takes the win @ RD Supa drift Series
SUPA Drift Series – RD 03
Dezzi Raceway
Port Shepstone, Kwa-Zulu Natal
There are a lot of things that cause excitement too many and for different reasons, when a drifter hears that someone is purposefully building a "hillside" drift track, well we proceed to do all kinds of dances whilst spewing un comprehendible sounds out of our distorted facial features. Dez Gutzeit is the proud owner of Dezzi Raceway out in Port Shepstone and the man that invoked the strange movement.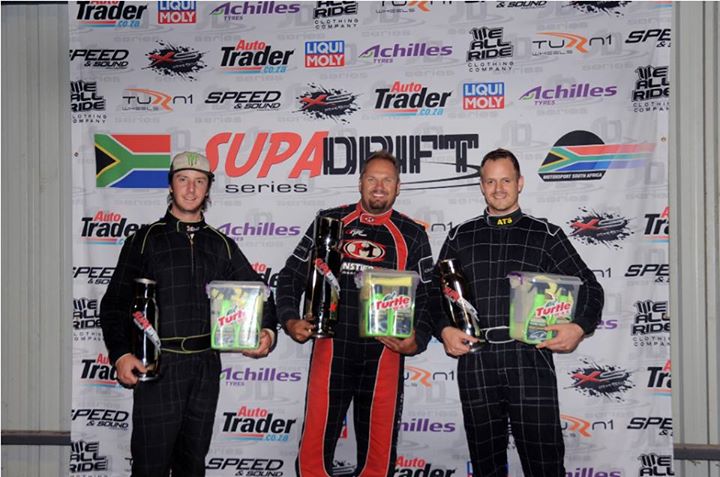 Finding the track was a bit tricky, but when you enter the circuit and take in your surroundings you appreciate the secluded venue with its picturesque views. Some religions believe that rain means good luck, and if this is in anyway true, Dezzi Raceway got its blessing in bucket loads, two days to be exact! Normally such an event would probably have been cancelled due to the obvious risks, but the drainage system on the new circuit worked so well that Uncle Wally gave us the green light to continue with RD03!
Practice session did see a few casualties, but nothing serious. The guys played it safe on the newly dubbed 'roller coaster' drift circuit, which also includes a genius little blind rise initiation going into the first clip zone, forcing drivers to now utilize muscle memory as well. Qualifying rounds saw no less than 30 drivers head out to give their best performance, and although these runs lacked the normal smoke factor, it was still a treat to watch the regular cowboys cautiously manoeuvre around the track.
Qualifying Results:
1. Jason Webb
2. Otto Graven
3. Jacques Lemmer
4. Jim Mc Farlane
5. David Nell
6. Mike Radloff
7. Jonothan Rudman
8. Shane Gudzeit
9. Ronnie Graven
10. Wade van Zummeran
11. Morne Venter
12. Andre Barnard
13. Jethro Swartz
14. Paolo Gouveia
15. Zanil Zatar
16. Pieter Smit
The finals had some of the usual suspects; a welcome addition was Shane Gutzeit, who drove like an absolute champ! In a tight battle between Border Towing's Wade Van Zummeren, Shane Gutzeit pulled out all the stops which awarded him his first podium spot. The final battle was between Monstermob's Otto Graven and Monster Energy driver Jason Webb. These two have a long history, Otto was Jason's mentor and the two have shared a podium before, a few times actually. Webb unfortunately spun out sending Graven to the top of the podium.
Results:
Otto Graven (Monstermob)
Jason Webb (Monster Energy)
Shane Gutzeit (Dezzi Raceway)
Wade Van Zummeren (Border Towing)
Driver of the day: Jonathan Rudman
A huge shout out goes to Jim, Mike and their SUPA Drift crew, Oom Dez and Shane for their incredible venue and hospitality. A big thanks to Oom Wally and the MSA officials. To the Judges and spotters, Denise and the media oaks!
Lastly we would like to thank our sponsors, Turbo by Garrett, Falken, DTA, Mishimoto, Cortex, Motegi Racing, Cusco, Wisefab, Wilwood, Turbosmart, Kognition, VFibre Carbon, Injector Dynamics, KW Suspensions.
RD04 will be going down on the 2 June at Zwartkops Raceway.