May 12, 2017
NEW GARRETT BRAND OF AFTERMARKET TURBOS PAIRS ICONIC GARRETT NAME WITH HONEYWELL ENGINEERING
Honeywell Garrett brand reflects promise of providing differentiated and advanced turbo technology
Honeywell innovations and leadership in aerospace, materials science and software adds to 50 years of Garrett performance and   racing heritage
 ROLLE, Switzerland, May 8, 2017 – Honeywell (NYSE: HON) has changed the brand name of its legendary Garrett replacement and performance aftermarket turbochargers to Honeywell Garrett to better convey the full capability and promise of its differentiated technology used in providing automotive turbocharging solutions to nearly every automaker in the world.
Serving both the independent aftermarket with original equipment replacement turbochargers as well as specialized performance turbos targeting tuners and grassroot and professional motorsport teams, Honeywell Garrett offers aftermarket customers around the world the benefits of innovative factory-installed turbo technology developed by Honeywell engineering. Honeywell Transportation Systems can apply the company's broader engineering experience with high temperature gasoline applications, enhanced aerodynamics and coatings and materials to automotive standards.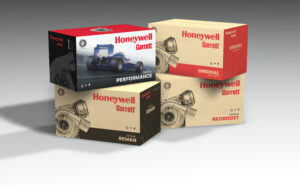 The Honeywell Garrett portfolio of replacement turbochargers covers gasoline and diesel passenger and commercial vehicles – including numerous advanced two-stage and variable geometry applications. In addition, Honeywell Garrett offers high-performance turbo upgrades and remanufactured replacement turbos built and tested in the same manner as new turbos for those seeking a less expensive option without compromising on performance or reliability.
Retaining the legendary Garrett name was a priority for Honeywell as it has become synonymous with automotive turbocharging for many industry professionals and tuners for decades. Honeywell's turbo origins date back to the 1950s when engineer Cliff Garrett led a project team to develop a turbocharger for a Caterpillar D9 crawler tractor that launched in 1954, marking the beginning of the turbocharged era for the automotive industry. Garrett is associated with numerous race championships and speed records dating back to the original F1 turbo era in the 1970s and 80s and including historic performances at the 24 Hours of Le Mans as well as global world rally, road racing, drifting and auto cross series.
Honeywell innovations in aerodynamics, turbine housings, ball bearings, sensors, aerospace grade materials, connected software and electric boosting products supporting optimized transient response, energy recovery, wheel efficiency and power output reflects the broader engineering experience that also includes the Honeywell Garrett portfolio.
The new Honeywell Garrett construction aligns with corporate initiatives to leverage the strong global Honeywell brand, which is recognized for providing innovative technologies making our world smarter, safer and more sustainable. Honeywell Transportation Systems and its aftermarket business is a significant contributor to the nearly 50 percent of Honeywell's portfolio that is dedicated to energy solutions.
As turbo penetration grows to nearly 50 percent of the global market by 2021, the Honeywell Garrett brand name will convey the genuine technology advantage message in emerging markets and across all sales regions. Honeywell's global operations exist in more than 70 countries with more than 1,300 sites employing roughly 130,000 people, of which 30,000 are engineers and scientists.
Executive Quotes
"We are renaming the product brand Honeywell Garrett to combine the power of Honeywell with the heritage of Garrett.
"We want our distributors and end customers to know that the whole of our design, engineering, and manufacturing capabilities are part of every turbocharger we sell, and backed by the same customer service mindset that has made us a turbo leader for more than 60 years.
"Our promise stays strong. We promise to inspire the performance community with new Honeywell Garrett products; we promise to innovate by using industry leading Honeywell engineering; and we promise to provide high quality, safe and reliable performance technologies."
– Eric Fraysse, Honeywell Transportation Systems Aftermarket vice president and general manager.
Honeywell (www.honeywell.com) is a Fortune 100 software-industrial company that delivers industry specific solutions that include aerospace and automotive products and services; control technologies for buildings, homes, and industry; and performance materials globally.  Our technologies help everything from aircraft, cars, homes and buildings, manufacturing plants, supply chains, and workers become more connected to make our world smarter, safer, and more sustainable.  For more news and information on Honeywell, please visit www.honeywell.com/newsroom