March 23, 2022
"LTRex" Chevy-Powered Ford Mustang Finds Plenty of Medium Prep Success with Haltech and Garrett Turbo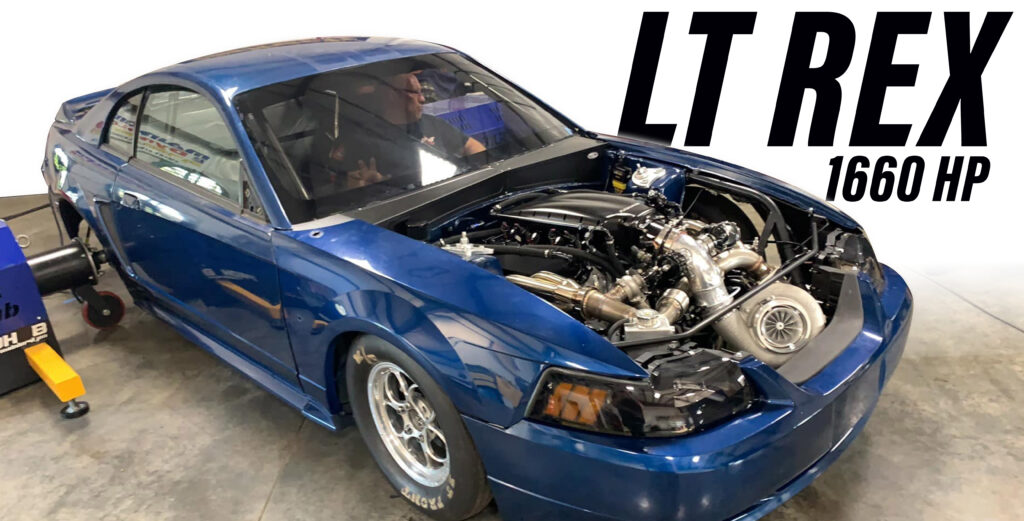 By Ainsley Jacobs
With a Garrett turbocharged Chevy LT1 engine under its hood, this Haltech-controlled Mustang dominates medium prep drag racing.
Put together during the Covid-19 pandemic lockdown beginning in May of 2020, Haltech USA's General Manager Eric Gash built his "LTRex" 2000 Ford Mustang in just under one year using a mashup of parts he had lying around, then boosted it with plenty of Garrett turbo power.
Together with his friends, the "Barely Able Racing" crew worked nights and weekends putting together Gash's project car. Coming from a background of racing late-model Corvettes, Gash wanted to get away from the less-than-ideal Corvette independent rear suspension when he focused on assembling a more serious small tire drag car. His New Edge SN95 Mustang featured a triangulated four-link solid axle rear suspension and it was the perfect platform to pique his interest. Purchased as a roller, Gash cut into the chassis the same day he picked up the Mustang and quickly began ordering parts including a Team Z Motorsports chromoly roll cage kit, tubular front end. Gash knew he wanted a turbocharged small block engine combination, and opted to go with a GM 6.2-liter Gen V LT as he already had one in the process of being built by Chip Estes of Estes Automotive. Although the engine was originally intended for his C7 Corvette, Gash knew it would be better suited for the SN95 Mustang he had nicknamed "LTRex" and coupled the engine with a two-speed Turbo 400 from RPM Transmissions.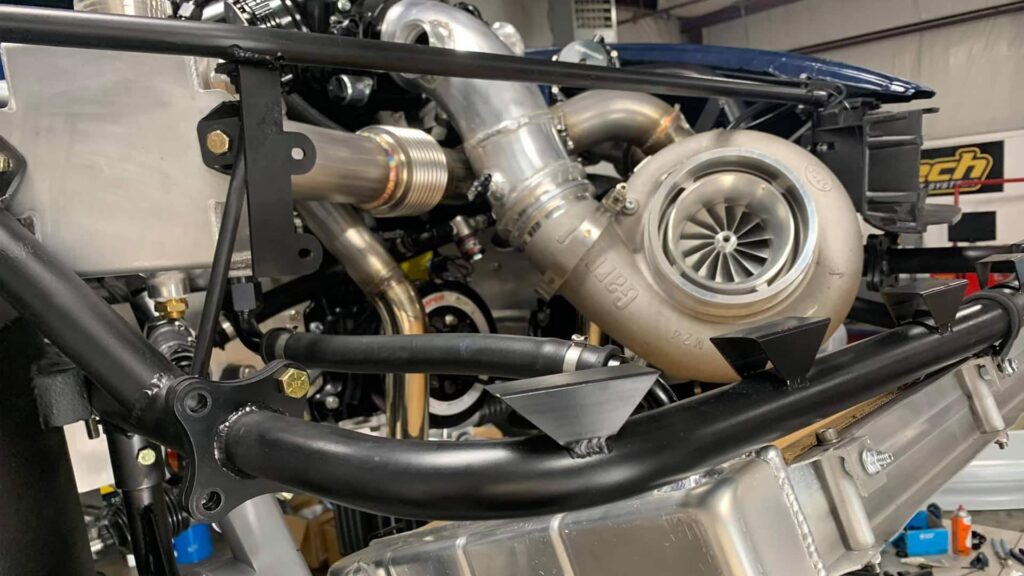 The custom turbo kit, which places the Garrett turbo right up front for maximum air and maximum intimidation factor, was fabricated by Gash and his Barely Able Racing buddies. At first, Gash selected a large frame 88mm Garrett GTX5020R Gen II dual ball bearing turbo for tons of boost and excellent throttle response – although he would eventually upgrade it to a selection of several other larger Garrett turbos over time. Although it was a fairly budget-friendly backyard build, Gash incorporated many high-end components that have been proven to dominate in the domestic drag racing world such as a UPR Products K-member, control arms, and camber and caster plates along with Strange Engineering front struts and springs, AFCO Big Gun rear struts, Merillat Racing upper and lower torque boxes, TRZ Motorsports "Girth Brooks" anti-roll bar, and a Tin Soldiers Race Cars 8.8" rear end with Strange 4.10 gear, spool, and axles. When it was time to breathe some life into his LTRex Mustang, Gash looked no further than Haltech for the perfect vehicle control unit: the Haltech Nexus R5 complete with IC-7 digital dash, 2×4 CAN keypad, and more.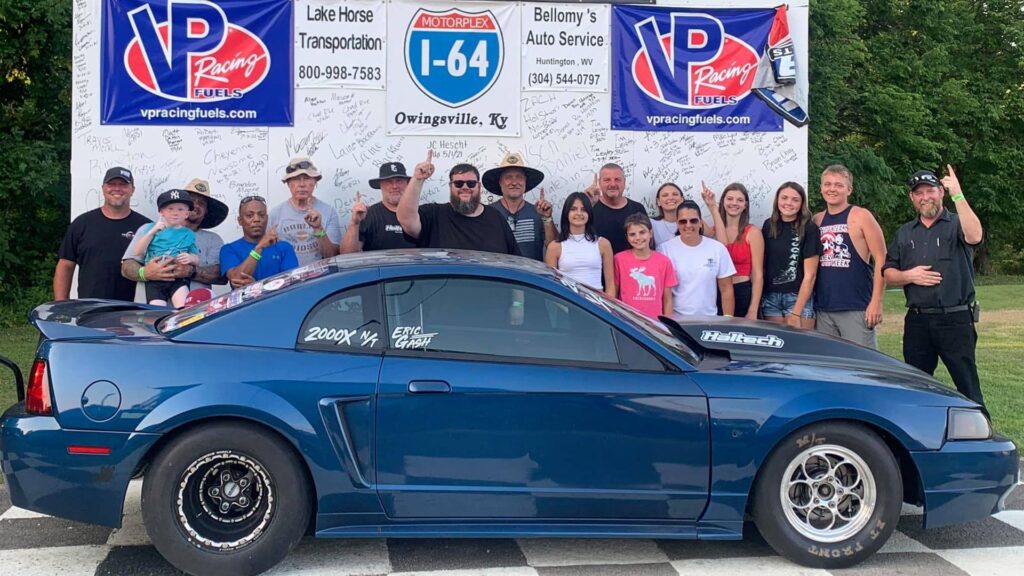 In April of 2021, the Connelley Racing team helped Gash get the chassis set up so the Mustang would run straight down Broadway at the dragstrip. Tuned on the dyno using the Garrett GTX5020 88mm turbocharger on 28 pounds of boost, LTRex made 1,443-horsepower and went on to run the eighth-mile in 4.84-seconds at 149 mph on its first outing while rolling on Mickey Thompson 28×10.5 Pro Bracket Radial-wrapped Weld wheels. Gash soon found himself in the winner's circle not once, not twice, but five times over in 2021 at various small tire no time events and picked up the GM Gen V elapsed time eighth-mile record (4.568 at 154.16 mph) along the way. Midway through the season, though, he had changed the turbo to a larger, 94mm Garrett GTX5533R Gen II Pro Mod Turbo (borrowed from NMCA Pro Modified champion Steven Summers) which helped his Mustang to make 1,660-horsepower while running on VP Racing methanol.
For 2022, Haltech's head honcho will be treating his 2000 Ford Mustang GT "LTRex" to a host of upgrades including a larger Garrett G57-2550 98mm turbocharger, Brian Tooley Racing-prepped CID Gen V LT cylinder heads, R&R billet aluminum connecting rods, Manley forged extreme duty pistons, TBM front and rear brakes, and a new Tin Soldiers Fab 9" rear end with Moser aluminum center section so that he can push the fun meter to 2,000-horsepower and beyond.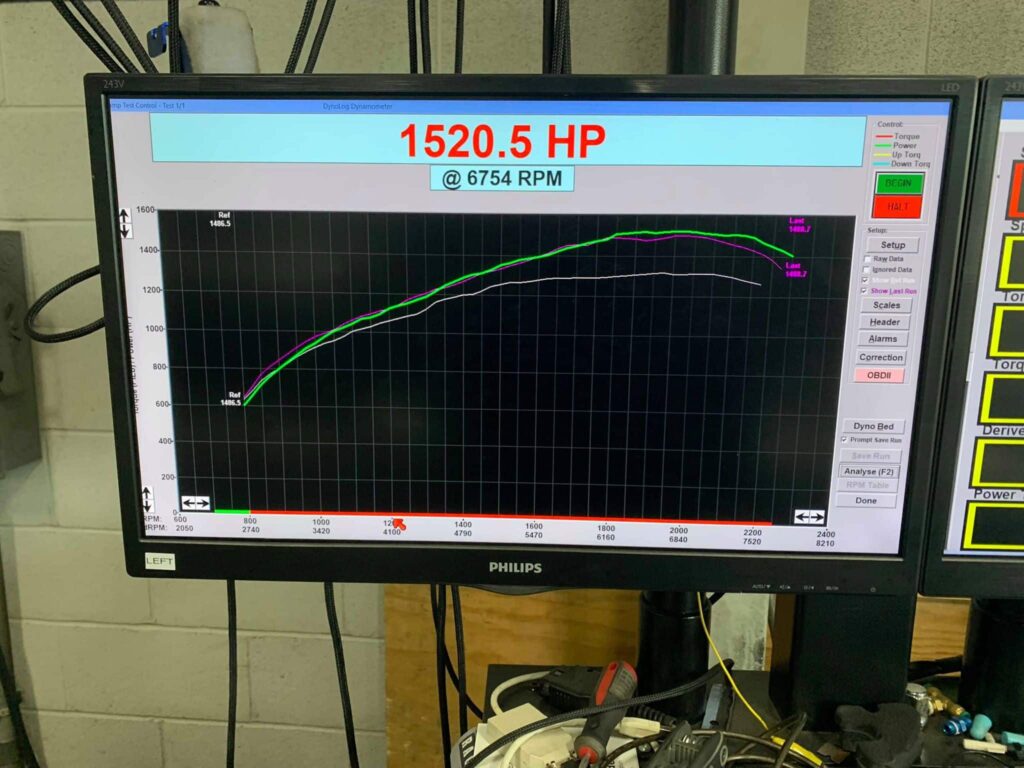 VEHICLE: 2000 Ford Mustang GT
ENGINE: GM 6.2-liter Gen V LT1
TURBO: Garrett G-Series G57-2550 98mm
TRANSMISSION: RPM Transmission 2-speed TH400
POWER: 2,000
USED FOR: drag racing