February 6, 2020
Honda Talon Turbo Kit By Jackson Racing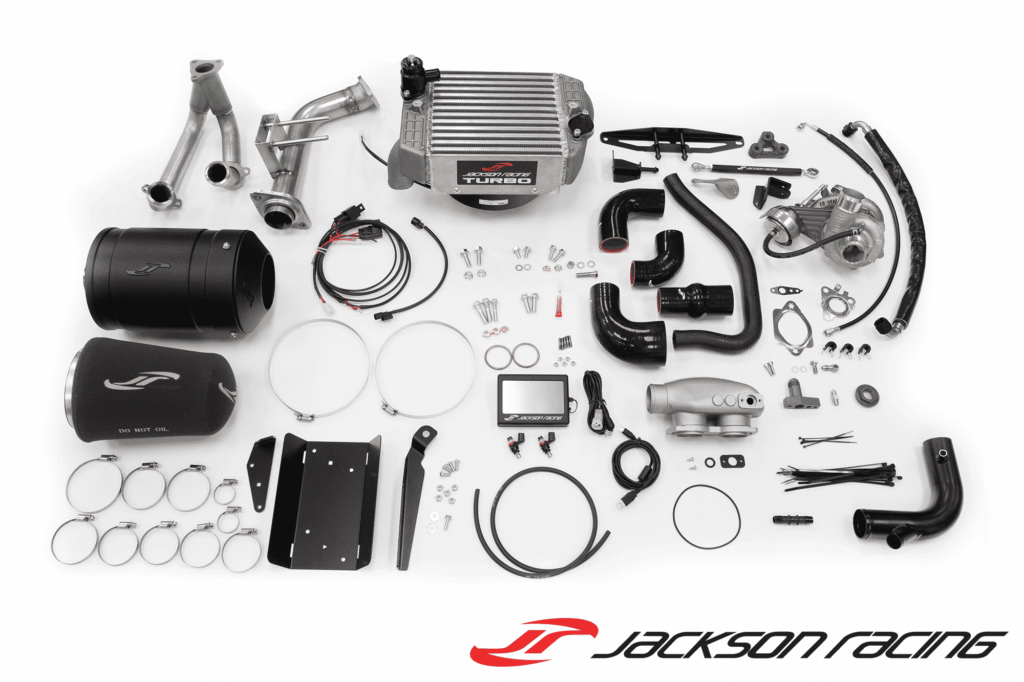 Side-By-Side Craze
SxS (Side by side) and UTV (Utility Terrain Vehicle) are the common classifications for the latest craze in off-highway recreational vehicles. With standard options like 4 wheel drive, off road tires and wheels, these vehicles are ready to tackle rugged and high speed terrain from all over the world. One UTV particularly stands out among the rest and that's the Honda Talon 1000. Available in two or four seat configurations, the Talon has a high-output 999cc liquid-cooled engine paired with a fast shifting six-speed automatic dual-clutch transmission. Pair that with a double wishbone front suspension and 4 link rear trailing arms dampened by Fox Shocks QS3 coilover shocks with quick adjusters and you have a family of superior off-road vehicles. With all this amazing technology what could possibly make the Honda Talon 1000 any better?
How about a bolt-on turbocharger kit from Jackson Racing. That's right the team at Jackson Racing in Chino, California has developed a bolt-on turbo kit using a Garrett Turbo to produce a 60% increase in horsepower and is CARB certified (EO# D-700-6). This complete bolt-on turbo kit for all Honda Talon models combines the finely tuned Honda Talon chassis with unrivaled performance in any terrain. The Jackson Racing turbo kit has been thoroughly tested to bring race level performance to any Talon using a high-efficiency Garrett turbo and Garrett Intercooler.
Fine Tuned For Seamless Performance
A key feature to the Jackson Racing turbocharger system is the seamless performance. The turbo power doesn't overpower the chassis, it works with the vehicle effortlessly. "We didn't want to take away the great riding experience already built into the Talon, we wanted to enhance it," says Oscar Jackson Sr., President and Chief Engineer. "The Jackson Racing turbocharger system delivers a factory feel that fits the Talon perfectly." To do this, Jackson Racing worked tirelessly to develop the factory ECU and DCT to support the turbo system. The result is an ECU reflash that takes care of all tuning parameters via an included Jackson Racing ECU tuning tool. For the engine, precise tuning is done for proper boosted performance and reliability using minimum 91 octane fuel. With the DCT, shift schedules have been optimized to match turbo feel and performance, giving the Jackson Racing turbocharged Talon a real advantage on trails and the race course. This DCT drivability is unmatched, with no hiccups or hesitations, allowing the turbo and DCT to work in unison together.
The entire system is designed to work in harmony. Installation, maintenance, and durability are all elements built directly into each system. Installation is painless, with no fabrication, no welding, no engine internals required. This is a true bolt-on solution with an easy installation. Thousands of miles of durability testing have been clocked in extreme conditions to ensure longevity and performance. "Drivability and durability are both critically important, and we got it right here," says Oscar Jackson Jr., COO and multi-time national road racing champion. "This is the turbo Talon you dreamed about."
The team at Jackson Racing provides a complete solution that can be purchased directly through their website or through most Honda Powersports Dealers. The Jackson Racing 1000-HT1-J00 turbo kit has an MSRP of $5,799.00
CLICK HERE TO VISIT JACKSON RACING
Kit Overview
Testing and Durability
King of the Hammers is arguably toughest off road race in the world. Part desert racing on high speed terrain where bump absorption and horsepower are crucial, and part rock crawling where grip and controllable throttle response are crucial. Both are very demanding on driver and vehicle. The 2020 King of the Hammers UTV race started with 136 competitors and only 34 crossed the finish line. Without a doubt, just finishing this brutal race is a testament of man and machine. Honda Racing entered two Talon 1000R Turbo SxS in the race and both crossed the finish line without issues.