July 17, 2011
Garrett Turbocharger 1st motorcycle past 300mph
LORING (ME) – Bill Warner of Wild Bros. Racing has become the first person ever to eclipse the 300 mph mark on a motorcycle. Early in the day, Bill blew past his previous record of 278.6 mph and reset the Loring Timing Association, as well as world record, for an open cockpit, two-wheeled vehicle to 311.9 mph over the 1.5 mile stretch of abandoned Air Force runway in Maine.
Bill's Suzuki Hayabusa maintains its stock frame, but almost everything else has been modified for high power, low weight and minimal drag. The bespoke bodywork is the result of countless hours of wind tunnel testing. The 1299cc engine is force-fed by a Garrett GTX4294R turbocharger and has no cooling system, so it only runs for 25 seconds before shutting down. By the time the bike hits the 300 mph mark, the tires are spinning at twice their speed rating.
Bill, a soft-spoken marine biologist from Wimauma, FL, commented that getting to 311 mph wasn't nearly as difficult as stopping from that speed. At the high point of the track his fender broke off. "It was a little scary," he said.
We don't want to know what Bill would consider "very scary." Congratulations to the team on this historic achievement!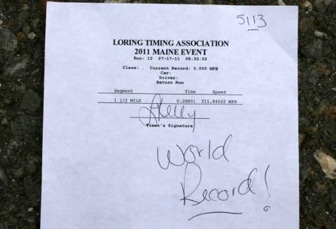 To see starting line video of the record run, click here: http://www.youtube.com/watch?v=Q_ZJuSS2s7k
Images courtesy of Walter Kudron