August 3, 2023
Innovation for Clean Mobility: Garrett Motion Launches 2022 Sustainability Report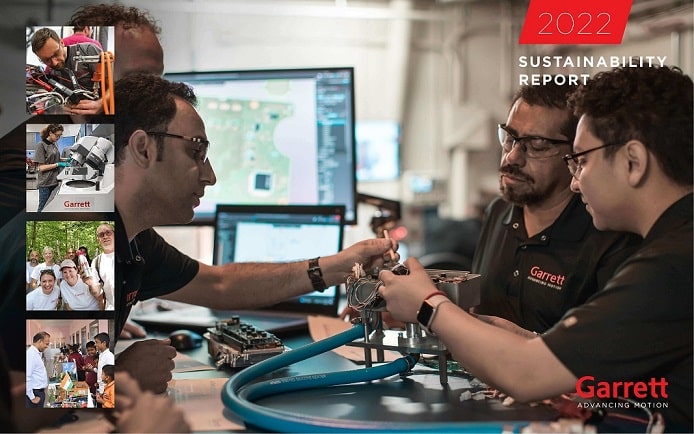 Garrett Motion announces the launch of its third sustainability report showcasing an overview of the economic, environmental, and social impact of Garrett's operations in 2022, as well as the commitments and progress made by the company in its sustainability journey. The report, available on the Garrett website, is in accordance with the Global Reporting Initiative (GRI) sustainability reporting framework and covers the company's activity in 2022.
The report highlights Garrett's in-house technology expertise in developing emission-reduction and zero-emission solutions for powertrain and vehicle manufacturers worldwide. This expertise plays an integral role in the company's vision of a cleaner transportation future and its commitment to creating a lasting positive impact on society.
"From our differentiated turbocharging solutions that improve fuel efficiency and reduce emissions in pure and hybrid combustion engine vehicles, to electrified technologies such as hydrogen fuel cell, E-Axle and E-Cooling that enable zero emissions," said Garrett President and CEO Olivier Rabiller. "Our ambition is to reach more than $1 billion in revenue from zero-emission solutions by 2030, demonstrating our unwavering commitment to a more sustainable tomorrow."
Garrett's 2022 Sustainability Report marks a significant step forward in the company's efforts to curbing greenhouse gas (GHG) emissions. The company commit to a 46.2 % reduction in GHG emissions (Scope 1 and 2) by 2030, compared to 2019 baseline year. In 2022, the company reduced its GHG emissions by 9% compared to previous year and 24% decrease compared to the 2019 baseline year. Furthermore, Garrett reduced its absolute energy consumption by 4.4% with 12 energy efficiency and renewable energy projects contributing to the achievement. Among these are solar projects at various manufacturing locations around the world, including Mexico, India and Slovakia.
The report also showcases progress made under the company's WeCare4 sustainability strategy in 2022:
Over 99% of Garrett's revenue and R&D investment invested toward emission-reducing and zero-emission innovations.
21.8% female representation in our global team
Number of training hours across Garrett increased by 18%, reaching almost 78,000 hours
3 million USD invested in health & safety projects across our sites
More than 75% of our operational waste recycled
Read more about Garrett's efforts for a more sustainable future in the company's 2022 Sustainability Report.