June 4, 2012
Garrett Sponsored: Achilles Radial wins Round 3!
Team Achilles Radial is on fire! After consecutive podium finishes in the first two rounds of the 2012 Formula Drift Championship, Team Achilles Radial and Daigo Saito reached the top spot in the podium for the first time this season. Team drivers Daigo Saito and Robbie Nishida drove the wheels off their drift machines as they took on the top drifters in the world in their mission to add more carbon fiber hardware to the Achilles Radial trophy case.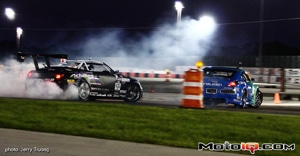 Palm Beach is always full of surprises, specifically the weather. Mother Nature was not very considerate during Friday's Practice & Qualifying, as scattered showers made for vast changes in on-track temperatures. This created a challenge, but it was nothing Team Achilles Radial and the crew of Bridges Racing could not handle. Thanks to the performance and wet grip of the ATR Sport 2's, both Robbie Nishida and Daigo Saito qualified for Saturday's main event.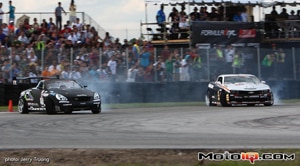 It's not breaking news that many of the top US drift teams have gone to V8 power plants, which has caused quite the controversy amongst fans. Excitement ensued once the Top 32 bracket was announced, because our 2JZ-turbo powered team would be facing off against two V8 powered Camaros. It was time for our boys to go V8 hunting!
The battle between Daigo and Conrad Grunewald would go to a "One More time" twice, but Daigo was more consistent and came out on top. Robbie on the other hand only needed one battle to send the other Camaro home early.
After bagging themselves a pair of Camaros, Team Achilles Radial drivers Robbie Nishida and Daigo Saito moved on to the Top 16 where Robbie would face 2011 Formula Drift Champion Daijiro Yoshihara and Daigo would take on Darren McNamara.
The 2011 FD Champion would ultimately be a little too much for Robbie, but his new Lexus SC300 is improving and Robbie is gaining confidence with every battle. Be on the lookout for Robbie on the podium soon, he's coming!
Daigo annihilated Darren McNamara in the ASD built Nissan 350Z and would move on the Top 8. Daigo Saito's Top 8 battle would be cut short, as his opponent Chelsea DeNofa would make a huge mistake on the first transition of his follow run. Chelsea overcooked the corner and hit the rear of Daigo's car with the front passenger side of his BMW causing Daigo to spin out. The damage to BMW was too much to be fixed in the allotted 5 minutes, therefore Daigo was given a free pass to move on to the next round.
Now just two battles stood between team Achilles Radial and their first top podium finish of the 2012 US Formula Drift season, but it was not going to be an easy road. Daigo Saito's next opponent was the winner of the previous two rounds – Justin Pawlak. Their battle would start with Justin leading and as the two drivers entered the first section of the course Pawlak managed to pull away and create a significant gap between his 350Z and Daigo's SC430. Though Daigo was able to reel Pawlak in towards the end of the course, the damage had already been done. Daigo would need to have a near perfect run if he was to impress the judges enough to give him the win. Knowing this, Daigo entered the course with tremendous speed and angle! The ATR Sport 2's grip allowed Daigo to maintain his speed through the first section of the course and Pawlak simply could not make his car stick causing him to spin out. That was the mistake Daigo needed from Pawlak!
The final battle was set and Daigo would face off with Chris Forsberg's V8 powered Nissan 370Z. The Garrett powered Achilles Radial SC430 would need to go on one more V8 hunt before claiming its rightful place on the top of the podium.
Chris Forsberg's near-perfect lead run was matched move-for-move by Daigo, who put in his best follow run of the day. Daigo's lead run was solid, but Forsberg – being super-aggressive on his entry – made light contact with Saito at the end of the initiation zone. The contact was enough to give the win to Daigo!
Team Achilles Radial would like to thank all of its sponsors for their support and contributions to this win and successful 2012 Formula Drift season thus far. Most importantly, Team Achilles Radial wants to thank their growing US fan base and the thousands of existing fans worldwide!