April 5, 2022
Garrett Boost Gone Wild: Haltech's Quad Turbo V12 LS is the Ultimate LS Engine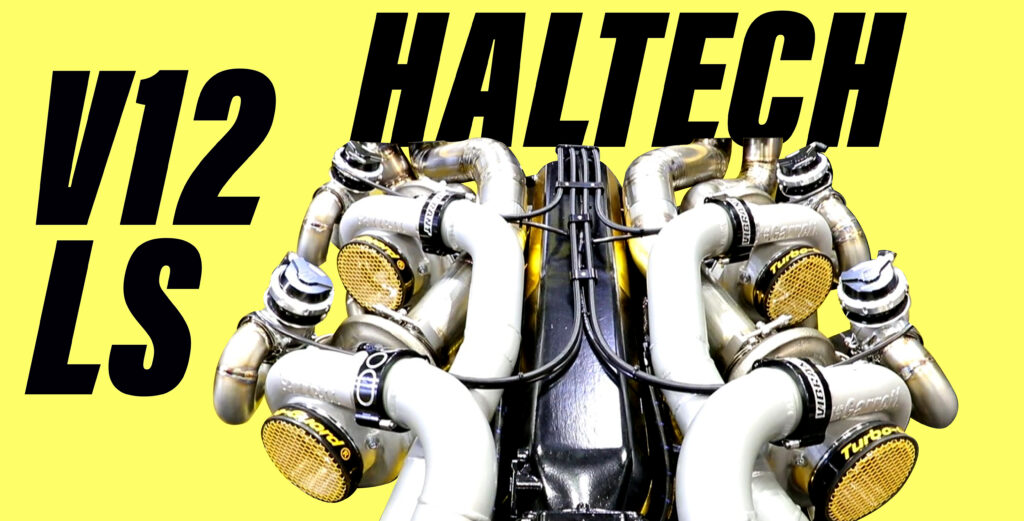 By Ainsley Jacobs
Haltech, the Australian-based manufacturer of automotive electronics and engine management systems, is known for pushing the limits of performance. The American branch, though, took the traditional Chevrolet LS engine one big step farther when they added four more cylinders and four Garrett GTX3582R Gen II ball bearing turbochargers.
Located in Kentucky, Haltech's U.S. team had been using their LS engine as a development and testing tool for many of the company's products over the years. Amped up to an incredible 12-cylinder configuration by the team at V12LS.com, Haltech's V12 LS engine is comprised of a one-piece, cast aluminum block, custom heads, custom intake manifold, and a custom Race Cast Engineering cam and crankshaft. Surprisingly, the V12LS has been fitted with standard, off-the-shelf internals such as pistons, rings, rods, and more. With only a slight overbore and a stroke of just over 9cm, the displacement has been significantly bumped up to 9.7-liters or 592 cubic inches.
In a naturally aspirated configuration, the engine dyno recorded 700-horsepower from the behemoth and the Haltech group immediately began wondering what would happen if they added a couple of turbos… which inspired them to add more than just a standard set of twins. Armed with not one or two or even three, but four Garrett GTX3582R Gen II turbochargers, Haltech's engineers devised a plan. With each turbo only responsible for handling three cylinders of exhaust flow, or roughly 2.5-liters, the perfectly sized and mirror-image Garrett turbos promised awesome power and quick spool while staying right in the sweet spot of compressor efficiency with beautiful visual symmetry.
Destined for use as a display engine, it was important for Haltech to keep heat on the inside of the turbos and foreign objects on the outside. So, a thermal management system from HeaderShield was installed, as were custom powder coated Turbo Guard screens. Four Turbosmart Gen-V CompGate 40mm wastegates were installed to manage the boost of each of the GTX3582R Gen II turbos, along with two matching Gen-V Race Port 50mm blow-off valves mounted on the inlets of the intercooler. Haltech's in-house fabricator pieced together an intricate maze of aluminum, stainless steel, and titanium tubing from Vibrant Performance to plumb the turbo system while color-coded AN hoses and fittings supply oil where it's needed.
Finally, to run the gargantuan piece of American muscle in all its glory, a Haltech Nexus R5 ECU/PDM hybrid system was wired up to run the V12LS with cylinder sequential fueling and direct fire ignition to all 12 cylinders. Taken to countless shows and events to highlight the capabilities of Haltech's ECUs, the attention-grabbing quad-turbo monster V12LS engine certainly demonstrates that even the impossible can be made possible through creative engineering, determination, a hefty helping of Garrett turbocharged boost, and Haltech technology.
VEHICLE: n/a
ENGINE: 9.7-liter Chevrolet LS 12-cylinder
TURBO: Garrett GTX3582R Gen II quad turbochargers
TRANSMISSION: n/a
POWER: unknown
USED FOR: display