October 1, 2018
Embarking on a New Journey | Why Garrett?
Today (n.r. Oct 1st – 2018) is the first day of a brand-new journey.
With our spinoff from Honeywell officially in the rearview mirror, I couldn't be more thrilled to introduce you to Garrett – Advancing Motion  a new, independently traded company.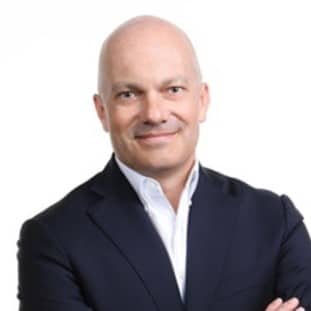 This is a remarkable milestone and a tremendous opportunity to accelerate our work transforming the transportation industry to redefine and further advance motion.
Garrett Motion is a company with more than 7,500 amazingly talented employees across the globe dedicated to redefining and advancing how technology will move people and goods today and into the future. We partner with more than 40 global automotive manufacturers, hold more 1,400 patents, and have 100 million turbochargers in use globally. Last year, we generated $3.1 billion in revenue.
But what gets our engines revved? And, what will drive us forward as a new company?
At our core, we are a technology company and are as passionate as we've ever been (since inception) about solving the industry's thorniest issues — from automotive safety to fuel efficiency and performance. This is the foundation Garrett was built on.
We are pioneers, inventors and true innovators. For more than 60 years, the Garrett name has been synonymous with advancing motion by revolutionizing the engine through turbocharger development.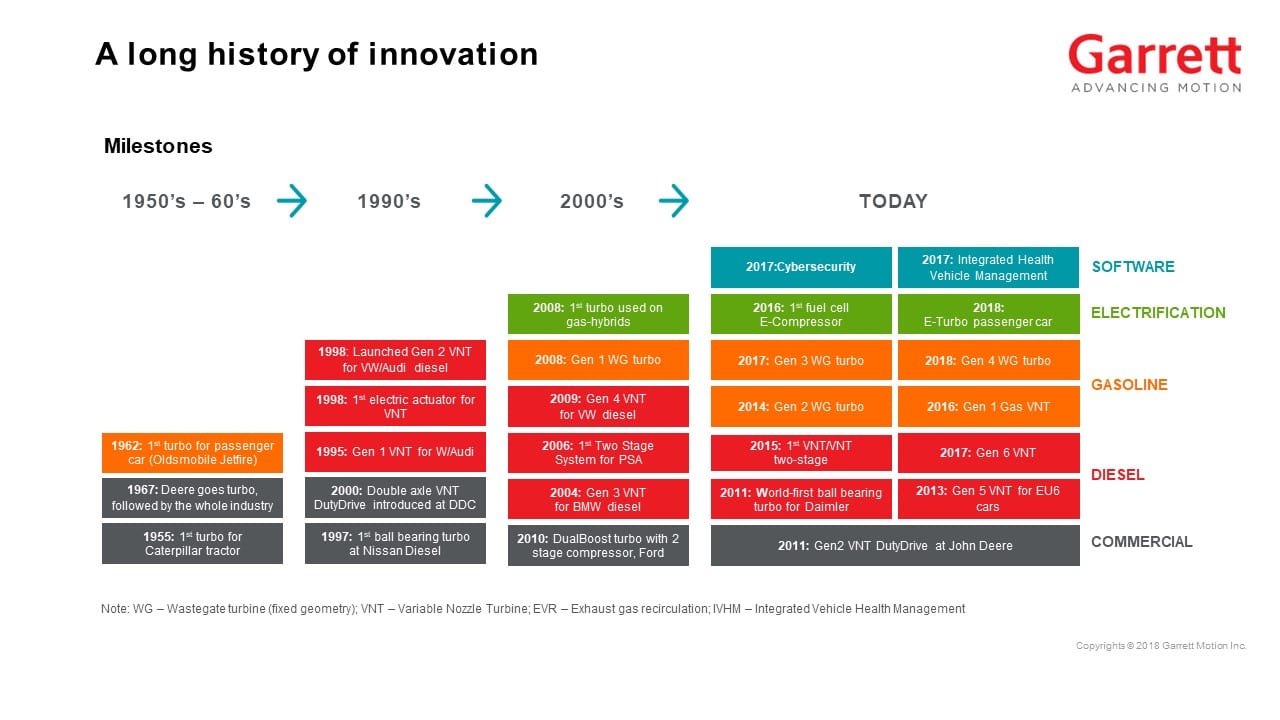 But we're just getting started.
In a time of tremendous industry change and a shifting landscape marked by tougher global emissions regulations and increasingly connected vehicles, Garrett is well-positioned to help customers address and navigate this complex environment.
Why Garrett?
The right technology. No other company possesses a product portfolio of the breadth and depth across vehicle segments like Garrett, enabling us to have a unique understanding of customers' needs — now and in the future.
An exceptional global footprint. With five R&D centers, 13 "close to customer" engineering centers and 1,200 engineers we can provide our customers what they need, where they need and when they need.
In it with our customers for the long term. We have a long history of co-development with customers and are focused on providing the best possible customer experience. This starts with listening, getting involved early and being adaptable to stay ahead.
Count our employees as key customers. Our employees are our real competitive advantage. Inspired people make inspiring products. We're endeavoring to create an environment that fosters curiosity, intelligent risk-taking and purpose to invent products and services that positively impact people's transportation experiences.
As we look to the future, we'll continue modernizing the engine through turbocharger development and continue the reputation of being ahead of the technological curve with our offerings in electric boosting solutions and automotive software.
And we'll continue to build upon a robust and talented organization of world-class people and differentiated technologies to help carmakers increase performance and enhance safety and security, while addressing needs for greater fuel efficiency and emission reductions.
I am extremely confident in saying we have a successful future ahead of us, and I am thrilled to embark on our journey as Garrett – Advancing Motion https://www.garrettmotion.com/ 
The road awaits, ahead we go.
Olivier Rabiller President and CEO Garrett – Advancing Motion