October 27, 2015
Electronic Actuator Repair?
Garrett by Honeywell electronic actuators, which control the variable vane mechanism of our VNT turbos, have been in production since 1999. This means that many vehicles equipped with these are now up to 16 years old and as the vehicle gets older, components eventually wear out or become damaged. So with the vehicle value reducing, when replacement of the turbocharger becomes necessary, vehicle owners will understandably look for the most economical option. We are often asked:
"Why don't you supply just the actuator? "
or
"Why don't you supply repair components for the actuator?"
There are some technical factors to consider:
• As discussed in a previous Tech Corner, every production turbocharger is individually calibrated to the precise requirements of the vehicle and engine. Once calibrated, it is set for life and should never be tampered with. Even just loosening the retaining bolts on the actuator will take it outside of specification.
• If the actuator is worn out, then it is likely that other parts of the turbocharger are similarly worn – the variable vane nozzle assembly inside the turbine housing is subject to constantly changing extreme temperatures and is rapidly moving to the driver's requirements. It is unique within the vehicle systems, because it is impossible to lubricate the parts before or during operation! The parts are made from extremely high grade materials, with specially heat treated and surface treated parts to resist wear and corrosion. Replacing the actuator alone will not restore performance.
• Repair components? The actuator is a complex electro-mechanical device with many components. If all of the potential wear components of an actuator were to be replaced, the list would read: a new cover (with electronics), seal, electric motor, motor pinion gear, worm and spur gear, spacers, worm gear axle, quadrant gear with position sensor and output shaft, needle bearings and seal, thrust washer, output crank and crankpin (also connecting rod). Identifying and testing which of all these components is worn or inoperative makes a repair uneconomic.
So what may appear to be a cheap option may not be so: if the calibration is outside of specification, the consequences could be the vehicle entering reduced power mode whilst driving, or an emissions test failure, requiring more expensive visits to the workshop.
At Honeywell, we have taken a no-compromise approach and now offer a brand new electronic actuator as part of our lower cost option!
Garrett Original Reman with REA/SREA*.
We recently introduced a range of REA & SREA equipped turbochargers, which are remanufactured in our purpose built Remanufacturing facility in the UK and fitted with 100% brand new electronic actuators. Each one individually calibrated to OE specifications.
No compromise on actuator quality. 100% OE specification and calibration.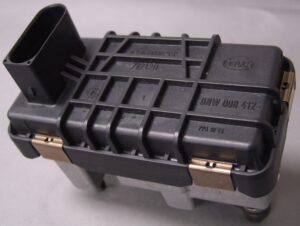 Contact your Honeywell Distributor for availability of Garrett Original Reman REA and SREA turbos. More part numbers are constantly being added to the list.
*REA = Rotary Electronic Actuator SREA = Simple Rotary Electronic Actuator.
A damaged one: