April 12, 2022
David Mazzei's Radical "Formula 7" 4-Rotor Mazda RX-7 Makes 1,000+ RWHP with Garrett Turbo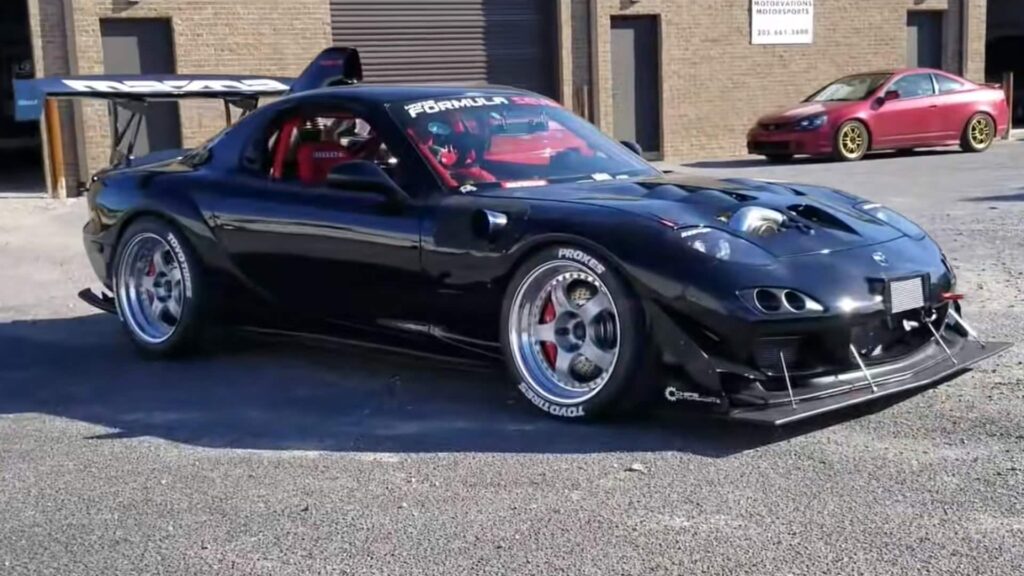 By Ainsley Jacobs
David Mazzei's radical "Formula 7" 4-rotor Mazda RX-7 road race car makes 1,000+ RWHP with Garrett turbo and is street legal.
Quite possibly the most radical FD3S Mazda RX-7 ever built, David Mazzei's "Formula 7" wicked road race project takes a 26B 4-rotor engine, adds a ton of Garrett turbo power, and a ton of top-tier parts to make well over 1,000 rear wheel horsepower while still being street legal.
Combining form and function into a jaw-dropping monster, Mazzei's 1993 RX-7 takes every area of the spec sheet to a whole new level with a car capable of absolutely shredding the competition on the road course while also having premium show car aesthetics.
Starting with a monster 4-rotor 2.6-liter 26B Wankel rotary engine that was ported to the extreme, Mazzei then fitted a gigantic single Garrett GTX5533R Gen II ball bearing turbocharger – which can easily support up to 2,500bhp – to the LeMans-inspired equal-length exhaust manifold from Morgan Performance Fabrication. As if that wasn't intimidating enough, he also added a gold-plated inlet to the turbo's polished compressor cover and a set of twin Turbosmart 50mm Pro-Lite wastegates.
Running in the Unlimited RWD class at various Time Attack events takes a ton of power, which the Garrett turbo provides, but also a ton of knowledge and skill. Mazzei used his expertise to craft a winning combination and spared no expense as he selected hardcore components that would give him the ultimate edge.
The quad-rotor engine, which was created by Chips Motorsports and Eccentric Motorsports, was fitted with a Quaife QBE69G 6-speed sequential gearbox, Carbonetic 1.5-way carbon clutched limited slip differential, and Spec triple plate clutch.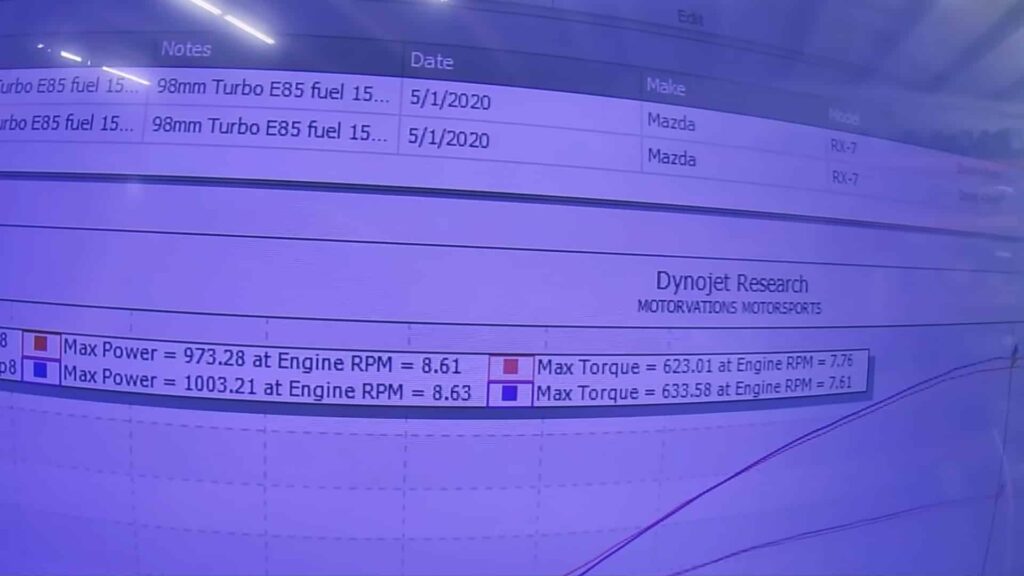 For heavy abuse on the road course, Mazzei chose stiff Fortune Auto adjustable coilovers and massive Brembo GT1 brakes with Hawk pads. Beautiful JDM WORK Meister S1 wheels roll on full racing slicks for maximum track adhesion.
The dark exterior was treated to a menacing widebody kit from RE Amemiya and Feed, a Scoot vented bonnet was installed, and a humongous chassis-mounted rear wing along with many other pieces were fitted to aid in developing downforce. Inside, a no-nonsense racy red theme surrounds Mazzei with a Kirk Racing roll cage, fire suppression system, Bride seats with Sabelt harnesses, a Racepak/Haltech digital dash, and plenty of gauges to help him keep an eye on the engine's vitals.
Mazzei cut no corners with his FD3S Mazda, as the parts list is filled with componentry that would typically be found in everything from Formula 1 to NASCAR.
Proving that the car is also still streetable, he drove it first to the Mustang dyno to dial in the boost by gear and to work on the transient fuel and ignition cuts to smooth out the pneumatically-assisted and lightning-quick flatfoot gearshifts.
Next, he cruised to a DynoJet to get some power pulls done while topping out at 195 mph on the rollers. Looks more like a flamethrower with the fender-exit exhaust spewing fire, Mazzei mastered the Haltech Elite 2500 ECU and effortlessly coaxed 1,003.21-horsepower and 633.58-torque from his 4-rotor 26B beast at just 18 pounds of boost on a conservative tune.
A mind-blowing build, Mazzei's Garrett GTX55 turbocharged "Formula 7" 4-rotor RX-7 time attack creation pushes the limits of both performance and appearance to the extremes with an unconventional combination that's truly impressive and sounds almost as shocking as it looks.
VEHICLE: 1993 Mazda RX-7
ENGINE: Mazda 2.6-liter 26B 4-rotor
TURBO: Garrett GTX5533R Gen II turbocharger
TRANSMISSION: Quaife QBE69G 6-speed sequential gearbox
POWER: 1,000+
USED FOR: road race, time attack