January 28, 2022
Danger Dan's 2JZ-Powered and Garrett Boosted Nissan 240SX Drift Machine

Danger Dan's 2JZ-Powered and Garrett Boosted Nissan 240SX Drift Machine
By Ainsley Jacobs
The S14 is a popular platform for drifting, and this Hoonigan-built Nissan 240SX has a sick Garrett turbocharged 2JZ swap.
One of the most popular platforms for drifting, the S14 chassis Nissan 240SX is already pretty potent on its own but has the potential for much more when the power level gets bumped up. Dan Sommer aka "Danger Dan" from the Hoonigan squad stepped up his S14 with a sick Garrett GTX3076R Gen II turbocharged Toyota 2JZ-GTE swap.
Wanting something a bit more robust and powerful than the stock KA24DE that comes in the Stateside version of the Nissan Silvia, Dan swapped in a Toyota 2JZ-GTE engine with VVTi for a more aggressive power curve and then added a potent, small frame Garrett GTX3076R Gen II 58mm turbocharger – capable of supporting up to 750 ponies – to the modified factory exhaust manifold.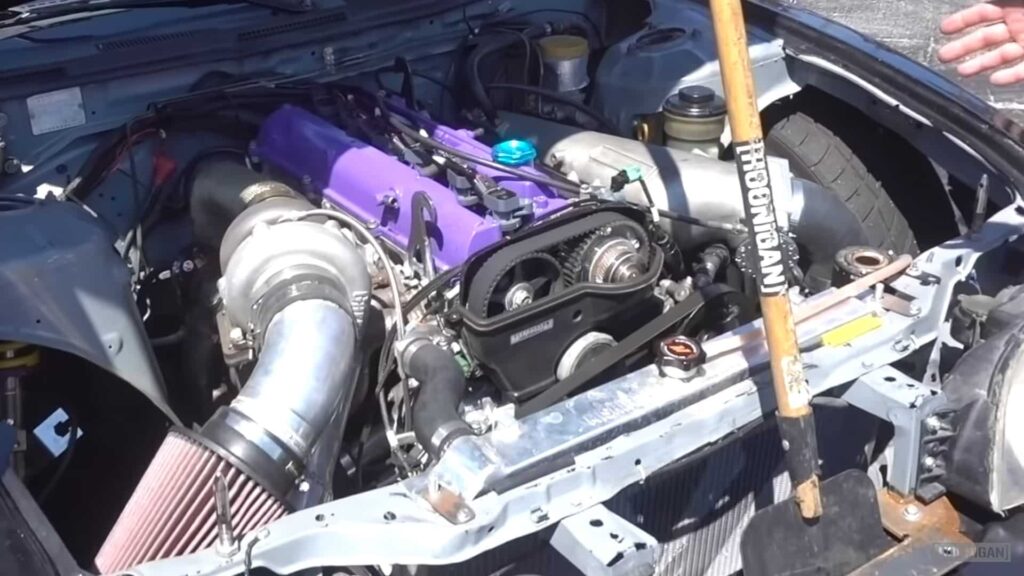 The stock Toyota R154 5-speed manual transmission has been fortified with a Spec twin-disc clutch and the brakes upgraded via a set of Project Mu pads. Riding on KW Suspension coilovers with all ISR Performance rear arms and Kansei KNP wheels wrapped with Falken rubber, Dan's Zenki S14 240SX has sustained a bit of drift damage over the years but the battle scars are something to be proud of as they prove the Nissan is definitely not a trailer queen.
Inside, a roll cage from Cusco for a right-hand drive version of the car has been bolted in along with a "Danger Dan" special edition steering wheel from Grip Royal. Outside, Origin Lab's fenders and over fenders give the car a more aggressive appearance while the custom-made exhaust backs it up with a vicious voice.
On the dyno, the car produced 615-wheel horsepower and 540-wheel torque at just over 3,500 rpm on 21 psi. The tune up was a little too spicy and the Garrett turbo was so efficient in its power delivery, however, that the connecting rods decided they didn't want to participate anymore. So, Dan yanked the hurt engine and replaced it with another 2JZ but lowered the boost down to about five pounds so it would make a more moderate "butt-dyno" guesstimated 300 horsepower instead.
Here it is on the Dyno
Future plans for the project car include a new fully-built engine to help maximize all of the Garrett GTX3076 turbocharger's potential, an upgrade to a new body kit from Koruworks to help improve the aesthetic appearance of the '90s-era Nissan as well as a wicked, and replacing the current transmission with a top-of-the-line six-speed sequential gearbox from Albins that cost about four times as much as the car itself.
A tire slayer for sure, Danger Dan and his 2JZ-powered and Garrett-boosted Zenki S14 have been busy serving up some slideways fun for the gang.
Check it out on Hoonigan
VEHICLE: S14 Nissan 240SX
ENGINE: Toyota 2JZ-GTE
TURBO: Garrett GTX3076R Gen II 5855 turbo compressor to turbine wheel specs
TRANSMISSION: Toyota R154 5-speed
POWER: 615
USED FOR: drifting