August 4, 2023
Conociendo: Manu Block | Spain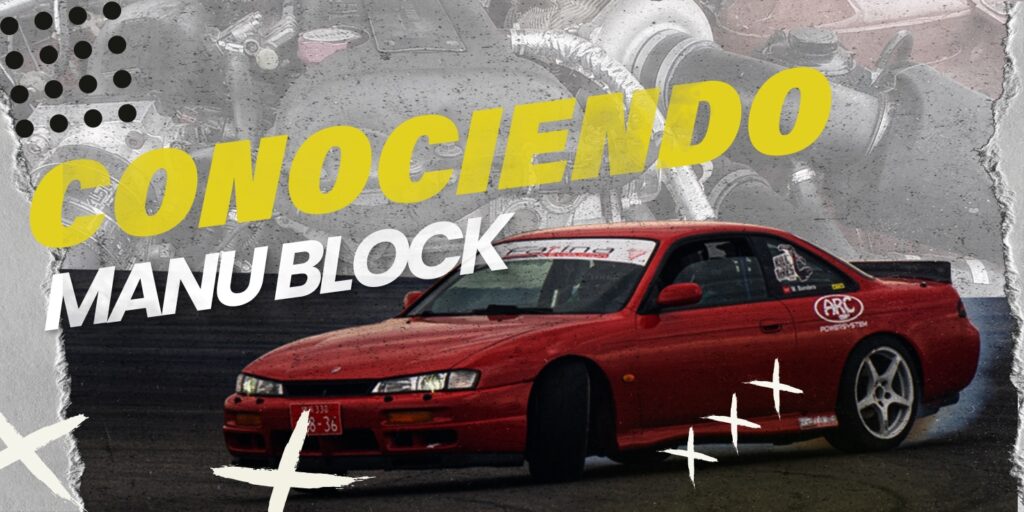 ¡Aquí en Garrett Motion, queremos brindarle la información más reciente sobre las construcciones de vehículos y los equipos de carrera que utilizan los productos de Garrett en todo el mundo! En este blog presentamos a Manu Block, un drifter de España con un chasis Nissan 200SX S14A, propulsado por un motor 2.0L y un turbocargador G-Series G25-550 que produce 380 caballos de fuerza a 1.5 Bar de impulso. Continúe leyendo para obtener más detalles de su construcción.
Here at Garrett Motion, we want to bring you the latest information on vehicle builds and race teams that utilize the Garrett products worldwide! In this blog we introduce Manu Block, a drifter from Spain with a Nissan 200SX S14A chassis, powered by a 2.0L engine and G-Series G25-550 turbocharger that produces 380 horsepower at 1.5 Bar of boost. Read below for more details in English.
INFORMACIÓN GENERAL
Nombre de contacto (nombre y apellidos): Manuel Bandera Lagunas
Empresa / Equipo: kill tyres team
Redes sociales y hashtags: Instagram @flag_to_flag
Distribuidor local: TurboMaster Spain
INFORMACIÓN DEL VEHÍCULO
Año / Marca / Modelo:nissan 200sx
Código del chasis:s14A
Cilindrada: 2000
Potencia máxima / Par máximo: 380 HP / 480 NM
Presión de refuerzo (@ RPM): 1,5 bar
Tipo de prueba en dinamómetro (adjunte gráficos si están disponibles):
Modificaciones en el motor: centralita link, árbol de levas, colector de admisión más grande, colector de escape en posición top mount, turbo Garrett g25-550, Intercoller sobredimensionado, bobinas, y bujías modificadas, inyectores de 1050mm, sistema de combustible modificado,
Colector de admisión / Cuerpo del acelerador: greddy
Colector de escape: mazworks
Inyectores de combustible top feed 1050:
Bomba(s) de combustible: 2 de 600
Sistema de gestión del motor: link ecu g4 +
Sintonizador de la gestión del motor: Farina evolucion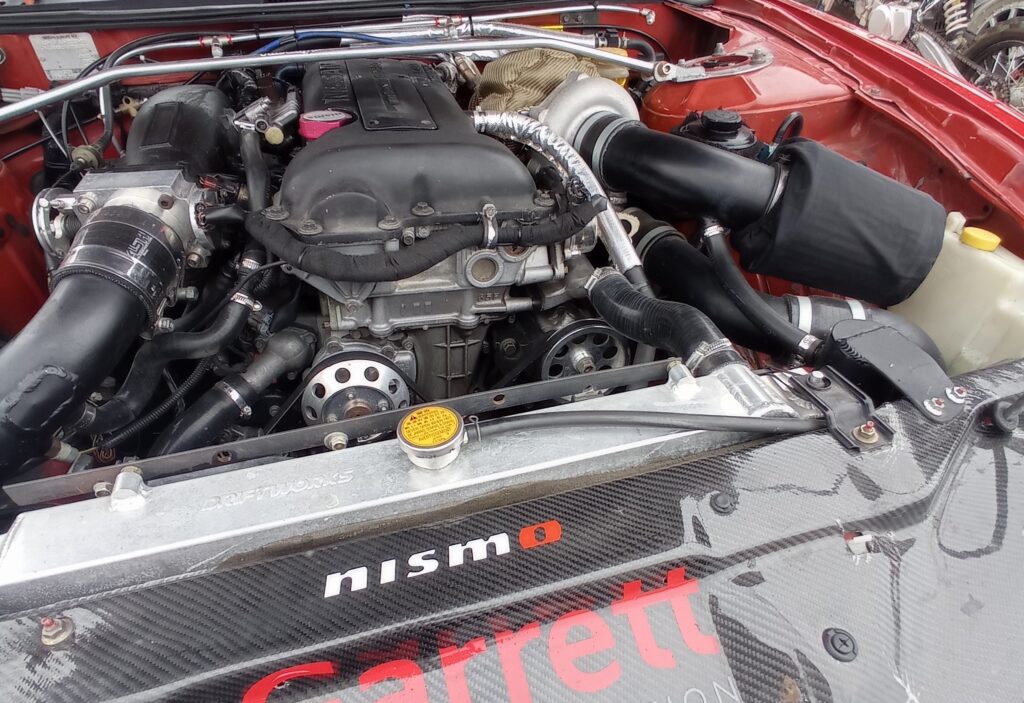 Questions
¿Por qué seleccionaste este automóvil y paquete de motor? Es el mejor chasis en mi opinión para Drift, el motor es muy potenciable, y fiable
¿Cuál es un consejo para hacer que tu turbo dure mucho tiempo? Cuidar las temperaturas, y cambios de aceite cada carrera
¿Cómo describirías tu experiencia general con la ingeniería y rendimiento de Garrett? Sobresaliente, llevo más de 10 años con sus productos, y siempre estuve muy contento.
¿Qué aspectos crees que hacen destacar a Garrett de otros productos similares? La primera calidad precio del producto, y después la continua evolución en sus sistema de turbocompresores, y su gran rendimiento.
VEHICLE INFORMATION
Year/Make/Model: nissan 200sx
Chassis code: s14A
RACING SERIES INFORMATION
Category in which it competes: Drift
Circuit in which it competes: various championships
ENGINE INFORMATION
Engine:
Displacement: 2000
Maximum Power / Maximum Torque: 380 HP / 480 NM
Boost Pressure (@RPM): 1.5 bar
Type of dynamometer test (attach charts if available):
Engine modifications: link control unit, camshaft, larger intake manifold, exhaust manifold in top mount position, Garrett g25-550 turbo, oversized Intercoller, modified coils and spark plugs, 1050mm injectors, modified fuel system,
Intake Manifold/Throttle Body: Greddy
exhaust manifold: mazworks
Wastegate size and spring pressure: 48
Discharge valve (blow-off valve): tial
Intercooler: Greddy
Top feed 1050 fuel injectors:
Fuel pump(s): 2 of 600
Engine management system: link ecu g4+
Engine Management Tuner: Farina Evolution
Why did you select this car and engine package? It is the best chassis in my opinion for Drift, the engine is very powerful, and reliable
What is a tip to make your turbo last a long time? Take care of the temperatures, and oil changes every race
How would you describe your overall experience with Garrett engineering and performance? Outstanding, I have been using your products for more than 10 years, and I have always been very happy.
What aspects do you think make Garrett stand out from other similar products? The first quality price of the product, and then the continuous evolution in its turbocharger system, and its great performance.