January 28, 2022
Alex Bernstein's Super Sick Widebody 500+ HP BMW 135i Rips the Road Course with a Garrett Turbo

Alex Bernstein's Super Sick Widebody 500+ HP BMW 135i Rips the Road Course with a Garrett Turbo
By Ainsley Jacobs
Alex Bernstein built a super sick widebody BMW 135i that's equipped with a Garrett GTX3076R Gen II turbo to help rip around the road course.
When he's not busy shooting high-end automotive photography and directing cinematic masterpieces, Alex Bernstein is out on the track or carving corners with his own motorsport masterpiece: a super sick widebody BMW 135i that is equipped with an essential Garrett turbocharger.
A BMW aficionado, Bernstein built his E82 chassis 135i to be a killer street car and capable road race/Global Time Attack monster, and ended up with an unintentional BMW 1M clone.
The BMW started its life as a standard production model, but Bernstein wanted more to fit more tire than the narrow body's fenders would allow. So, he ordered up the 1M widebody parts directly from BMW, along with a full carbon roof from IND and a carbon fiber M3-style vented hood from Seibon.
Next, he had the team at Strasse Sport Auto Body seamlessly complete the bodywork and paint to make the 135i look as if it had rolled right off the production line with its new, aggressive stance. Quick-releases on the front bumper make it easy to take on and off at the track, and the front splitter is compliant with GTA Global Time Attack class rules.
A nimble car to begin with, the 1-series couples a big engine with a light body. Bernstein wanted to take advantage of the powerplant – which came stock with twin turbos – by increasing its potential. He went all in with a turbo kit from CES Motorsports that included a CNC-machined log-style manifold for quick spool and selected a single Garrett GTX3076R Gen II turbo with a twin-scroll turbine housing to do the boosting honors.
With no modifications to the direct injection engine's internals, the Garrett turbocharged N54 offered up 530 horsepower at the wheels and 485-pound feet of torque at about 20 psi on a fuel blend of E85 and California's 91 octane pump gas.
Check Out That Dynograph – GTX3076R Gen II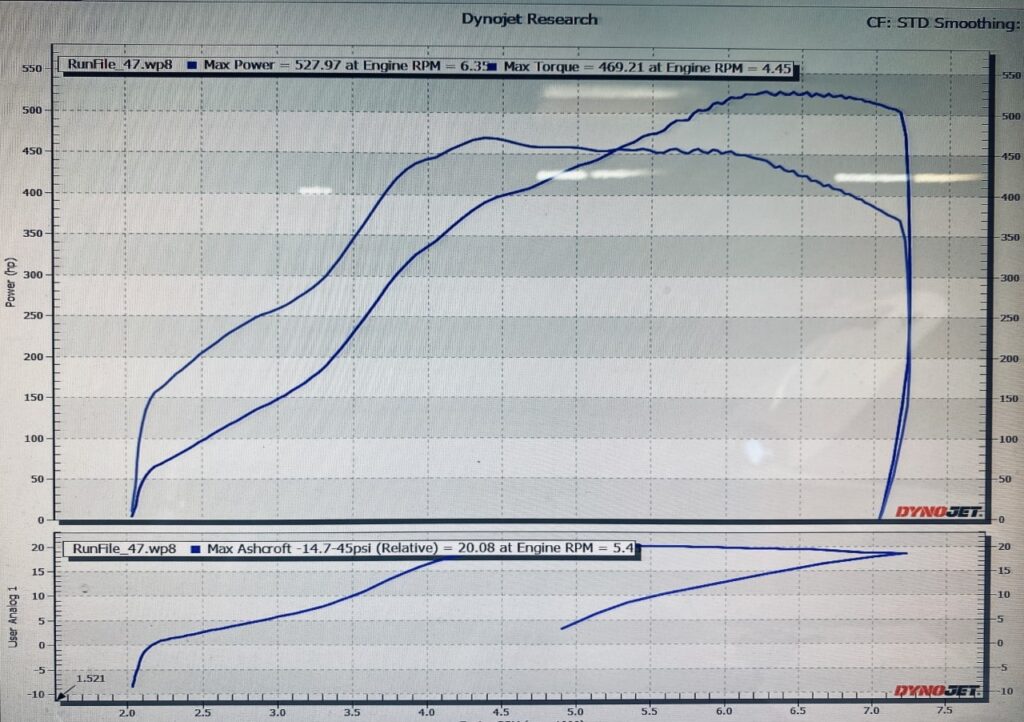 A true track-focused suspension has been installed, too, as the Motion Control Suspension two-way remote reservoir coilovers are tucked neatly behind the car's iconic kidney grills for improved airflow cooling. Similarly, twin oil coolers flank the concealed front-mount intercooler to help when the 1M clone gets a little too spicy in the temperature department.
Inside, Bernstein has paid close attention to the details and fitted his upscale E82 with a 1M headliner from Germany, leather Recaro seats with stunning red OMP harnesses, and a factory BMW Alcantara steering wheel with matching shift boot, handbrake boot, and trim. The one-piece bolt-in roll bar has been carefully color-matched to the car's exterior, and a two-piece rear seat delete wrapped in OEM black leather gives it a clean look.
The exterior was finished with an intimidating wing from APR Performance, rally-style turndown exhaust tip that echoes off the ground, StopTech trophy kit brakes in the front and rear with StopTech's track pads, and Nexen rubber-wrapped Fikse Profil-10 wheels sized 18×10 at all four corners.
See Alex's Build on Auto Focus
Ripping around the famed Buttonwillow CM13 racecourse, Bernstein expertly rows the gears on the ZF six-speed manual transmission and upshifts and downshifts with an AKG Motorsport short-throw shifter and SPEC stage 3+ single plate clutch with matching billet steel flywheel; to date, he's run an impressive 1:52 lap time.
One of the most exciting cars that Bernstein has ever driven, his wild BMW 135i is the perfect blend of track beast and daily driver.
VEHICLE: E82 2009 BMW 135i
ENGINE: 3.0-liter N54
TURBO: Garrett GTX3076R Gen II turbocharger ( 5855 turbo compressor wheel to turbine wheel specs)
TRANSMISSION: ZF 6-speed manual
POWER: 530
USED FOR: road racing, time attack