April 12, 2022
A Cheap Facebook Marketplace R33 Skyline Transformed into a 1,300+ HP Garrett Turbo Drift Machine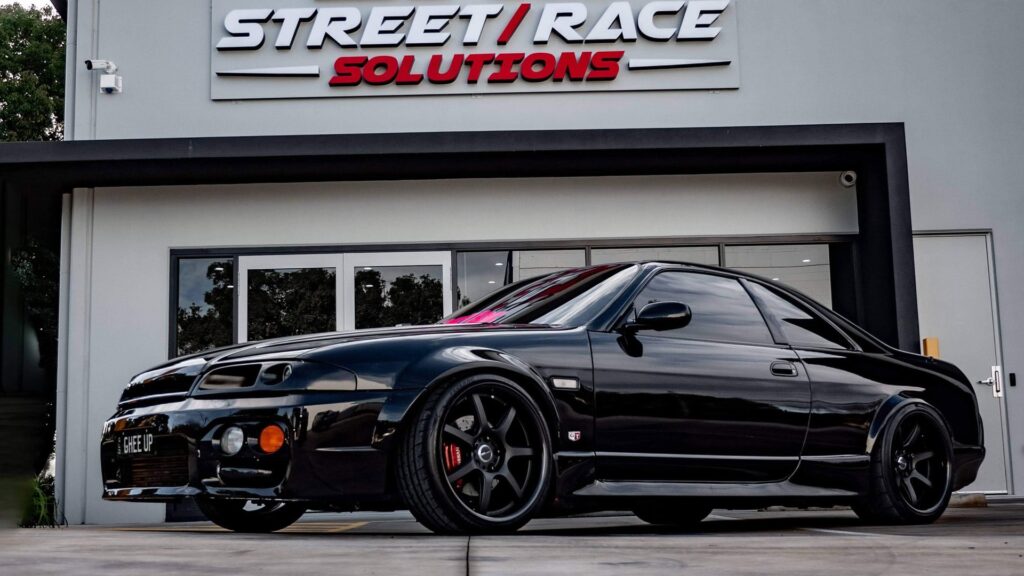 By Ainsley Jacobs
A cheap Facebook find, Street Race Solutions transformed their R33 Nissan Skyline into a 1300 HP Garrett turbo drift machine.
Brothers and co-owners of Street Race Solutions in Australia, Stuart and Andrew Young decided to build a shop car for Andrew to use on the drift circuit. Starting with a $3,000 Facebook Marketplace find, they completely transformed their R33 1993 Nissan Skyline "Ghee Up" into a project of epic proportions with high-end equipment and a killer Garrett turbocharger.
The journey began in 2019 and the R33 Skyline was completely untouched when the brothers stumbled upon it. Making only an estimated 200 horsepower, the Japanese icon had a tough time smoking the tires and destroyed three factory RB engines while being run at multiple events in 2020.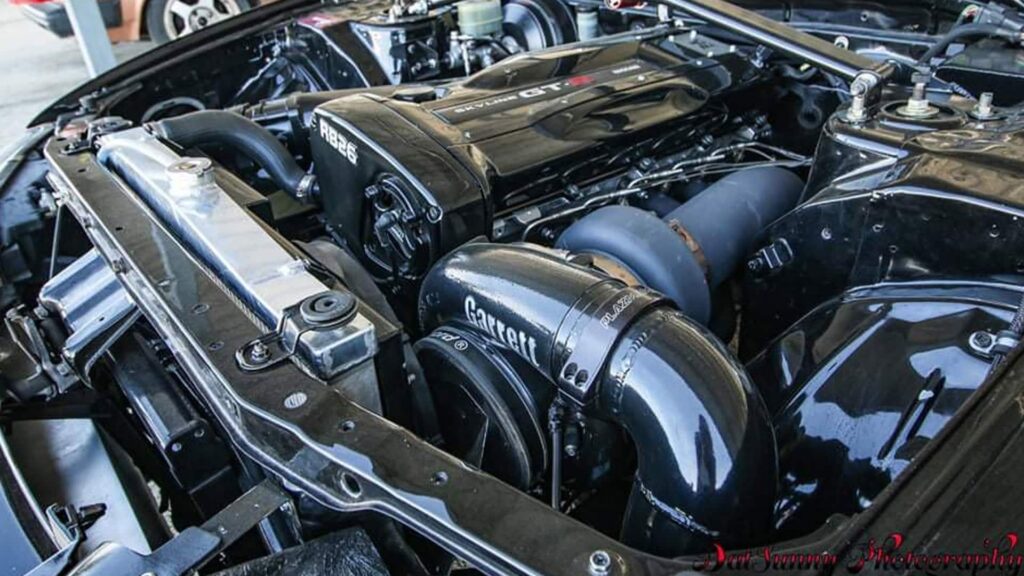 In February of 2021, after having built up a collection of parts to assemble a monstrous masterpiece, the Youngs began a complete tear-down of the Skyline with the goal of having one of the fastest drift cars in Australia. At the core of it was a 2.6-liter Nissan RB26 engine with a Nitto 2.8-liter billet crank stroker kit and custom shimless SRS head package. A beefy Samsonas RWD S6 6-speed sequential transmission was also installed to handle the high-revving gearshifts.
Knowing that the Skyline would need to see four-digit horsepower to accomplish their vision, the brothers bolted on a ball bearing Garrett GTX5020R Gen II large frame turbocharger with a 1.17 A/R TiAL turbine housing and blacked out compressor cover to match the car's wicked exterior. The massive 120mm exducer compressor wheel, coupled with Garrett's advanced aerodynamics and innovative engineering, gifted the guys all of the boost they could ever need.
To keep control while sliding sideways, the Street Race Solutions team installed a set of TOG Auto Group coilovers with springs rated 12kg in the front and 8kg in the rear along with a Wisefab front end and adjustable arms in the rear. A torsion-style Winters 10-inch rear end and GTR shafts serve to further strengthen the system.
For drifting, 18"x9.5" rear wheels wrapped in 265/35R18 rubber are used while in a drag configuration the Skyline is fitted with 15"x10" double-beadlocked and 5-inch backspace Weld Racing wheels with Mickey Thompson's legendary ET Street Radial Pro 275 drag radial tires.
On the dyno, "Ghee Up" (Aussie slang for "get your friends hyped up and ready to send it") easily eclipsed its previous mark of 200-horsepower. Fueled by VP Racing X85 ethanol blend, the Skyline put down a whopping 1,386 to the rear wheels on 57 psi of boost while the Haltech Nexus VCU kept the Garrett turbocharged 2.8-liter RB engine running smoothly.
Although drifting was the primary goal, the brothers built their sinfully sinister Street Race Solutions R33 Nissan to do it all – street, drag, drift, car shows, and more – while wildly shredding tires all around Australia.
VEHICLE: R33 1993 Nissan Skyline
ENGINE: Nissan RB26DET 2.8-liter stroker
TURBO: Garrett GTX5020R Gen II turbocharger
TRANSMISSION: Samsonas RWD S6 6-speed sequential
POWER: 1,386
USED FOR: drift