September 24, 2019
800 WHP Unlimited Front Wheel Drive Acura Integra Type R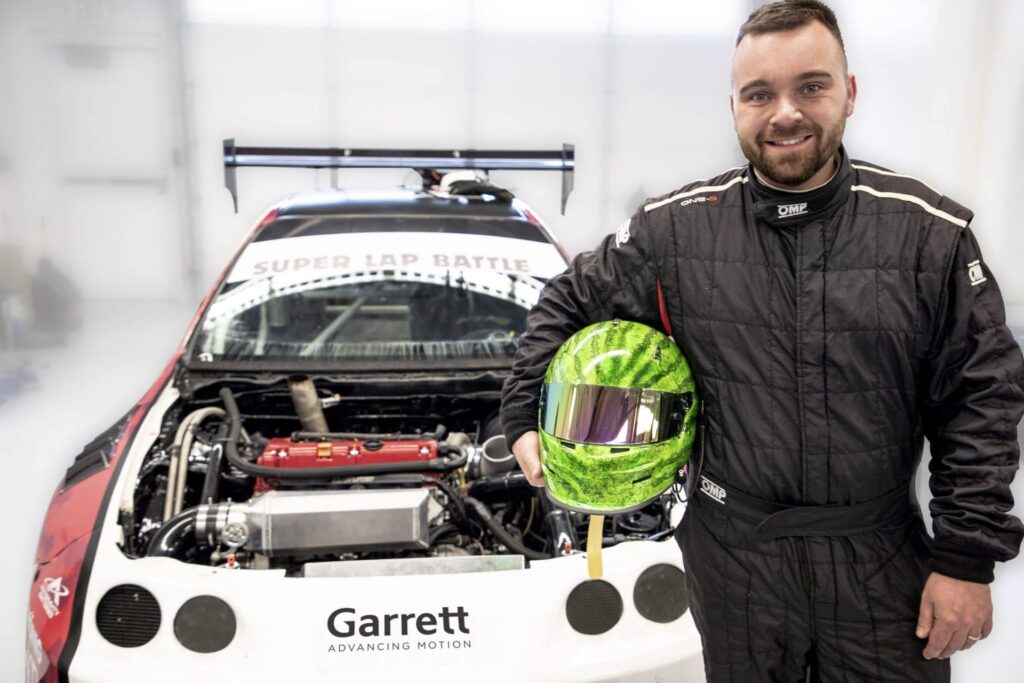 In Time Attack, horsepower and boost response are extremely important in order to achieve top speed as well as to accelerate in and out of corners without sacrificing time. As much as peak horsepower is important, efficiency is critical. Our GTX3582R Gen II experiences virtually zero lag while achieving near ambient air intake temperatures. We have one to two laps to go out and make our fastest lap on the track so turbo selection is key to our success. This 800 WHP Unlimited Front Wheel Drive Acura Integra Type R has progressed from a daily driver to a dual duty daily driver and time attack car to now a full blown race car. This took 10 years and approx 75 events!
The GTX3582R Gen II has the best balance of power, response, and packaging for our 2.4L K24a2 engine. The V-band turbine housing makes installation in a tight space a breeze. James' favorite thing about the turbo is definitely the crazy power numbers we can make! We always get asked at the track what it's like to drive an 800whp front wheel drive car on a circuit track. Honestly when the setup is working well it's a breeze. The car puts the power down extremely well thanks to the great responsiveness of the turbo.
This year James is using the GTX3582R Gen II turbo with the V-band 1.01 A/R turbine housing. The 2.4L K24a2 makes 809whp and 565 lb/ft of torque at 8000 rpm.
Since 2018 Jim Houghton has racked up a long list of victories from different tracks across the US and Canada.
2019 Results:
Superlap Battle Cota unlimited fwd record holder and 2nd overall in unlimited 2.11.8
Gridlife Mid Ohio April overall Time Attack Record 1.23.4
Global Time Attack Road Atlanta unlimited class 1st place 1.21.0
CSCS Rd 1 Ctmp ddt, 1st unlimited fwd 1.25
Gridlife Midwest Gingerman Raceway 1.27.2
Ontario Time Attack overall record holder at Canadian Tire Motorsports Park Grand Prix track 1.18.7
Northern Speed Time Attack Toronto Motorsports Park overall record 1.09.6
Global Time Attack New Jersey Motorsports Park First overall first in unlimited 1.01.9
Gridlife Road America overall time attack record 2.08.1 and unlimited class bracket winner
CSCS Toronto Motorsports Park Unlimited fwd record 1.08.7
Speed Ring M1 Concourse unlimited fwd record 1.04.0 and 2nd place in unlimited class brackets
2018 Results:
Gridlife road Atlanta unlimited class record 1.22.5 August 2018
Cscs Toronto Motorsports park unlimited fwd track record 1.10.2 July 2018
Shannonville Motorsports Park Time Attack Track record with CSCS 1.46.1 August 2018 
Cscs Toronto Motorsports Park Unlimited fwd lap record  1.09.5 sept 2018
The Speed Ring unlimited fwd lap record and overall unlimited class bracket battle winner 2018
2018 CSCS Unlimited fwd season champion,
2018 Gridlife overall unlimited season champion
Vehicle Specs:
Vehicle YMM: 1998 Acura Integra Type R
Competition Class: Unlimited Front Wheel Drive
Engine Type: K24a2
Engine Displacement 2.4L
Horsepower/Torque Data: 809whp/565wtq
Dynapak
JBR Engines
La sleeves
Cp pistons, 10:1
BC 625+ rods, stock crank
Cnc ported head by jbr engines, ferrea valvetrain, stock cams
Ktuned Intake manifold/ Bosch 82mm drive by wire Tb
Custom turbo manifold by unit 2 fabrication
Custom exhaust by unit 2 fabrication
Turbosmart 50mm wastegate
Turbosmart bov
Garrett intercooler core, custom end tanks by unit 2 fabrication
Id1700 injectors
2 walbro 485 pumps in radium surge tank
Engine management tuning by Evans tuning and haltech USA
Turbocharger : GTX3582R GEN II with undivided vband 1.01 housing