November 12, 2019
5 Ways Garrett's Installer Connect e-Learning Increases Your Turbo Know-How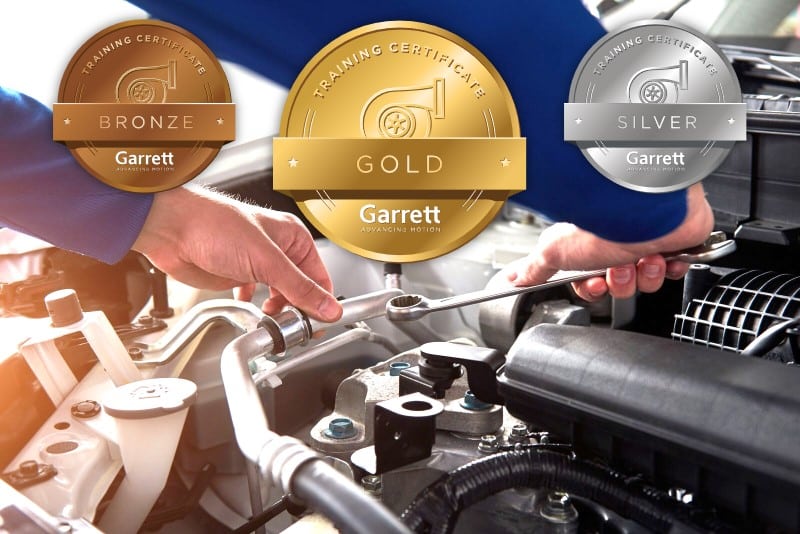 Whether you're a car enthusiast, professional mechanic, or simply a curious person, Garrett's Installer Connect e-Learning platform can boost your turbocharger installation knowledge!
Installer Connect offers free premier training videos, in-depth knowledge about turbochargers, and a comprehensive catalog search to help any installer to become a true turbo expert.
Here are five reasons to check out Installer Connect today.
"How does that thing work?"

Learn the turbocharger basics

Garrett Installer Connect is created to support you regardless of your level of turbocharger knowledge or needs.
It has a breezy yet educational Level 1 training with voice-over animations and easy to follow information. Each of the two videos are less than eight minutes long, followed by a quiz.
Once completed, you can walk away with a good understanding about how a Garrett turbo works, complete with a Bronze Certificate!
Keep leveling up with

advanced installation training
Craving even more knowledge? Move onto Level 2, Level 3 and the Bonus Racing Level!
Through these additional courses, you will learn even more about the installation process, the inner workings of a turbo, how to ensure a long service life, and much more.
After completing all the levels and accompanying quizzes, you'll become a Garrett Motion-recognized installer, complete with a printable certificate!
Do it anywhere, any time,

and in several languages!

We get it – life is hectic!
That's why Installer Connect is mobile friendly, allowing you to complete levels on the go, whether you're on the morning train or awaiting a flight at the airport.
You can even watch the animations and take the quizzes in one of eight languages!
This makes it easier for distributors and co-workers to invite their global colleagues to take the trainings, so share away!
Earn "e-Badges" to prove your

knowledge on social media

Speaking of sharing, did you know you'll get an exclusive Garrett e-Badge for each level you complete?
Bring more clout to your turbo know-how by sharing your e-Badges on your favorite social media channels.
Can you collect them all?
Unlimited access! Return to Installer

Connect for a refresh on your turbo knowledge

Once you complete the free registration to access Installer Connect, your access never expires!
That means as additional trainings are added, you can return to stay up-to-date or if you just need a refresher from previously completed courses. It's a win-win!
You can check out Installer Connect today. Happy learning!
Bonus – learn how to install a turbo in 7 easy steps