August 24, 2019
Garrett G30-660 and G30-770 Turbochargers Combine High Flowing, Efficient Aero In A Compact Package
The Garrett G30-660 and G30-770 Turbochargers
Garrett G Series turbochargers feature advanced compressor and turbine aero to offer enthusiasts a wide range of performance boosting solutions for 2.0L – 3.5L engine platforms. The G30-660 and G30-770 are available in standard and reverse rotation options for twin turbo applications or for turbo setups that need a reverse rotation turbo like the Mitsubishi Evo 4 – 9. Turbine housings are offered in a variety of stainless steel configurations making it easy mount and tune your application. The dual ceramic ball bearing cartridge helps improve boost response and durability.
New G Series 30 turbochargers have a larger trim compared to GTX models. Wheel trim is a ratio of the inducer to exducer of a compressor wheel and exducer to inducer of the turbine wheel. The larger the trim, the less difference you have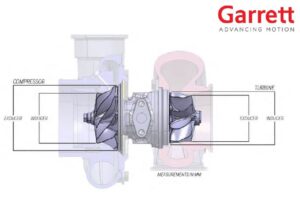 between inducer and exducer.
Compressor Trim = (inducer² / exducer²) x 100
Turbine Trim= (exducer² / inducer²) x 100
Compressor Inducer 54mm | Compressor Exducer 67mm
Turbine Inducer 60mm  |  Turbine Exducer 55mm
Compressor Inducer 58mm | Compressor Exducer 71mm
Turbine Inducer 60mm  |  Turbine Exducer 55mm
Compressor Stage Features
Standard and reverse rotation configurations for all G30 models                                       
Fully machined ported shroud to help reduce compressor surge
Speed sensor port provides racers the option to add a speed sensor. Comparing shaft speed and boost levels on a compressor map will help determine ideal operating conditions to ensure peak power over a wider operating range.
Speed Sensor Kits: G Series speed sensor kits have new part numbers and are notcompatible with GT/GTX kits. Easier to install and does not need to be adjusted for length like previous sensors. Simply remove bolt that secures the plug, insert the speed sensor and re-tighten the bolt.
G Series Street Kit: 781328-0003 (includes speed sensor, wire harness, gauge)
G Series Pro Kit: 781328-0004 (includes speed sensor, wire harness)
Fully machined pressure port. Used to supply external wastegates with pressure signal.
An O-ring between the compressor housing and backplate reduces any boost pressure leakage.
Center Housing                                               
Water cooled design allows optimum cooling
4 water ports provide more installation options
Water fittings, plugs, and oil restrictor included (.035" restrictor)
One piece center housing and backplate
Center housing to turbine housing V-band connection to make installation quick and easy
Aerodynamics and Rotor Group
Compressor Wheel
CFD engineered, forged fully-machined compressor wheel
Wider compressor maps for a larger operating area
9 blade count
Bearing
8mm dual ceramic ball bearing
Twin piston rings on comp and turbine stage
Turbine Wheel
Mar-M Turbine wheel construction
High temperature rated up to 1050°C | 1922°F
Turbine flow is 5% higher than GTX
Turbine Housings
V-band configurations have 360 degree clockability
Stainless steel turbine housings for temperatures up to 1050°C | 1922°F
3 inch (76.2mm) V-band inlet (same as GTX)
3.5 inch (90.16mm) V-band outlet (same as GTX)
V-band 0.61 and 0.83 configurations available at launch
Additional housing configurations TBD
Features:
• New G Series compressor wheel aerodynamics
• Fully machined speed sensor and pressure ports
• Standard and reverse rotation configurations available
• Oil restrictor and water fittings included with purchase
• One piece center housing and backplate for increased durability
• 4 water jacket ports for customizable installation
• Mar-M turbine wheel material rated up to 1050° C | 1922° F
• Stainless steel turbine housings for temperatures up to 1050° C | 1922° F
For more information visit us on Facebook at https://www.facebook.com/garrettmotion/