4월 13, 2008
podium : start to 2008 Formula D season
Long Beach, CA-The Rockstar/AEM drift team continued their winning form from last season with Tanner taking the podium in third place overall for the event after several hard fought battles. Stephan had his best qualifying round ever at Long Beach and posted the fastest entry speed of the event, settling in 5th overall in the unseeded field heading into the 32 car elimination round.
FOUST'S RESULTS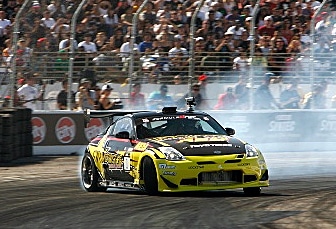 The buzz around the paddock was all about the heightened level of competition, with vehicle prep and driver skill noticeably better than last season to all who were present. Tanner was conservative in qualifying and elected to focus on tandem rounds settling in as the 4th qualifier in the seeded field. In the first round of tandem eliminations Tanner drew the Garrett-powered RX7 of Ryuji Miki, which was unlucky given Ryuji's D1 championship status, his skills in tandem competition and potential bad blood from their tandem round in Irwindale last year that cost Ryuji's mechanic his crew jersey, and Tanner knew it wasn't going to be easy. Using the grip of the R1R Toyo tires,Tanner pulled two-car lengths ahead when leading for the advantage, and attacked hard when following to advance to the Great 8.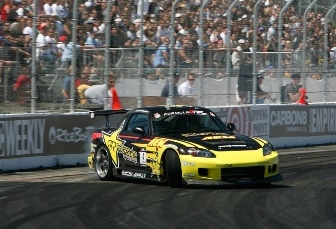 The Great 8 was another unlucky draw for Tanner, pulling 2007 3rd overall finisher Daijiro Yoshihara and his GTO. Tanner was able to again pull away when leading and follow closely for the advantage, wishing all the while he had the Z when Rhys was in the GTO…
In the Final 4 Tanner drew Samuel Hubinette and the Viper, for what could arguably be one of the most difficult ladders in drifting. Tanner recalled two years ago when Sam beat him after an OMT (One More Time) and didn't want to be in that situation again, but history repeated after the cars mirrored each other after two passes. Tanner underestimated the speed of the Viper off the line two years ago and wasn't making the same mistake, so he stuck to the Viper and even put a nose on him when he went wide, but Sam closed the gap on the clipping point forcing Tanner to extend his drift with a four-wheel lockup. Unable to recover the line, Sam had the advantage.
news_end_content:
The consolation round pitted Tanner against Kyle Mohan and his Mazda RX-7. Kyle was missing third gear, but Tanner wasn't about to underestimate him or the car, knowing it was capable of winding up to 9,000 RPM in 2nd gear. Tanner outran him when leading and matched his 2nd gear pace when following to take third place overall in the event. Noted Tanner, "Wow, props to Kyle for keeping that car drifting in 2nd. That was impressive."
Tanner continued, "Drifting is thriving! We had a capacity crowd and they had to turn people away, and I expect we'll see that at all the tracks this year. I love Long Beach because you have grandstands on both sides, so you can REALLY hear the crowd when they get loud. It's very cool!"
PAPADAKIS' RESULTS
Steph qualified fifth overall in the 18-car unseeded field during Friday's qualifying with an impressive 86 point run. The run looked very fluid and given Steph's previous experiences at this track it was a major step forward toward the tandem elimination rounds. "I felt good but I knew I had to make some changes to get to tandems," commented Steph. On Saturday, Steph continued to click off consistent passes during the 32-car elimination round and posted the fastest entry speed of the weekend at 64.9 MPH, but did not get the nod to advance to tandems.
Noted Steph, "Long Beach has always been intimidating for me because there is zero margin for error…there's walls everywhere and tight, decreasing radius turns. This is my third year here, and I felt more comfortable on this track than I ever have thanks to off-season practice. I have high expectations for myself this season and plan to build on the momentum from this event."