8월 9, 2009
Pat McSwain Speed Record at Bonneville
Bonneville (UT) – Pat McSwain stared ahead at the open salt. The markers before him signaled distance while the 900 horsepower, series twin Garrett turbocharger-powered Chevy Duramax diesel engine thumping beneath the hood of his trusted McRat Racing White Chevy "Casper" signaled power. The two were here, today at Speed Week to fight for the A/DT class record.
It was time.
Casper, a veteran of sled pulling, drag racing, and now speed record setting was off to an incredible start! McSwain and his wife Kathy had built the pickup over the years, constantly pushing it harder and harder and now, were attempting to take it over 200 mph.
As McSwain passed the 2-Mile marker, his speed was clocked at 175.074 mph.
Dashing past the 2.25-Mile marker, he was up to 197.068 mph. At the 3-Mile marker, it seemed that he would be well over the golden 200 mph standard!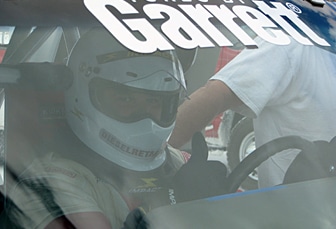 Then, something happened. At approximately the 2.75-mile point, McSwain pulled the chutes on Casper. As the truck flew by the 3-mile marker with chutes deployed, his speed was clocked at 193.033 mph, leading the team to believe that Casper was moving at over 200 mph. It would not be official without proof, though.
At triple digit speeds, if anything goes wrong, it is potentially serious. Luckily, the failure turned out to be a blown intercooler hose; an easy fix, but the team was done racing for the day.
Early on Sunday morning, Casper was hauled back out to the lane of salt that makes legends each and every year. Casper was running approximately 60 psig of boost during the run (equivalent to 75 psig at sea level in Bonneville's 11 psia air). McSwain was determined to push beyond 200 mph, but determination alone could not overcome the melted pistons that would prevent a full run.
Despite the setback, when the two runs were averaged, McSwain would take home the new record in the A/DT class of 175.033 mph! Obviously, the truck is capable of even more and McSwain and McRat Racing are determined to push on. Casper is slated to be repaired and back out to El Mirage in September before making another attack on the salts of Bonneville.