4월 17, 2008
Newest Crawford Subaru STI Debuts Grand Prix
Crawford Performance was extended an invitation to the Motorsports bonanza known as the 34th annual running of the Long Beach Grand Prix to help kick off the inaugural Super Lap Battle series. Not only was it a first time for thousands of viewers to experience the competition Super Lap Battle, but it was also the debut of Crawford Performance's new 2008 WRX STI as driven by Eiji 'Tarzan' Yamada. The journey started approximately several weeks prior when team Crawford set forth to meet a few Herculean goals:
– Debut the 2008 Subaru WRX STI at the Long Beach Grand Prix in a striking livery.
– Showcase the performance potential of the 2008 Subaru WRX STI while working under strict time constraints towards car build (6 weeks), correctly engineer parts,and present a professional team image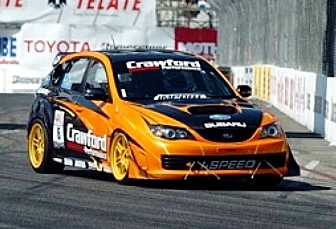 Team Crawford did not disappoint. Their stellar debut performance earned them a 2nd place win in class (only a mere .8 sec from 1st) and 4th place overall finish. What makes this more impressive is that the Crawford skunk works team had only six weeks to prepare the 2008 Subaru WRX STI, make it track worthy, and that the first shakedown of the car was actually at the Long Beach Grand Prix. To add, Driver Tarzan Yamada, "I was a little worried before I drove the car because it had no track time on it. After just one lap, I was more than surprised to see how far ahead the car really was developed, more so than any new 2008 WRX STI I have driven in any other country."
When asked about what he sees in the car and Crawford's future, Tarzan exclaimed: "I can genuinely say that I was very impressed with what Crawford achieved in so little time. With a few more changes, this car can be the fastest Subaru WRX STI on the track. I'm honored to have been selected to be a part of Crawford Performance's skunk works team. I can't wait to get behind the wheel again!"
More about Long Beach Grand Prix:
The current race circuit is a 1.968-mile temporary road course carved out of the city streets surrounding the Convention Center of Long Beach, California. It is particularly noted for its last section, which sees a hairpin turn followed by a long, slightly curved front straightaway which runs the length of Shoreline Drive. The circuit is situated on the Long Beach waterfront, and is lined with palm trees (especially along the front straightaway), making for a scenic track.