7월 17, 2008
Garrett Turbo Super Bowl of Drag Racing
JOLIET (IL) – Anyone who wants to know how skilled Ron Lummus is as a driver need only look to his performance at the NMRA/NMCA Super Bowl at Route 66 Raceway just outside of Chicago, IL.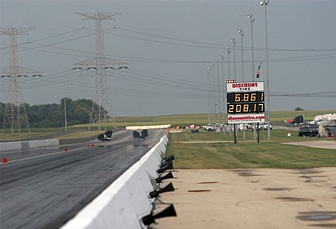 The Turbo By Garrett/Bothwell Motorsports GT Mustang has been working to find its groove and this past weekend, everything fell into place. The Windsor 380 c.i. motor powered by twin Garrett GT4718R turbochargers produce massive horsepower, but as anyone racing in Pro Outlaw knows, putting that power to the ground through 10.5″ tires is the real trick to racing in the class. During round two of qualifying, Lummus was in the zone, piloting the car to an unprecedented E.T. of 6.86 seconds; nearly a full tenth of a second under the previous record, as well as a speed of 208 mph! With two new NMRA class records set, the team now had to back them up and wound next pull out another amazing run of 6.89 seconds.
Exhibit B: The Event Win
Running fast is one thing, but running consistently is what wins races. The GT Mustang racecar was clicking off low 7-second runs like clockwork. Credit needs to also be given to the crew at Route 66 Raceway for their fine track preparation and cleanup following the weekend's many rain storms.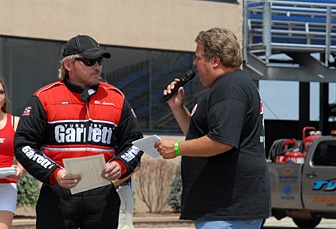 The final against the undefeated Mustang GT of Conrad Scarry saw the wildest action of the weekend, which leads us to:
Exhibit C: The Final
As the two cars staged for the NMRA Pro Outlaw final, the Mustang of Conrad Scarry lined up against Lummus. The lights clicked off, went green and Lummus launched with force. Scarry bogged at the line, allowing Lummus to pull ahead by around 12 car lengths when suddenly a plume of white smoke erupted from the rear of the Garrett car. More smoke poured out as Lummus wrestled the car back and forth across his lane. Through an amazing feat of driving skill, the Garrett Mustang never went into the wall nor did it cross the center line while still giving Lummus the win at a thrilling 9.59 seconds to Scarry's 11.32 seconds.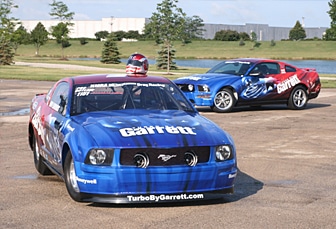 Fearing the worst, the team prepared to swap engines and transmissions. There would only be one hour before the team would have to face off with the NMCA's Pro Street winner; the Camaro of Mark Micke. As the car came in, the Bothwell team quickly went to work. The data was all normal and it was quickly determined that a transmission line blew, covering the rear tire and right lane with slick fluid. Luckily, it is also an easy fix.
The team wouldn't win the bonus Super Bowl round against Mark Micke, but they would come away with a new record, a class win and a lot of race fans interested in the Garrett racecar.