3월 21, 2009
Audi and Peugeot Battle at 12 Hours of Sebring
Sebring (FL) – If you didn't get a chance to watch Truth in 24 on the eve of the 12 Hours of Sebring, do yourself a favor and get over to iTunes to download it… for free! It was an excellent primer for the action that occurred on the track at the American Le Mans Series Season Opener at Sebring International Raceway.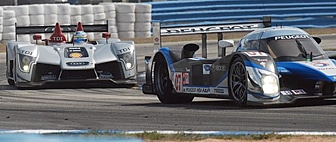 One of the most exciting rivalries in Motorsports stepped it up a notch. Peugeot brought back its fearsome diesel 908 HDI Prototypes for the second year. The 908 HDI is one of, if not THE, fastest endurance race cars in the world. The twin Garrett TR30R turbocharged 908 HDI was a full 3 seconds faster at 2008's 24 Hours of Le Mans than the formidable pioneer of diesel endurance racing, the Audi R10 TDI. But Audi wasn't bringing back the R10. Instead, Audi had a lighter, smaller and more powerful P1 prototype for 2009; the twin Garrett TR30R turbocharged Audi R15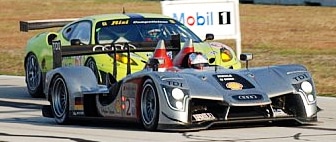 Also joining the fray this year was team Acura who fielded their new, awesomely quick P2 prototypes that actually took pole position from the Le Mans veterans by a scant 0.0082 seconds.
Anyone who has endurance raced knows that it isn't always the fastest car that wins and Acura would be shut out of a podium finish with a fourth place finish.
That left the title match between Audi and Peugeot. Through 12 grueling hours, the teams battled it out, exchanging the lead an amazing 23 times. More impressive is the fact that the leading #2 R15 and the #08 908 HDI remained on the same lap the entire race!
It was an epic battle where every second counted. The race was decided when Audi Driver Allan McNish was able to overtake the Peugeot when driver by Franck Montagny was forced to pit for fuel. McNish then proceeded to click of faster and faster laps, driving the R15 to the limits and eventually take the checkered flag to give team Audi the win a mere 22.279 seconds ahead of Peugeot!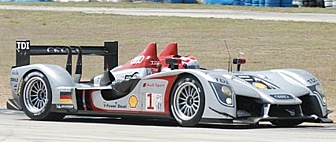 Audi pilots Allan McNish, Dindo Capello and Tom Kristensen will team up in the #2 R15 again in Le Mans for the most famous of all endurance races, the 24 Hours of Le Mans to face a rematch from Team Peugeot. Will the French team have better luck on their home turf?
Images courtesy of Larry Parker