5월 12, 2011
Apollo Performance Records at Rd 2 of Redline
(PHOENIX, AZ) – For Round 2 of Redline Time Attack, the Apollo Performance team, leading in points in the Front Wheel Drive Street Class and All Wheel Drive Street Class, packed their Ford Focus and Subaru WRX on their trailers and made the 600 mile trek to Firebird International Raceway in Chandler, AZ. However, just a few hours before their departure, the Apollo Performance WRX seemed to have sealed its own fate as there was mysterious mechanical issues that almost prevented the team from leaving the state.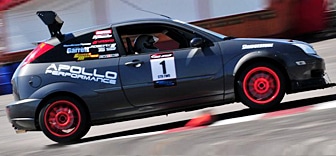 "We fired the up the car one morning and notice an obscene amount of oil leaving the exhaust system" said Danny Reyna, crew chief of the Apollo Performance team. "We were worried that the turbo might have been damaged so luckily, our turbo sponsor Turbo by Garrett was able to source out their new amazing GTX3528R Turbo for us and it replaced our previous GT4088R Turbo." Danny Reyna continued. However, with the new turbo in place, there were still mechanical gremlins in the system. Thursday, only two days before the Time Attack, there was another issue with more oil coming out of the system.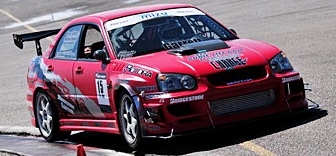 Luckily, our friends at FSR Motorsports in Montclair, CA and Outfront Motorsports in Buena Park, CA solved the issue with their extensive knowledge and we topped it off with a strong tune from Ian at FSR Motorsports turning out 550whp at only a modest 24psi of boost. An amazing tuning session from Ian and the team packed up with loads of confidence that the track record can be broken with the Subaru.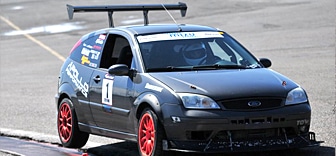 The team arrived on the track early Saturday morning to a wet and damp paddock area. "I don't know if I can really get much practice today in the rain especially at this track. I'm pretty confident that I can get some solid laps later on when the track dries off." said the Apollo Performance Driver, Clint Boisdeau. "I've been looking at track records here and I'm pretty sure that we can get close to those with the set ups on both vehicles." Later in the day, the water dried up and Clint didn't disappoint as the current points leading Apollo Performance Ford Focus unofficially broke the Front Wheel Drive Street Tire record and the Apollo Performance Subaru WRX got closer to the All Wheel Drive record. Sunday looked extremely positive for the Apollo Performance team.
On Sunday, the weather cleared up with a positive outlook as Clint was able to tear up the track with both vehicles early in the morning practice sessions. An hour later during the Redline Pro Time Attack sessions, Clint scorched the track with two record breaking lap times. The Ford Focus clocked in at a 1:09.499 which broke the previous record by 5 seconds and the Apollo Performance WRX broke the All Wheel Drive street record with a lap time of 1:07.482. History was made as Clint broke two records in the same category (street) in one event!
We could have not done this without the support of our gracious sponsors: Turbo by Garrett, Bridgestone Tires, Buddy Club, Chargespeed USA, Clutch Masters, Outfront Motorsports, Odyssey Batteries, Motul, APR Performance, Jason Noren Fabrications, Sparco USA, Brian Crower, Turbosmart USA, California Torque Solutions, UsVsThem Clothing, Drift Motion, FSR Motorsports, Koyo Radiators, Cosworth, KW Suspensions, Whiteline, Full Race, and Subie-Life.com