juin 4, 2021
Garrett's Culture and Technology Drive a More Sustainable Automotive Future
By Garrett Chief Technology Officer Craig Balis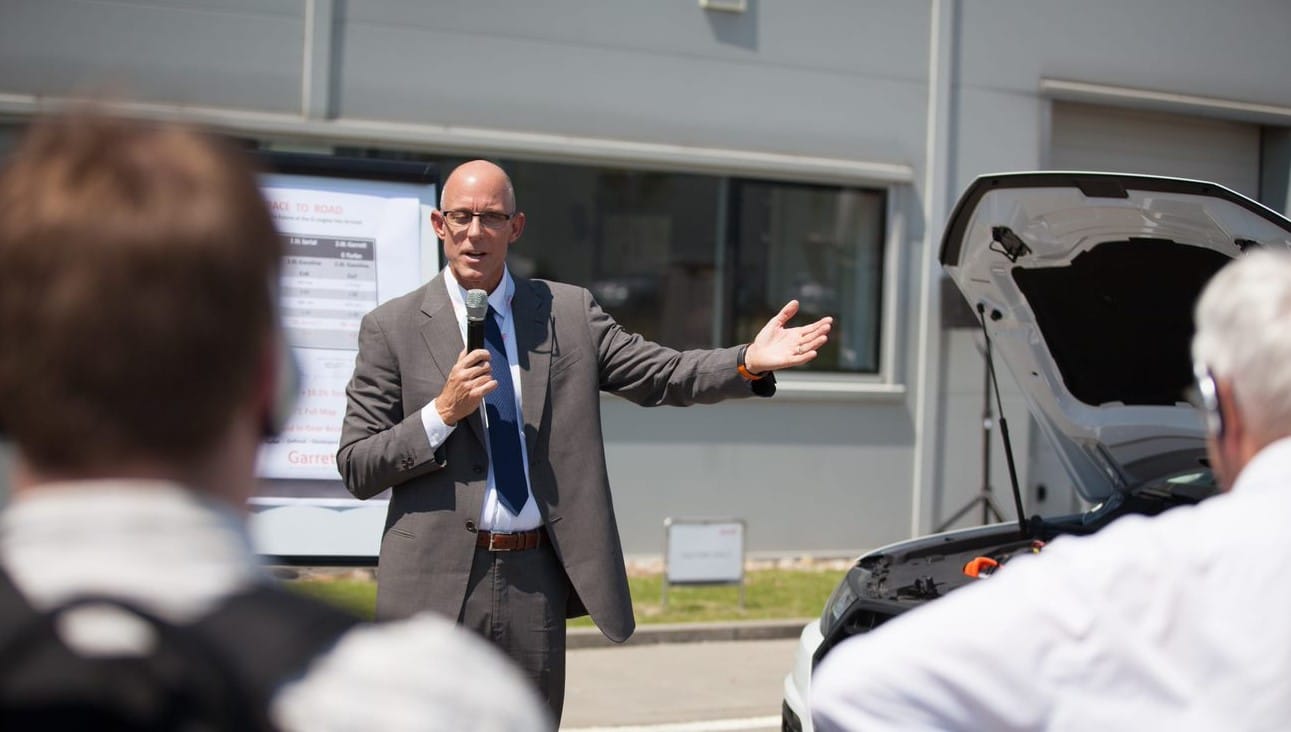 For us at Garrett, sustainability is at the heart of our DNA, both in terms of what we do and how we work. We invent innovative technologies that are researched and manufactured through environmentally responsible operations in pursuit of our mission to enable cleaner, safer vehicles.
Inspired by World Environment Day, I wanted to reflect on some of the main ways Garrett technology benefits society, the environment and the future of cleaner mobility.
Rich History of Boosting a More Sustainable Industry
We have more than 65 years of pioneering innovative automotive technology that enables vehicles to be more efficient and cleaner. From combines, harvesters and tractors, construction trucks and long-haulers, to fleets of work vans, sedans, SUVs and every vehicle in between, our cutting-edge technologies continuously pave the way for a more sustainable automotive future.
Inherently, Garrett turbochargers – which boost more than 110 million vehicles in use today – use otherwise wasted exhaust energy that would exit the tailpipe. This enables automakers to use smaller, more efficient engines to help improve fuel efficiency and reduce carbon dioxide emissions without compromising performance. In fact, we produced our first passenger vehicle turbocharger in the early 1960s, a full decade before the United Nations started to raise environmental awareness through World Environment Day.
Building on a Legacy by Electrifying the Future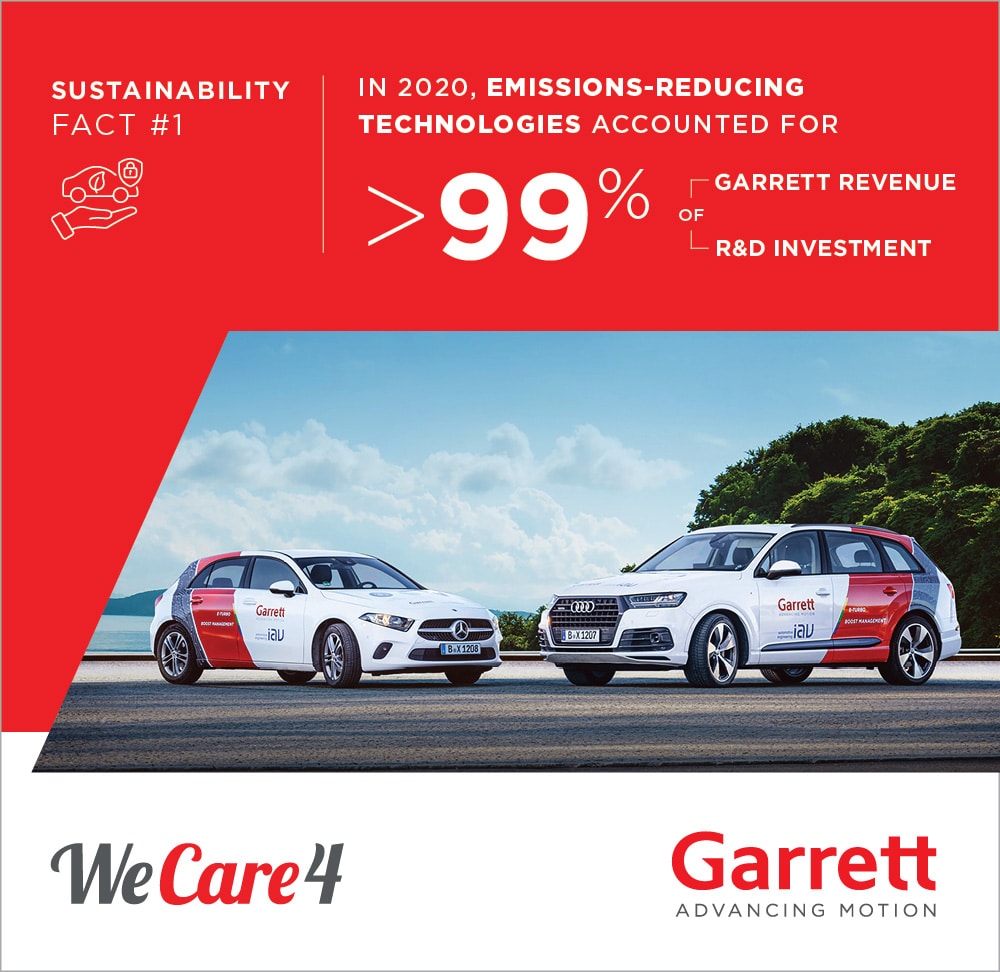 Today, our portfolio is comprised of various types of turbochargers for gas and diesel applications across every vehicle type, but the most exciting and transformative area is in hybrid vehicles. Our industry-first E-Turbo recuperates spent exhaust energy to generate electricity and recharge the hybrid battery, all while eliminating acceleration lag time. We started on this breakthrough technology nearly 20 years ago with our first patent filed in 2002 and we're continuing to lead exciting developments in electrification. I'm especially proud of our advancements in the passenger vehicle segment as we are currently preparing for an initial mass-market launch later this year with a major European automaker. I encourage you to visit our dedicated E-Turbo page discover even more benefits of this differentiated technology.
E-Turbo technology is only one facet of our robust electric offerings that help enable the low/no emissions automotive future. Garrett E-Compressor technologies can provide an additional benefit to mild and full hybrid powertrains as automakers look to balance onboarding battery technology with even more engine downsizing to offset weight to achieve performance targets. In production for more than five years on the Honda Clarity is our E-Compressor for hydrogen-powered passenger vehicles, which serves as a key technology of the fuel cell vehicle system.
Lastly, Garrett's suite of advanced automotive software supports further turbo optimization, leading to much more efficient operations. Our proprietary model-based predictive control (MPC) technologies integrates its own boost control and health management algorithms within an existing electronic control unit (ECU) to improve performance, fuel economy, and lower emissions.
Even with these incredible solutions at-the-ready, we haven't slowed our passion for innovation. Our pipeline of differentiated technologies will continue to lead the way to a more sustainable mobility industry, and our team is thrilled to be in the driver's seat.
Our Ongoing Mission to Enable Cleaner, Safer Vehicles
To provide our customers, employees and communities in which we serve a deeper understanding of the many facets of our corporate sustainability approach, we recently released our 2020 Sustainability Report. From our 2024 targets, past achievements and future ambitions, our environmental management goals are a guiding star for Garrett, as recognized  in 2020 with improved scores from highly regarded organizations such as CDP Climate Change and EcoVadis.
I've spent more than two decades (and counting!) with Garrett and I'm incredibly proud of our teams, products and processes behind our sustainability efforts. Year after year, we continue to ideate, innovate and iterate on solutions within an industry that is committed to reducing its impact on the world's precious ecosystems. I look forward to supporting all our customers with many more impactful innovations in the years ahead.
Click here to view Garrett's full 2020 Sustainability Report.