2 февраля, 2021
Introducing Garrett Connect – The Expert App for Turbo Heroes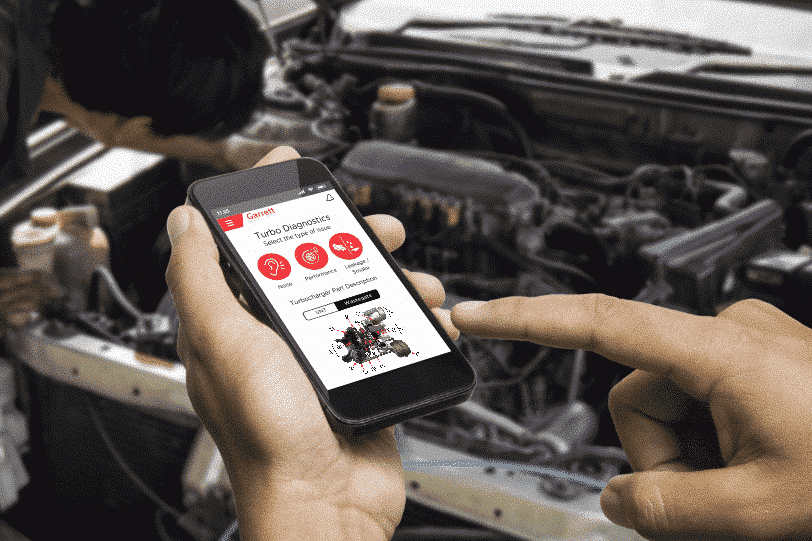 A new Aftermarket app launched by Garrett Motion is placing expert turbo diagnostics and turbo replacement support at the fingertips of garage mechanics, boosting their ability to serve their customers better.
Garrett Connect provides technicians with mobile access to rapid step-by-step fault resolution, easy turbo identification by vehicle, and direct communication with distributors for fast replacements.
"The new app underlines the bond of trust that is central to Garrett's support for the mechanic community," said Eric Fraysse, president of Garrett Global Aftermarket. "This bond starts with technology, with the peace of mind that comes from the certified quality, reliability and performance of original OE-specified turbochargers, but now we are going further. By placing expert diagnostics, product knowledge and multi-level training directly into the hands of technicians through Garrett Connect, we are helping them to boost their skill levels, speed up fault resolution and become 'turbo heroes' in the eyes of their colleagues and their customers."
The app is available via the Apple App Store, Google Play or Huawei App Gallery and provides resources and functionality purpose-designed to make life easier for busy mechanics. The features include:
Turbo Diagnostics – A comprehensive step-by-step fault resolution guide, incorporating a dynamic diagnostic progress tracker, action recommendations, downloadable summary reports and signposting to replacement models.
Find a Turbo – A fast search facility across more than 6,000 part numbers by vehicle manufacturer, model or part number.
Installer Connect – Multi-level, interactive training modules for turbo technicians to boost knowledge, earn capability certificates and win customer recognition.
Push Notifications – Automatic updates on products, news articles and industry events for mechanics.
Boost Advisor – A turbo matching service that crunches engine data and provides boosting system recommendations and 'where to buy' distributor details.
The diagnostics resource is particularly valuable for mechanics because it offers three start points for fault finding, based on noise, leakage/smoke or performance criteria. Each route takes technicians through a dynamic sequence of symptoms and points to recommended actions to resolve any flagged issues.
Each intervention can be tracked and saved at any stage of the diagnostic process, with an option to print a summary report. Where a replacement turbo is needed, the onboard searchable database query field can be auto populated using a mobile device generated nameplate scan, with mechanics then signposted to distributor contact information.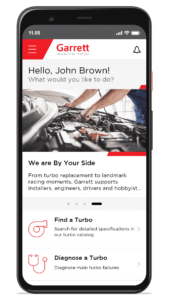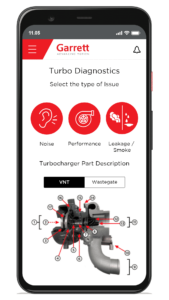 The app provides easy access to Garrett's Aftermarket's portfolio of 6,000 parts covering variable geometry, wastegate and two-stage boosting systems, including all major vehicle line-ups. This means there's a replacement turbo for just about every boosted vehicle dating back to 1968.
In line with its 'peace of mind' commitment, all Garrett turbos meet the rigorous standards of auto makers, with each model manufactured and calibrated to original equipment specification and certified to perform reliably for three years or up to 150,000km. This is critical, given that some systems rotate at 300,000 rpm and operate in temperatures up to 1050oC.
To find out more, visit the Garrett Connect landing page and follow the links to download the app.