décembre 5, 2019
Garrett Motion's Waterford, Ireland Team Provides Career Insights, Tech Tour & More to Local Female Students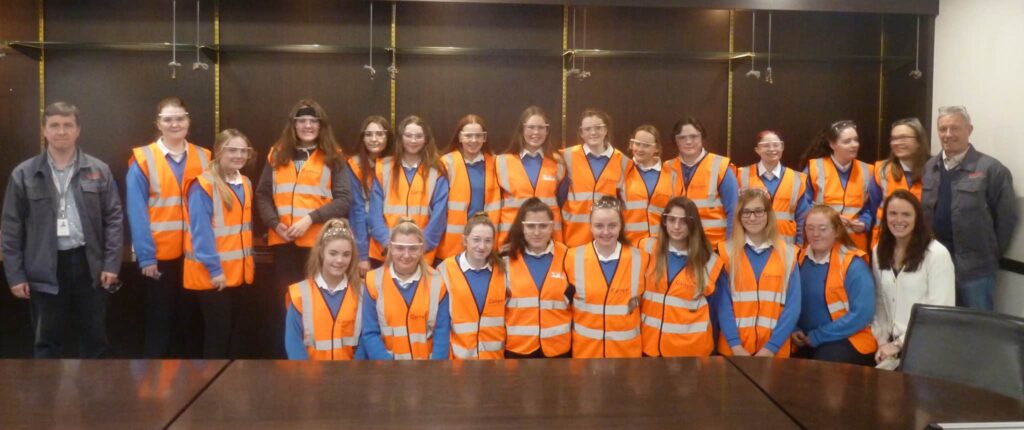 Fostering diverse talent within the communities Garrett operates is an important mission, and the team in Waterford, Ireland is doing their part to promote education and careers in the auto industry to female students through partnerships with local schools.
In November, more than 20 girls from the local Our Lady of Mercy Secondary School spent a day at the Waterford facility to get a glimpse of what it's like to work at Garrett. The students participated in a Q&A session with female employees from Engineering, Finance, HSE, and HR to learn about career paths within the company, education requirements, previous employment experience, and the diverse growth possibilities with Garrett as an employer.
"It was fantastic to see the engagement of students and their excitement, as it's not every day they get to leave the classroom and witness what goes on inside the factory," said Pat MacNamara, Waterford Plant Manager. "A big thank-you goes to the local team for organizing the event and sharing their experiences which can inspire students in their own career decisions."
Later in the day, students attended a plant tour and learned first-hand about the casting manufacturing process of compressor and turbine wheels using the latest Garrett technologies and techniques. They also gained valuable insights into various roles in production as well as an understanding of how important the right level of education is for the career they would want to pursue.
Leadership at the Waterford plant, which opened in 1979, plans to develop more cooperation with local schools further engage with the next generation of engineers, technicians and other professionals.