septembre 15, 2022
Garrett Motion Presents Next Generation of Powertrain E-Boosting Technologies at IAA Transportation Exhibit in Hannover
E-Boosting technologies for light- and heavy-duty commercial vehicles on display, compatible with all fuel types
Innovative E-Turbo and Fuel Cell Electric Compressor technology enables a more sustainable future of commercial mobility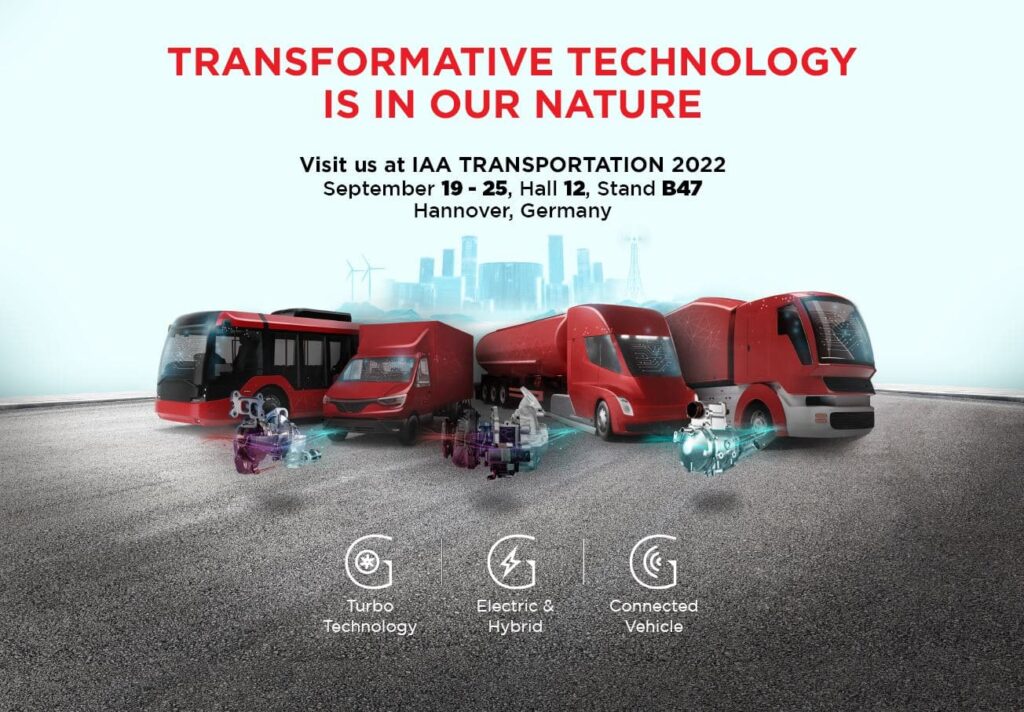 HANNOVER, Germany, September 19-25, 2022 – Garrett Motion Inc. (Nasdaq: GTX), a leading differentiated automotive technology provider, will be showcasing cutting-edge electric-boosting (E-Boosting) technologies that enable enhanced performance and efficiency across all commercial vehicle powertrains and fuel types at the International Motor Show (IAA) in Hannover.
The technology line-up in Hannover (Hall 12, Stand B47) showcases Garrett's in-house capabilities to design and manufacture highly engineered and differentiated technologies, leveraging advanced mechanical, electric and power electronics expertise. The display includes Garrett's award-winning 48-volt E-Turbo, advanced E-Compressor for hybrid vehicles, and its new-generation modular hydrogen fuel cell electric compressor for light commercial vehicles (400-volt) and medium duty trucks and buses (800-volt).
Garrett's highly engineered E-Boosting products can unlock more efficient fuel economy and reduce emissions to help automakers meet strict environmental regulations without compromising performance.
"Garrett's world-class E-Boosting capabilities and technologies are helping to usher in a new era within the commercial vehicle space," said David Degrange, Garrett Motion Vice President General Manager, Commercial Vehicles. "Efficiency and sustainability are key; Garrett is a great partner to help automakers to solve some of the biggest challenges in meeting – and even exceeding – current and upcoming emissions regulations while enhancing vehicle up-time and without sacrificing performance. Our teams are engaged with dozens of OEMs across the world for E-Boosting and fuel cell compressor programs, with many more on the horizon."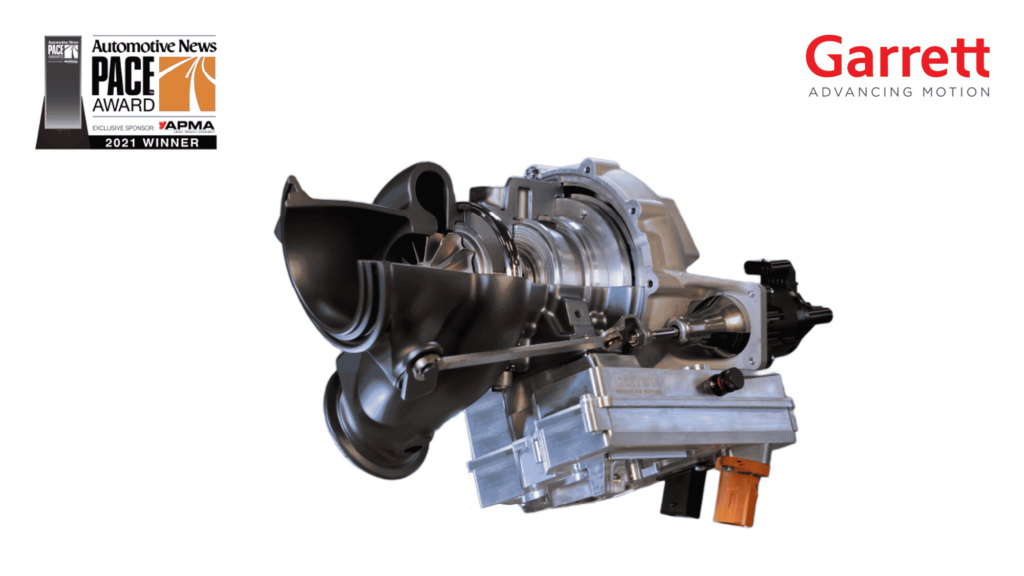 Garrett's E-Turbo for heavy-duty engines improves performance and fuel economy while enabling large downsizing without compromise, and it is compatible with all fuels (diesel, natural gas, Hydrogen, E-Fuels, gasoline) in both light and commercial vehicles. The E-Turbo utilizes a high-speed electric motor positioned on the turbo shaft to spool the compressor more rapidly and eliminate lag, dramatically improving transient engine performance and low-end engine torque. The new technology provides more power and faster response while further enabling engine efficiency. Additionally, the E-Turbo can recuperate otherwise wasted energy as an electrical generator to power the hybrid motor directly or recharge the battery in certain driving situations, allowing automakers greater flexibility in the design of hybrid powertrains.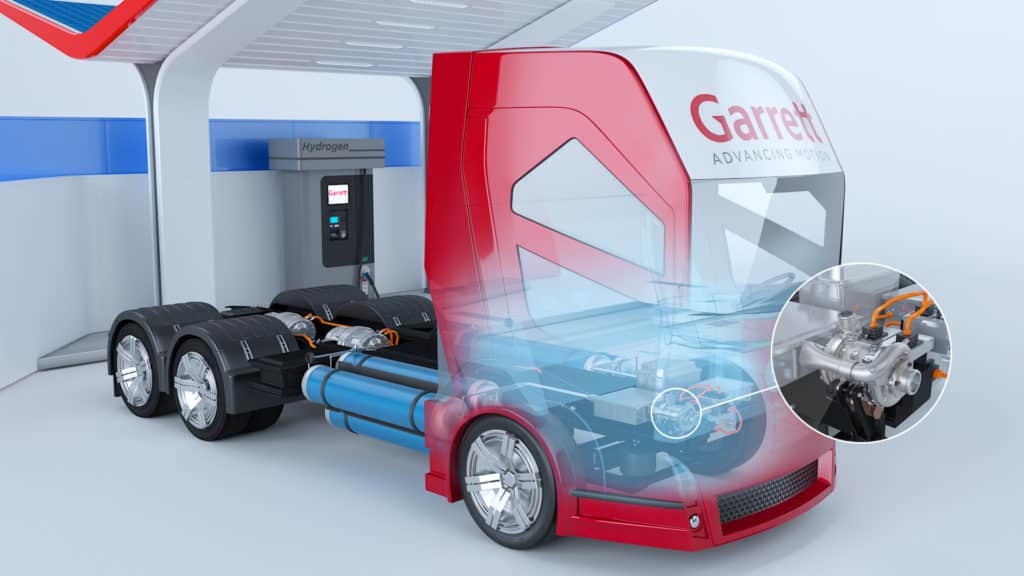 Fuel cell electric compressors support more efficiency and performance in hydrogen fuel cell electric vehicles (FCEVs) by boosting the hydrogen fuel cell stacks to higher pressures and flows, significantly improving efficiency and power density while enabling downsized packaging. When equipped with the optional turbine expander, the new generation modular compressor enables automakers to harvest exhaust energy at the stack outlet, reducing the electrical power required to drive the fuel cell turbo-compressor by up to 20%. Combined with a robust design-for-manufacturing methodology, the compressor size reduction compared to the previous generation requires less raw materials usage, leading to approximately 33% component cost reduction.
Also, visitors to the display will discover bespoke turbocharger technologies for natural gas and hydrogen-powered internal combustion engines, as well as advanced vehicle software solutions.
To discover more about Garrett's showcased technologies, please visit the company's display to speak with Garrett experts in Hall H12, Stand B47.
RELATED: Garrett Motion Highlights Importance of Advanced Cybersecurity Software for Commercial Vehicle Fleets at IAA Transportation Exhibit in Hannover
About Garrett Motion Inc.
Garrett Motion is a differentiated technology leader, serving customers worldwide for more than 65 years with gasoline, diesel and hybrid turbo technologies, hydrogen fuel cell applications and software solutions used in passenger vehicles as well as on and off-highway commercial vehicles. Garrett's cutting-edge technology enables vehicles to become cleaner, more efficient and connected. Our offering of turbocharging, electric boosting and automotive software solutions empowers the transportation industry to redefine and further advance motion. For more information, please visit www.garrettmotion.com.
Forward-Looking Statements
This press release contains "forward-looking statements" within the meaning of the Private Securities Litigation Reform Act of 1995. All statements, other than statements of fact, that address activities, events or developments that we or our management intend, expect, project, believe or anticipate will or may occur in the future are forward-looking statements including, without limitation, our statements regarding: our plans with respect to the development and launch of new products and the anticipated benefits and impacts thereof; anticipated demand for our products; anticipated shifts in the automotive industry, including our expectations for growth including in the hybrid vehicle market; and the compatibility, scalability and performance of our products. Although we believe forward-looking statements are based upon reasonable assumptions, such statements involve known and unknown risks, uncertainties, and other factors, which may cause the actual results or performance of Garrett to be materially different from any future results or performance expressed or implied by such forward-looking statements. Such risks and uncertainties include, but are not limited to: uncertainties regarding our expectations of industry conditions, including growth and demand for our products; risks associated with our ability to develop new technologies on anticipated timelines or at all and with the outcomes we anticipate; and the risks and uncertainties described in our annual report on Form 10-K for the year ended December 31, 2021, as well as our other filings with the Securities and Exchange Commission, under the headings "Risk Factors" and "Cautionary Note Regarding Forward-Looking Statements." You are cautioned not to place undue reliance on these forward-looking statements, which speak only as of the date of this document. Forward-looking statements are not guarantees of future performance, and actual results, developments and business decisions may differ from those envisaged by our forward-looking statements.
Contacts:
Media
Christophe Mathy
Garrett Motion, Inc.