2011 – 2017 F-150 | Expedition | Navigator 3.5L Ecoboost
Important product information: Garrett Performance Kits are professional aftermarket products only designed for certain racing vehicles driven on particular racing tracks and shall only be used on racing vehicles that will never be driven on public roads or highways. Garrett Performance Kits are not legal for the use in vehicles on public roads or other roads to which public road law applies. Any vehicle modifications using Garrett Performance Kits are AT YOUR OWN RESPONSIBILITY and AT YOUR OWN RISK. Only use Garrett Performance Kits in compliance with all applicable laws, regulations, and ordinances (including but not limited to emission, noise, operating license, performance, safety, and type-approval aspects). A vehicle modification using Garrett Performance Kits may particularly affect or void a vehicle's warranty, operating license or type-approval. Moreover, only use Garrett Performance Kits in compliance with all applicable racing and racing track provisions. It is YOUR OWN RESPONSIBILITY AND RISK to ensure that your Garrett Performance Kit fits your vehicle and area of application. YOU MUST ENSURE LAWFUL AND SAFE OPERATIONS AT ANY TIME. You should particularly consult the owner's manual and service manual of your vehicle. You should also contact your vehicle's manufacturer to determine what effects modifications may have on important aspects such as safety, warranty, performance, etc. Only install and use Garrett Performance Kits if you have fully read and understood this important safety information and if you fully agree with the terms and conditions set forth therein.
Description
POWERMAX™ PERFORMANCE TURBOCHARGER UPGRADE
2011 – 2017 Ford 3.5L EcoBoost Engine Platforms: F-150 | Expedition | Navigator
PowerMax™ direct fit performance turbocharger kits are engineered for enthusiasts that want increased engine performance while maintaining OEM direct fitment. With professional engine calibration and tuning, the optimized compressor aero will increase flow and outperform the stock turbocharger. This direct drop-in stage 1 upgrade provides 22% more flow than OEM and will support up to 300HP* from each turbo. Improvements in efficiency and flow can be attributed to the light weight forged fully-machined compressor wheel. Boost response of this PowerMax turbocharger compared to OEM has not been tested. This turbocharger kit comes fully assembled and calibrated and is outline interchangeable with the OE hardware to ensure a perfect fit every time. Contact your local authorized Garrett® distributor for additional information and pricing.
This product is not approved for street use. Installation may affect vehicles's safety, warranty, and operating license. For details, contact your vehicle's manufacturer or turbo kit distributor.
*Performance results of this product are highly dependent upon your vehicle's modifications and tuning/calibration. The target power represented above has been calculated based strictly on choke flow of the compressor map (total turbo capability), which represents the potential flywheel power.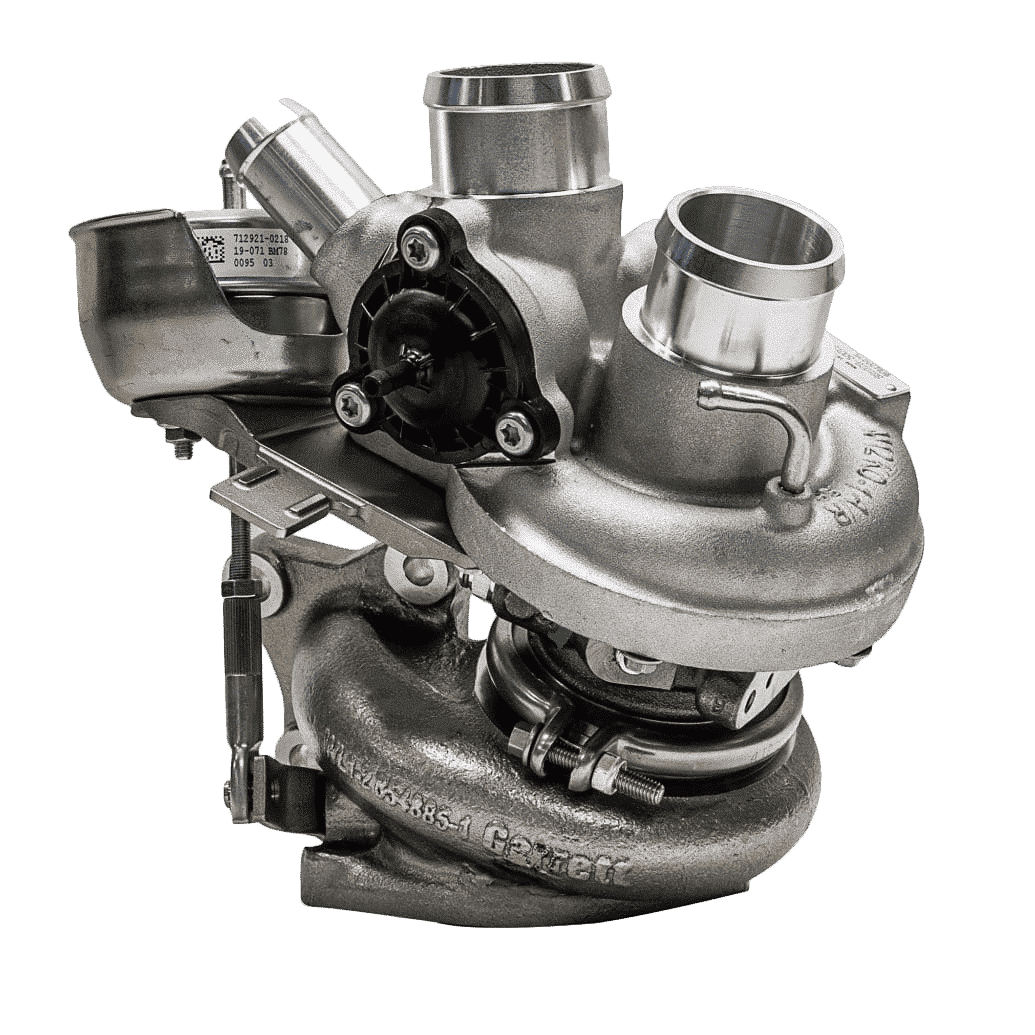 2011 – 2017 F-150 | Expedition | Navigator 3.5L Ecoboost
Compressor Map & Exhaust Flow Chart
Compressor Map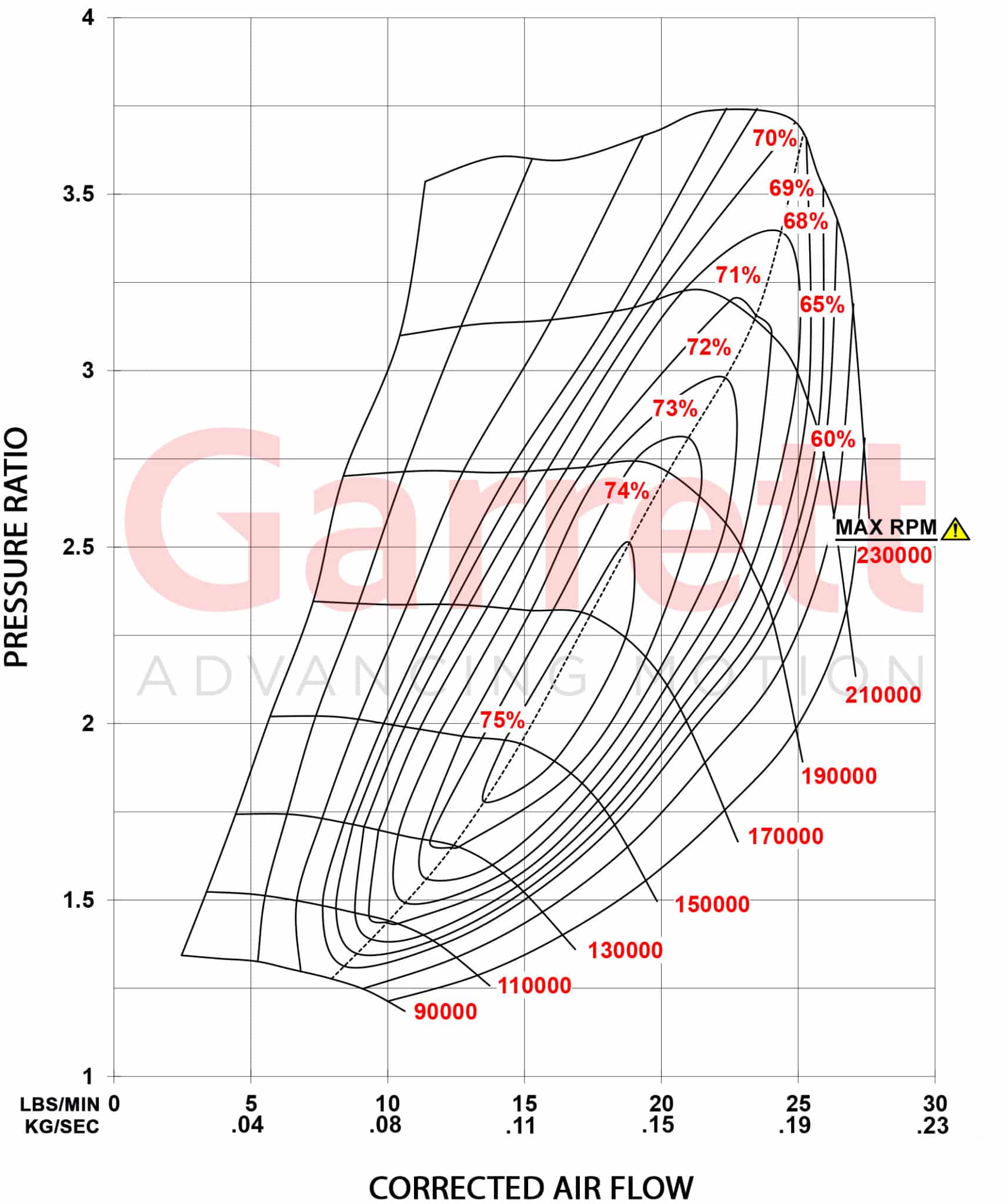 2011 – 2017 F-150 | Expedition | Navigator 3.5L Ecoboost
Performance Comparison Sheet
| Make | Model | Year | Engine | OEM PN | PowerMax PN | Notes: |
| --- | --- | --- | --- | --- | --- | --- |
| Ford | F-150 | 2011-2012 | 3.5L EcoBoost | CL3Z-6K682-A | 881027-5001S | Left Turbocharger |
| Ford | F-150 | 2011-2012 | 3.5L EcoBoost | CL3Z-6K682-B | 881028-5001S | Right Turbocharger |
| Ford | F-150 | 2013-2016 | 3.5L EcoBoost | DL3Z-6K682-E | 881027-5002S | Left Turbocharger |
| Ford | F-150 | 2013-2016 | 3.5L EcoBoost | CL3Z-6K682-F | 881028-5002S | Right Turbocharger |
| Ford | Expedition | 2015-2017 | 3.5L EcoBoost | DL3Z-6K682-E | 881027-5002S | Left Turbocharger |
| Ford | Expedition | 2015-2017 | 3.5L EcoBoost | DL3Z-6K682-F | 881028-5002S | Right Turbocharger |
| Lincoln | Navigator | 2015-2017 | 3.5L EcoBoost | DL3Z-6K682-E | 881027-5002S | Left Turbocharger |
| Lincoln | Navigator | 2015-2017 | 3.5L EcoBoost | DL3Z-6K682-F | 881028-5002S | Right Turbocharger |
2011 – 2017 F-150 | Expedition | Navigator 3.5L Ecoboost
Download Section