Meet #GenerationGarrett
Valeriy Fedorikhin
Lead Engineer, Mechanical Integration at Garrett Motion's Electrification Center of Excellence
Valeriy "Val" Fedorikhin is a next generation engineer with a passion for the impossible. Based in California, one of the most innovative places in the world, and working on some of the most challenging technologies in automotive – Garrett's electric turbocharger and hydrogen fuel cell compressor – Val's inexhaustible energy stems from his love for technology and tackling engineering challenges.
"You definitely need a 'go-getter' attitude, some drive to grow and seek out the solutions to difficult problems."
Val is part of the Garrett Electrification Center of Excellence – a global engineering team that is solving close to impossible engineering challenges pursuing turbocharger electrification and hydrogen fuel cell solutions. His job? Making sure sensitive and valuable electronics work at their highest potential while bolted onto high-speed, high-temperature, high-vibration engines.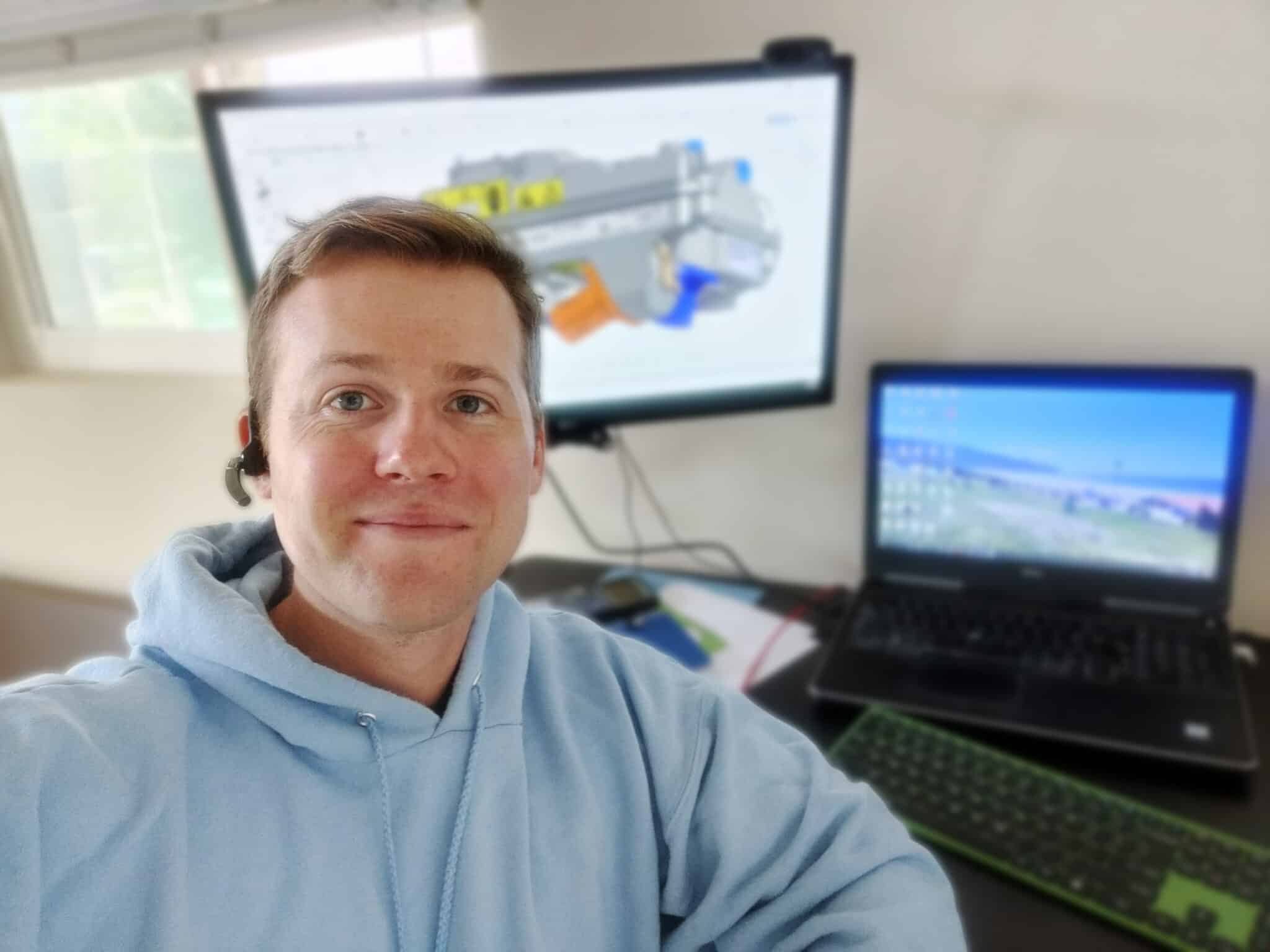 "The knowledge that we are building something new. . . that's a real driver for me. And we aren't just testing theories in a lab, we are working on real products that are mass produced. That's both terrifying and exhilarating," says Val, whose journey with Garrett started back in 2017, when he was still a university student.
Career growth at Garrett's Electrification Center of Excellence: From intern to lead engineer in 4 years
Val's passion for automotive electrification started from an early age. During college he was already working on his first electrified car project – ripping out the engine from an old car and replacing it with an electric motor. That was a key part of what got him his first job – Val joined the Garrett team as an Engineering Intern.
"Garrett found me at a careers fair and scooped me up as an intern the summer before my last year of college," Val explains. "I think they were looking for someone more experienced, but I was working on an electrified car project that grabbed the recruiting manager's attention. First, I got offered a three-month internship – then a full time Level 1 engineer position, followed by Level 2, and now I'm the lead engineer for mechatronics. It's been a good journey so far."
Interesting electrification technology and learning opportunities
His secret for such an accelerated career path? Having a performance-oriented mindset, loving technology and always seeking to learn and develop yourself. "You definitely need a 'go-getter' attitude, some drive to grow and seek out the solutions to difficult problems. Mediocre just doesn't cut it – we are constantly striving for something special to stay ahead," says Val.
"I love the freedom I have at Garrett"
"The last four years were very rewarding. One of the things that I like about this job is that the technical challenges that we are solving are new and quite difficult. There isn't an answer that you can look up somewhere. Usually you need to be creative and figure it out yourself. The timelines are aggressive, but this keeps it exciting. It's a good growth opportunity because you learn so much in a very new and rapidly evolving field like power electronics."
A work environment of creative freedom & collaboration
Even with all that said, the main element that Val likes about Garrett is that he can act independently. Once the team is aligned on the high level specifications of a project, he can put his creativity at work to solve the challenges and to identify the right design direction within the program specifications.  "I love the freedom I have to choose the direction of a design and execute a project as I see fit. It's exciting."
GARRETT ELECTRIFICATION CENTER OF EXCELLENCE  IN ONE MINUTE. WATCH THE VIDEO
Val also enjoys the team dynamics at Garrett, even if the pandemic meant putting on hold face-to-face interaction and travel. "We still have a close team relationship", says Val.
Besides his interaction with the team in the Torrance, Calif. facility, Val's activity means collaborating closely with people in other Garrett Electrification R&D centers across the world. So, his normal day at the office almost always begins with some cross-continent meetings.
"I spend the first half of the day in meetings. The team is global, so we have plenty of people in our R&D facility in France. I love the team spirit that comes from collaborating on projects with colleagues and partners all around the world. We learn from each other while at the same time experiencing and respecting different cultures. This can mean early starts or working late . . . but it also means that I can ask someone in Australia to support me with something, and when I wake up it's done."
"My advice to anyone starting out is to take a risk."
Garrett has five research and development centers around the world, located in the U.S., France, Czech Republic, Korea and China. Click here to learn even more about Garrett's global footprint.
Advice for young engineers
A very young engineer himself, Val considers taking risks very important in engineering, particularly if you want to innovate. "My advice to anyone starting out is to take a risk. Choose to take the more challenging route because in my experience we solve more problems by figuring out something that is difficult."
Do you want to join Garrett Electrification Team, check – out our job opportunities now!