Unmatched advancements
Corporate Newsreel
CLEPA – Future as we move: Olivier Rabiller President and CEO of Garrett Motion
The mobility landscape is changing, but what is coming next? CLEPA, the European Association of Automotive Suppliers, sat down with select suppliers to discuss the future of mobility.
Watch along Garrett Motion President and CEO Olivier Rabiller discusses how the industry is evolving, what is coming next, and the roles that suppliers play in its success.
In the area of emissions, we need to not just look at tailpipe emissions, but take a so-called 'well-to-wheel' approach. We also need to look at the entire lifecycle of the automotive products from manufacturing all the way to recycling." Olivier Rabiller, President and CEO, Garrett Motion
"This transformation requires a wide breadth of technologies to fit various needs," says Rabiller in the video interview. "For us, as a global Tier 1 supplier, we are doing this by providing new differentiated technologies that allow automakers to improve performance, increase fuel economy, reduce emissions, and support electrification and connectivity – all of that at a cost that should stay acceptable for the end-consumer.
Olivier Rabiller President & Chief Executive Officer Garrett Motion –
full interview with European Association of Automotive Suppliers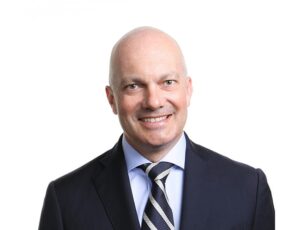 Please characterise the mobility revolution from your vantage point
Cars will be more connected and more electrified, and we will see different modes of personal mobility. Mobility will become much more diverse. I wouldn't call it a revolution, but rather an accelerated evolution. The relationship between owner and car has already been changing for a while, especially in cities, where people are using cars differently. The push toward lower emissions is also something that started already 20 years ago. But the trend has accelerated in recent years.
Where are the opportunities for European automotive suppliers in this transformation?
It remains a regional strength that Europe has so many strong global automotive brands that originated here. Europe has been a catalyst for innovation in the auto industry, but this is not as evident today as it was 10 years ago. Look at China, Japan and Korea, where huge progress is being made in new technologies at a very fast pace. China isn't just a maker of battery-electric vehicles. When you talk about infotainment and connected-car technologies, Chinese carmakers are not burdened by a legacy of established practices.
What should the European automotive industry do to remain competitive in this environment?
What's needed is for both carmakers and automotive suppliers to adopt a pragmatic strategy that will work in the long term. We should invest in the next technology wave, where we can make a difference. We should invest in technologies that haven't yet reached the level of maturities of, for example, batteries. Hydrogen and fuel cell technology is an example. Cyber security is another area where Europe could gain an advantage. We have some strong advantages in Europe as well because we operate globally, so growth in the Chinese market is good for us as well. And we benefit greatly from the multicultural organizational model European companies have, with development centers across different countries.
Customers want new technologies ever faster, but is the auto industry fast enough to keep everyone happy?
The European auto industry is not moving at the same pace as the Chinese, but we all still have to deal with the issue of reliability. You cannot bring a product to market that isn't extremely reliable, dependable and safe. Customers pay for that. But it is frustrating that, by nature, the road to market in the auto industry is long. Chinese companies can develop much faster than we can, but we also have to look at the demand side. Not all drivers are interested in all new technologies.
Do you see the role of suppliers change as the auto industry increasingly turns into a provider of all kinds of mobility?
Most of the innovation that goes into a car comes from automotive suppliers. Car makers cannot invent everything and do everything themselves. But they do play a strong role in deciding what brings value for the customer.
Is regulation helping or hurting the European auto sector?
If you look at recent emission regulations, the European Commission and the European Parliament have been a catalyst for innovation. The same is the case for safety. What European tier 1 suppliers bring to the industry is a neutral view on what kind of technology should be deployed. And, in the area of emissions, we need to not just look at tailpipe emissions, but take a so-called 'well-to-wheel' approach. We also need to look at the entire lifecycle of the automotive products from manufacturing all the way to recycling.
Despite today's challenging global environment, are you optimistic about the prospects of the European auto industry?
I am optimistic because this is a fantastic time for the industry where innovation has become even more important than before. But in Europe we need to be very pragmatic when we look at the regulatory framework that will impact the future of the industry. If we don't adopt the right approach, I'm afraid that Europe could shed its role as innovation catalyst to Asia.