Meet #GenerationGarrett
Sung-Hoon Lee
Garrett Korea Fuel Cell Compressor (FCC) Application Engineering Leader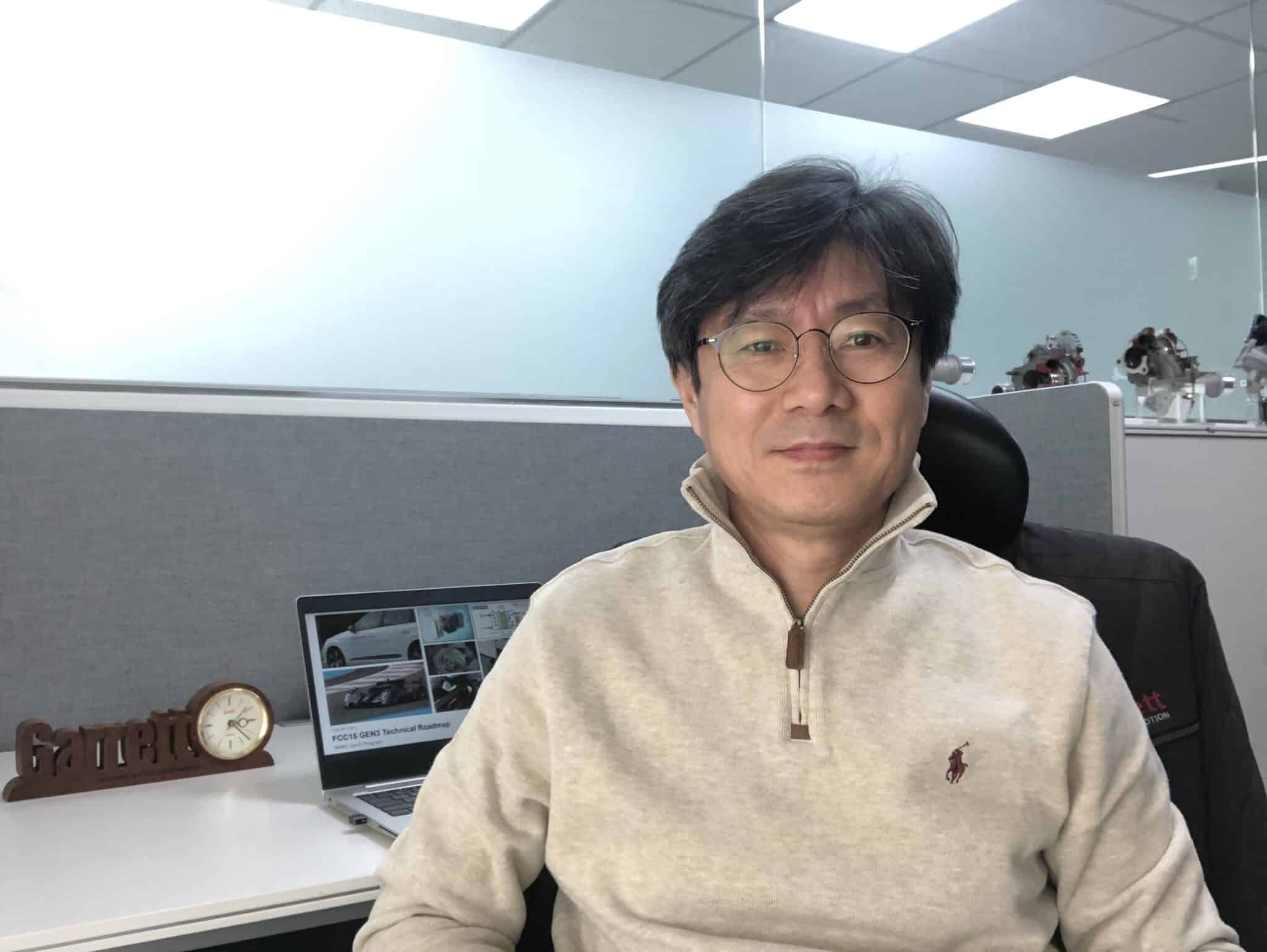 A career dedicated to cutting-edge technologies. Garrett Korea's FCC Application Engineering Lead Sung-Hoon Lee has been making an impact on automotive transportation for more than 28 years. During his time with Garrett, he has been an ongoing contributor to three decades of turbo technology evolution – and revolution.
He has also had a front row seat witnessing the growth of Garrett's Korea operation into a center of excellence acknowledged for its research, development and progress in both traditional turbocharger technology and emerging technologies such as fuel cell and Connected Vehicle solutions.  
Always excited by technology, Sung-Hoon speaks naturally about his involvement in the multitude of applications that helped establish the wide market adoption of turbochargers. He's also inspired by innovations that will shape the future and is now part of the Garrett team working on electric compressors for fuel cell vehicles.
Joining Garrett: A Journey Driven by the Passion for Technology
"Just after graduating from university I joined a major chemical company in Korea as Plant Maintenance Engineer, but I realized very soon that it wasn't what I wanted to do. Soon after, I saw a career opportunity at Garrett, also in Korea, that involved working on turbo technologies and in October 1992 I joined the company as an Application Engineer," recalls Sung – Hoon Lee.
"The excitement about turbo technology has never left me"
"I was fascinated by the technology of turbocharging and so the prospect of being able to contribute to the widespread adoption of turbos was very exciting," explains Sung-Hoon. "It was a great chance for me to make my mark with the business and to be part of a growing industry. That excitement about technology has never left me…I have the same feeling today."
During its 31 years in Korea, Garrett has evolved its footprint to include test laboratories, manufacturing, aftermarket and engineering sites, including the Engineering Center in Seoul where Sung-Hoon is based.
As for the turbocharger market, 30 years brought a lot of change. "When I started in 1992 the turbo market in Korea was very small, with just a few applications – but I had every confidence that the market would grow," said Sung-Hoon.
Then and Now:  Working on top technologies for almost 30 years
Indeed, it did grow. As turbos became a core element to enhancing powertrain performance, Sung-Hoon worked on the applications reflecting advances in technology.  At the same time, his career accelerated, and by 2010 he was leading the Garrett Korea Engineering Team.
"My advice to young Engineers: Always be prepared for the future"
As he explains: "Every 10 years the technology has evolved. In 1992, I worked on diesel wastegate applications. In the 2000's, VNT technology was widely adopted. In the 2010's, innovations in gas turbos made a strong market impact.   This cycle continues today, and the 2020's are bringing new ecofriendly technologies to the fore.  Last year I joined the team working on fuel cell e-compressors – a really exciting area of market leadership for Garrett."
Reflecting on his new role, Sung-Hoon says that he strongly believes fuel cell technologies will play an important role in the company's growth in the coming years. "My interest in fuel cells started back in 2013, and from 2016, when Garrett launched the first Two-Stage E-Compressor for fuel cell vehicles, I started approaching clients and presenting this high-tech product. It's clear to me that this technology will play a very positive role in the auto industry's future." says Sung-Hoon.
"And my advice for young engineers? Always look at technical trends and be prepared to change for the future. Only this way can you remain relevant."
A Collaborative Environment that Helps You Develop
When speaking about what he likes about Garrett, Sung-Hoon always starts with the technology. It is what he loves most and excites him as much today as he when started out 28 years ago. "I'm an engineer. Technology keeps me motivated. Nowadays I spend my time studying innovations in fuel cell and working on Garrett's fuel cell compressor, and this gives me great job satisfaction."
Moreover, for Sung-Hoon the application of technology is the measure of success. "I always feel a sense of achievement when I see the projects I have worked on ready to go on the road. That's success for me."
Sung-Hoon says that the collaborative environment has played an important role in his professional development.
"For me, the customer is paramount. I'm working at Garrett because of our customers and that's why our focus must always be on delivering the best possible results for them."
"We have a very strong global engineering network at Garrett.  Over the years, I have received a lot of support from our teams in Japan, U.S. and France, and this certainly helped me develop my career," explains Sung-Hoon. "I have also always felt a sense of pride working for an organization that places core values that I respect, such as transparency and trust, at the heart of its business culture."
Learn More about Garrett Two-Stage Electric Compressor for Fuel Cell Vehicles.
Visit Garrett's Careers page to see how you can join the growing global team and to discover our career opportunities.