12 июня, 2019
20 Years of Garrett Wins at Le Mans: Fast Facts from the Track
The 24 Hours of Le Mans endurance race in France is one of the most grueling and challenging races on the planet – it is truly a test of endurance for the drivers, support teams and, of course, the cars.
Garrett Motion's world-class turbocharger technologies and engineering expertise have helped racing teams become champions every year for two decades.
We've compiled 20 facts from the track for both the newest Le Mans viewer and the most seasoned fan.
19 years, 19 wins and still counting: Garrett Motion has supported the overall winning teams of 24 Hours of Le Mans since 2000.
Two decades of Garrett in the winners' circle began with Audi Sport Team Joest and its Audi R8 racecar, boosted by highly-customized Garrett turbochargers equipped to its 3.6-liter gasoline FSI engine.
In fact, the Audi Motorsport Team Joest has the most wins across the 20 years with eight first-place victories: 2000, 2001, 2002, 2006, 2011, 2012, 2013, and 2014.
Garrett is supporting the TOYOTA GAZOO Racing team and its two cars, the No. 7 and No. 8 Toyota TS050 Hybrids, in addition to the numerous other manufacturers who have chosen Garrett turbos in their pursuit of winning.
Modern LMP1 Hybrids, including TOYOTA GAZOO's Garrett-boosted TS050 Hybrid, can generate more than 1,000 horsepower, and they do it more efficiently than ever before.
Not your typical turbo: Through its partnership with TOYOTA GAZOO Racing the past several years, Garrett has worked to help optimize the team's internal combustion engine strategy using advanced lean combustion engine cycles. For Le Mans 2019, Garrett provides custom-built turbos featuring ball-bearing technology for improved transient response and increased performance in terms of power and fuel economy, and are designed to withstand the unique operating environment created by such a grueling 24-hour race.
Garrett turbos are made to operate in extreme heat – up to 1050°C exhaust gas temperatures in gasoline engines. Even in diesel engines, turbos can run hotter than the temperature of molten lava.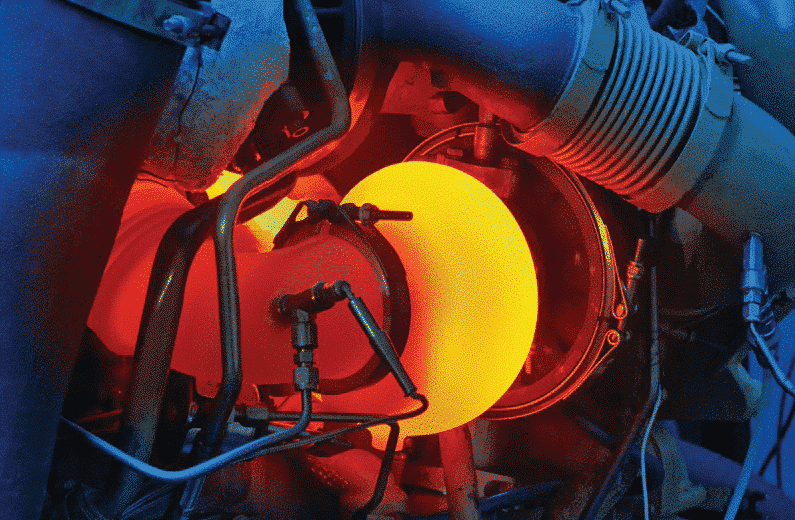 The average Le Mans racing partnership means more than 1,000 hours of dedicated, hands-on Garrett technical and operations support for each racing team, every single year.
More than 91,500 kilometers/56,800 miles have been driven by the 19 winning teams on Le Man's legendary track. That's enough distance to drive around the Earth twice, and still make two round-trips from Le Mans, France to New York City!
Speaking of the Le Mans track. . . Did you know the track's name isn't "Le Mans"? The official name of the course is the Circuit de la Sarthe, located in Le Mans, France. It is 13.6 km/8.5 miles long, and cars regularly exceed 320 kmh/200 mph.
24 Hours of Le Mans is a timed endurance race, and not one based on distance. Lap totals can vary based on many on-track variables, including accidents, breakdowns, weather conditions and more. The most laps completed by Garrett-boosted Le Mans champion was in 2010. The Audi Sport North America racing team and its Audi R15 TDI Plus drove the course 397 times, a total of 5,411 kilometers.
The 19 winning teams circumnavigated a total of 7,093 laps around Le Man's Circuit de la Sarthe.
Garrett turbos also boost the SMP Racing team's No. 11 and No. 17 cars, which are racing in the LMP1 class against TOYOTA GAZOO Racing.
More than just LMP1: While Garrett turbos and engineers are supporting Toyota's push for first place in the Le Mans Prototype 1 (LMP1) class, Garrett boosts cars in the Grand Touring Endurance (GTE) Pro and GTE Am classes.
For Le Mans 2019, Ford Chip Ganassi Racing has four Ford GTs boosted by Garrett in the GTE Pro class – Ford GT No. 66, 67, 68 and 69. Also boosted by Garrett in the GTE Pro class are BMW Team MTEK's two racecars – BMW M8 GTE No. 81 and 82.
Keating Motorsports is also using Garrett turbos on its Ford GT in the Le Mans GTE Am class, the Ford GT No. 85.
Garrett's first Le Mans podium finish was with the Mirage Renault racing team in 1977. The team's Renault 2.0-liter turbocharged V6 completed the race in 331 laps, earning second place.
Over the 20-year winning streak, Garrett turbos have helped boost diesel, gasoline and hybrid powertrains.
Garrett's first-ever Le Mans win was in 1978. The Renault Sport team and drivers Didier Pironi and Jean-Pierre Jaussaud raced their turbocharged Renault Alpine A442B 2.0-liter V6 to the finish line on June 11, 1978.
The 24 Hours of Le Mans averages more than 250,000 trackside spectators each year, with 2019 expected to increase even more. Its TV, online and radio coverage reaches 190 countries with an estimated audience of more than 800 million.
BONUS FACT: Keep up with Le Mans! Visit lemans.org to stay up-to-date with news, 2019 race standings and to see how you can tune in and root for Garrett-boosted teams! The "24 Hours" also has its own radio station, broadcast worldwide over the internet. Locally tune into 92.1 at the track, or visit radiolemans.co which has end-to-end coverage for the entire race weekend.