Meet #GenerationGarrett
Fuheem Dar
Lead Engineer Light Vehicle Diesel North America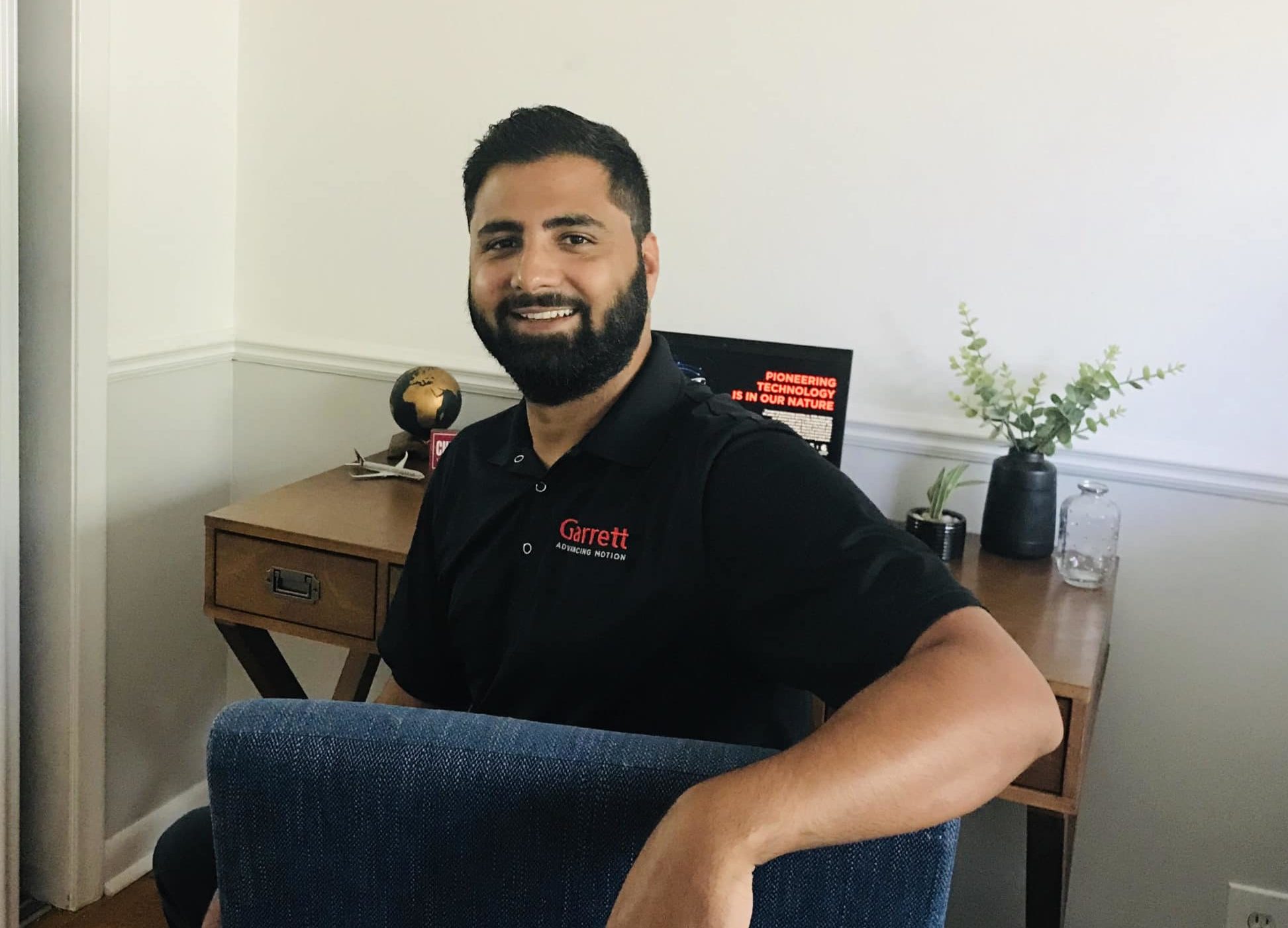 "With Garrett, I always see room for me to grow – there's always a new milestone in front of me."
When Fuheem Dar joined Garrett in 2015 as an application engineer, he was excited to be part of a global business at the leading edge of pioneering technology. From the outset, he honed his technical expertise, grew with support from managers and thrived inside a collaborative team culture.
The result has been accelerated career progression, as Fuheem explains in his #GenerationGarrett story.
My career choice: inspired by energy
"I moved to the USA from Qatar in 2010, studying first at Purdue University for a Bachelor's degree in Aeronautical Engineering and then at the University of Illinois for my Master's in Aerospace Engineering. At the time, I was in touch with a friend of mine who told me about his work for Garrett and this got me interested in the company and in turbocharging.
I immediately saw that this could be a really exciting opportunity for me, given the global leadership of the business. When I met with my manager, it reinforced my view that this would be a great place to be. There was fantastic energy around the company, so I decided to apply for a position and was delighted to be hired as an application engineer. Five years on, I'm now Lead Engineer for North America for light vehicle diesel products."
Our teamwork drives excellence
"Anyone with an interest in the automotive industry knows that turbocharging is a really cool technology.
As engineers, we need to understand the problem statements of customers; we design turbochargers; and we are responsible for test and validation. This requires deep technical knowledge not just of turbo performance but of powertrain dynamics. We also need to align the needs of customers with our commercial vision, so this means we get to touch a lot of other business functions.
One day you are working with the customer, and then with the design, manufacturing, test and sales teams…I've seen how this culture of collaboration drives excellence.
What motivates me is that there are always new challenges to stretch you.
The team is always there for each other, working together to solve complex engineering challenges on behalf of our customers.
A job well done will always get recognized
"I'm passionate about what I do and what I really love about Garrett is that doing your job well gets recognized by managers and the leadership team. As an engineer, I really enjoy problem solving, particularly in such a dynamic environment, so I like that each day brings a new challenge.
The real strength of Garrett is our collaborative, welcoming culture, which encourages the sharing of experiences and expertise. I have learned so much from engineers here in the US and in Europe. I also know that when I need support, my manager is there for me, offering me help and advice.
From a personal perspective, I've already received two promotions, but I know that there is always room for me to grow…there's always a milestone in front of me. This motivates me because I can see can a future pathway no matter how many steps I've already taken."
Career Advice: Stay focused and be passionate
"In my time at Garrett, I've learned that every project teaches us something. Through my experiences, I can now take ownership of a challenge and know that I can solve a customer problem within a given timeframe. That's something that is hard to teach in college.
I've also learned the importance of maintaining relationships with customers and with different Garrett teams. These relationships help to get things done in the most efficient way.
My advice to young professionals is to keep working hard and don't be afraid to take risks sometimes. Always look to your goals and try to exceed them. Try to ignore distractions, keep focused on what matters, work hard and keep pushing yourself every day to be the best you can be."
Visit Garrett's Careers page to see how you can join the growing global team and to discover our career opportunities.