30 августа, 2023
Garrett's Diagnostic Reasoner Redefines Vehicle Health Management with AI, Enhanced Connectivity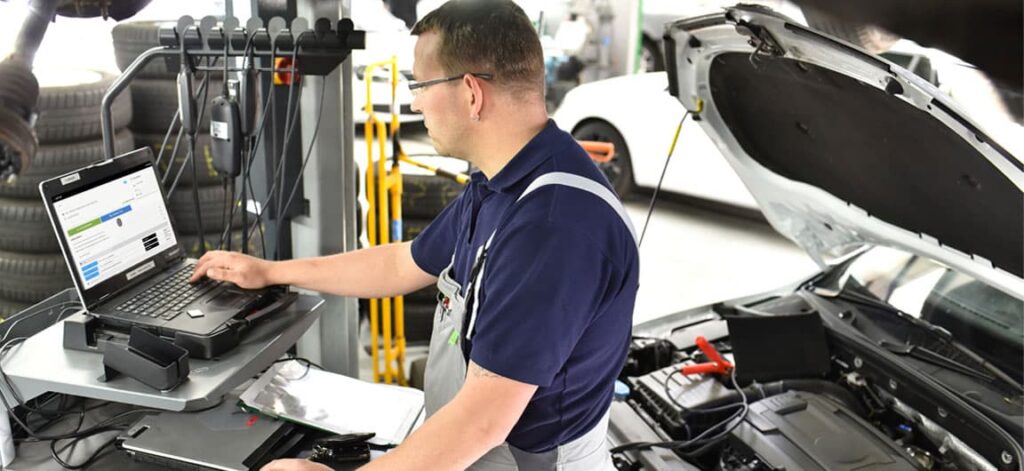 As vehicles become increasingly data-connected, new prognostic and diagnostic systems look set to transform the way we think about vehicle health, repair and maintenance.
Garrett Motion is at the forefront of this revolution, harnessing the power of artificial intelligence through its groundbreaking Diagnostic Reasoner – a cloud-enabled approach to optimizing vehicle and fleet performance.
How does Garrett's Diagnostic Reasoner work?
Diagnostic Reasoner functions by integrating advances in fault modeling, vehicle health indicators, field data and smart analytics to provide remote real-time monitoring of mechanical and electronic systems across a range of driving conditions. It's a system available to automakers, owners, fleet managers and component suppliers, providing a continuous stream of vehicle health data to spot system anomalies and identify and fix potential failures before they cause a breakdown or an accident.
"There's a revolution underway in connected vehicle prognostics and diagnostics that will transform how we think about vehicle health," says Volkan Deveci, General Manager of the Connected Vehicle global team. "Garrett's Diagnostic Reasoner takes health management and fault resolution to a new level by serving up real-time performance data that enables pre-emptive maintenance and parts replacement – in effect fixing a potential issue before it becomes a problem."
And because the system integrates troubleshooting guides and detailed repair and maintenance procedures, technicians working to rectify auto-generated fault alerts follow prescribed step-by-step remedial processes, thereby avoiding costly 'no trouble found' garage time.
What does the Diagnostic Reasoner monitor?
Garrett's Diagnostic Reasoner continuously scans vehicle systems remotely and analyze huge volumes of vehicle data across multiple operating scenarios, taking account of driving conditions, harsh environments, and vehicle fault messages.  It does this by monitoring onboard diagnostics and sensors linked to key vehicle health measures, including engine performance, emissions, fuel efficiency and electrical and electronic architectures.
The system progressively 'learns' to interpret symptoms across different vehicle types and operating conditions, which helps vehicle and component manufacturers, fleet managers and maintenance teams schedule timely repairs and servicing to maximize vehicle uptime.
"By analyzing this data in real-time, the AI inherent within Diagnostic Reasoner can identify deviations from expected vehicle performance, grade risk and generate alerts for required actions," says Deveci. "And because the system is compatible with telematics, entire fleets can be monitored for health, and issues fixed in a timely and cost-effective manner to minimize overall impact."
What information is available?
Garrett's Diagnostic Reasoner provides access to a wealth of vehicle data through a dynamic desktop. The ability to compare real-time data against historical patterns by model enables users to identify potential faults, malfunctions, or abnormal behavior, contextualized by the operating environment. This prognosis capability allows vehicle owners or garage technicians to adopt a 'predict and prevent' maintenance strategy. And with onboard troubleshooting guides, detailed electronics architectures and defined repair procedures, the risk of technician error – and any associated cost – is minimized.
What are the benefits of selecting Garrett's Diagnostic Reasoner?
"The continuous vehicle and component health monitoring available through Garrett's Diagnostic Reasoner is shown to deliver fault diagnoses up to 50% faster than conventional processes and more that 95% accuracy on true detection," explains Deveci. "At the same time, maintenance schedules can be managed according to need and operating environment rather than by arbitrary mileage or interval criteria. This is achievable because we are creating an environment that spots faults before they cause breakdown and leverages data to determine the best and most timely intervention to optimize fleet performance. Our system will enable more than 40% resource and material saving for incorrect part replacement"

Indeed, Diagnostic Reasoner places better information in the hands of managers, whether by identifying the need for pre-emptive parts replacement or ensuring 'right first-time' repairs via the prescriptive onboard procedures guide. This makes for more efficient garage resource allocation, better repairs planning, and optimized maintenance schedules based on data-led insights. The result is improved efficiency, reduced labor costs, and maximum vehicle uptime.
"For automakers, the integration of our Diagnostic Reasoner into vehicles can not only improve customer satisfaction and reduce warranty costs, but it can also provide valuable data for future product enhancements," continues Deveci. "And, of course, it will become even more important in the future as part of the emerging autonomous vehicle ecosystem, paving the way for a safer, more reliable mobility environment."
To discover more information about Garrett's Diagnostic and Prognostic software, click here.