Increased Power & Efficiency
Demand for alternative energy sources like hydrogen continues to grow amid tightening emissions regulations. Increasingly stringent CO2 emissions and the need to reduce dependency on fossil fuels are quickly creating demand for alternative sources of energy.
E-Turbo Technology
The growing trends toward hybridization open up possibilities to transfer electric boosting technology from racetrack to road. Garrett is pioneering E-Turbo technology to deliver superior performance, fuel economy and emissions, by integrating state-of-the-art, ultra-high-speed electric motors and power electronics into its turbocharger product families.
or
Increased Power & Efficiency in a Compact Design
Garrett has been at the cutting edge of fuel cell innovation for more than 40 years. We launched the auto industry's first fuel cell production car application in 2016, and now our global footprint and leadership in electrification systems – including E-Turbo – is helping drive worldwide adoption of this zero-emissions technology.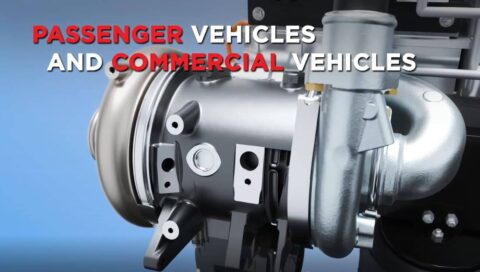 48V Electric Compressor

for Mild Hybrid Vehicles

Garrett's electric compressor can deliver unmatched power density through superior aerodynamics and electrical design, helping automakers achieve the diesel and gasoline powertrain efficiency required to meet stringent emissions standards.
Continued hybridization and fuel cell development will feature Garrett hardware as well as software to develop high-performance powertrain and vehicle systems that are attractive to customers and reflective of increasingly stringent fuel economy and emissions regulations around the world.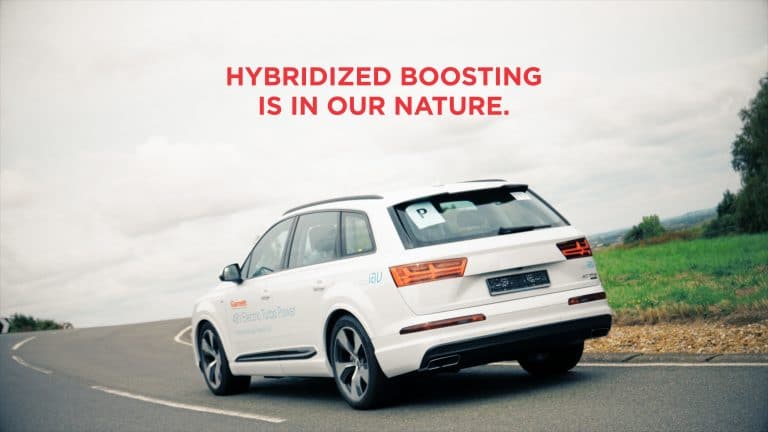 Download E-Turbo Whitepaper
Electrifying a turbocharger removes the constraint of needing a small turbine with excellent efficiency to drive the compressor at low flow rates. Instead, it allows us to right-size the turbine for Lambda 1 rated power. Any penalty in inertia can be more than compensated for by an E-Motor and the addition of a wide range Compressor can result in both improving low-end and stretching high-end performance simultaneously.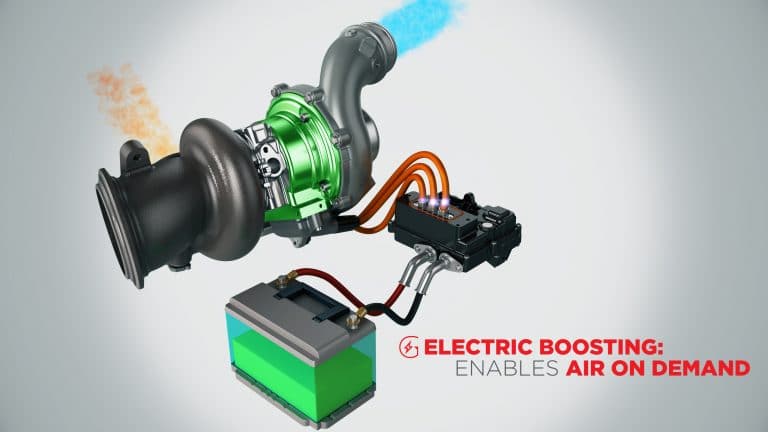 Understanding the Difference Between Electrified and Electric
"Electrification" has become a great, big, giant buzzword in the automotive industry as the global pursuit of cleaner more efficient energy imprints itself upon the vehicles of tomorrow.
Our world-class technical solutions are helping to drive a new era in hybrid electrification and fuel-cell powertrains. These innovations enable our customers to set new benchmarks in vehicle performance while vastly improving fuel efficiency and exhaust emissions levels. Garrett is committed to technical engagement to tap into opportunities for things like hybrid and hydrogen applications in vehicles and transportation systems, ultimately helping to reduce negative environmental effects.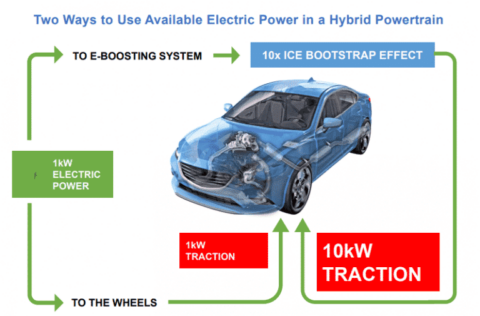 Garrett Develops Ultra Responsive Boosting System to Support Next Wave of Global CO2 Emission Targets
New boosting solution pairs with lean Miller Cycle combustion in gasoline engines
Garrett solution helps to deliver 15% CO2 reduction for EU sponsored project
Garrett has created a new boosting system with greatly improved transient response as part of an international team of industry and research organizations participating in the Particle Reduced, Efficient Gasoline Engine (PaREGEn) project – part of the EU Horizon 2020 Programme –developed to pioneer a new generation of low CO2 emitting gasoline engines for mid-level to premium vehicles.
The project, involving 17 of the world's leading automotive organisations, led to the development of a turbocharged advanced Miller Cycle combustion engine which is on track to deliver the same performance as a baseline Jaguar XE 2.0 litre vehicle but with a 15 percent reduction in CO2 emissions, complying with upcoming EU6d RDE requirements and with particulates measured down to 10 nanometres in size.
Innovations such as the PaREGEn engine are critical to the auto industry meeting incoming emissions standards because the internal combustion engine, optimized through electrification and hybridization, will remain the clear leader in powertrain development for the next decade and beyond.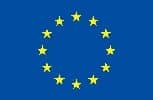 The PaREGEn project has received funding from the European Union's Horizon 2020 Programme for research, technological development and demonstration under Grant Agreement no. 723954.