05/12/2017
Honeywell Garrett earns Best Booth Award at Indonesia International Auto Parts Accessories and Equipment Exhibition in Jakarta (29 Mar – 1 April 2017)
The presence of Honeywell Transportation Systems and its Honeywell Garrett® aftermarket brand at this year's Indonesia International Auto Parts, Accessories and Equip Exhibition (INAPA) was top-notch and left a great impression, according to the hundreds of visitors and the show's organizers.
The Honeywell Garrett display was voted "The Most Favourite Booth" for its excellent showcase of turbocharger technologies, educational turbo infographics, and engaging videos. The signature red-on-white color scheme attracted not only the eye, but many visitors to the booth. Current and future customers, other exhibitors, and media stopped by to learn more about TS turbocharging, its benefits and how it stacks up against the competition.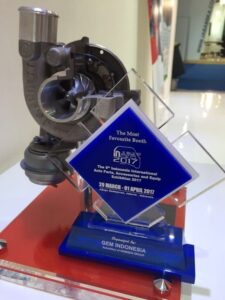 The display was constructed under the theme of "Honeywell Garrett – Why Risk It?" The "Why Risk It?" slogan reaffirms the quality level of genuine Honeywell aftermarket turbos compared to copies – which has up to a 40% performance gap if a customer choses a knock-off turbo.
This was Honeywell's debut at INAPA, which is an annual gathering and marketplace for international manufacturers and suppliers to showcase their latest auto components, parts, equipment, tools, and technology to audiences from across Asia. The strong TS and Honeywell Garrett presence serves as an example of the willingness TS has to support its aftermarket customers in the Indonesian market.