2008 – 2016 Mitsubishi Evolution X 2.0L
Description
MITSUBISHI EVO X TURBO UPGRADE
Bolt-on Upgrade Kit for the 2008+ Mitsubishi Evolution X
Engine: 2.0L 4B11 Turbocharged Inline 4
GTX3071R (0.73 A/R) – 788550-5005S (550 Horsepower*)
GTX3076R (0.94 A/R) – 788550-5008S (650 Horsepower*)
The Garrett Evo X Turbo Upgrade allows you to push your AWD, rally-bred monster up to an estimated 550 HP with the Garrett GTX3071R or a tire-smoking estimated 650 HP with the Garrett GTX3076R. Each turbo has been meticulously designed to be a bolt-on upgrade with no major modifications or guesswork required. The Garrett Evo X Turbo Upgrade features a specially designed twin-scroll turbine housing that mates up directly to the Evo X's stock exhaust manifold as well as the stock exhaust down pipe to allow for aftermarket exhausts to be used without worrying about fitment.
The turbine housing allows for the retention of the stock exhaust heat shield for better temperature control. The ported shroud compressor housing reduces the occurrence of surge during operation and mates directly to the intake piping as well as the stock outlet position. The Garrett® patented dual ball bearing center housing is standard on both turbocharger options for unmatched power handling and unbeatable response.
* Estimated. Performance results of this product are highly dependent upon your vehicle's modifications and tuning/calibration. The horsepower numbers represented above are calculated based strictly on choke flow of the compressor map (total turbo capability), which represents the potential flywheel horsepower.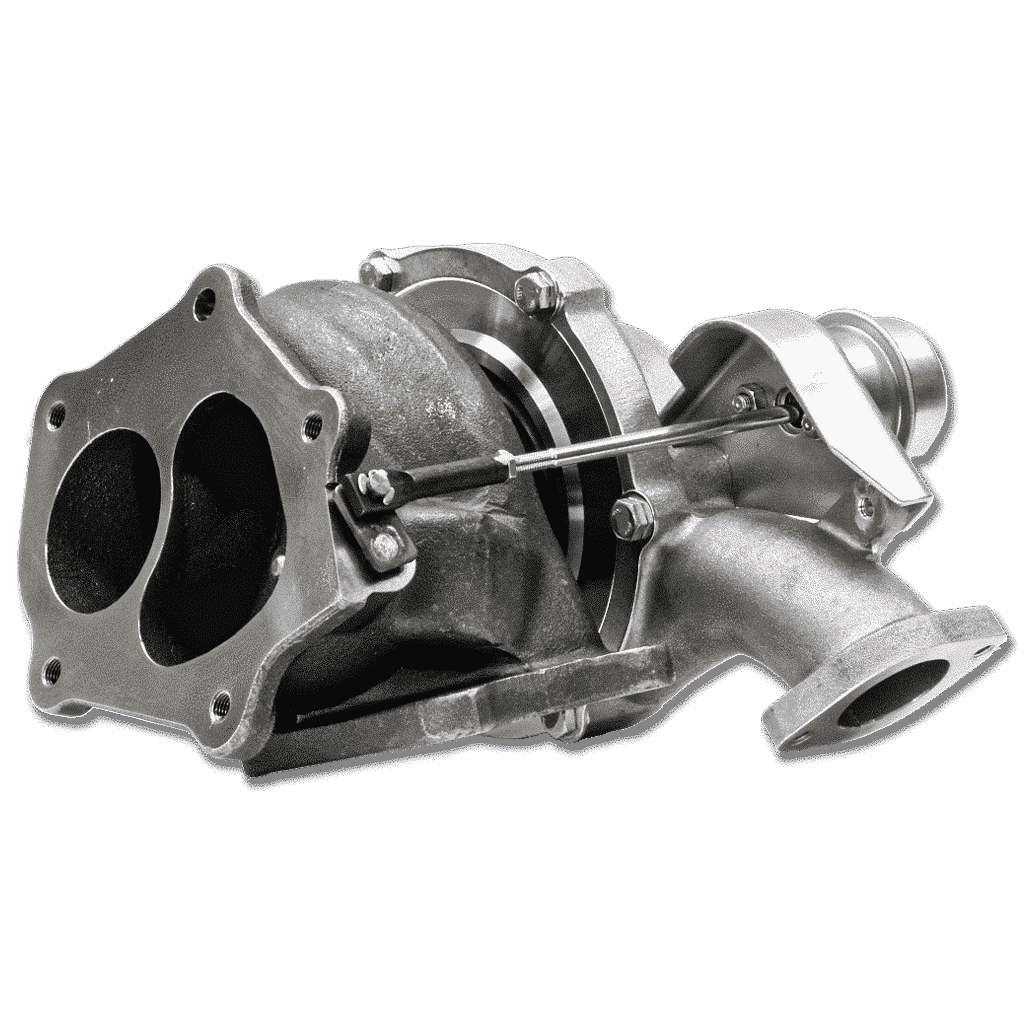 2008 – 2016 Mitsubishi Evolution X 2.0L
Compressor Map & Exhaust Flow Chart
2008 – 2016 Mitsubishi Evolution X 2.0L
Performance Comparison Sheet
Compressor
Turbine
Mitsubishi EVO X Upgrade
Turbo PN
HP*
Inducer
Exducer
Trim
A/R
Inducer
Exducer
Trim
A/R
GTX3071R (0.73 A/R) – 788550-5
788550-5005S
550
54mm
71mm
58
0.60
60mm
55mm
84
0.73
GTX3076R (0.94 A/R) – 788550-8
788550-5008S
650
58mm
76mm
58
0.60
60mm
55mm
84
0.94